Fresh Take: Havana 33 Serves Cuban Cuisine Lakeside
A look inside the Mooresville spot—and what to order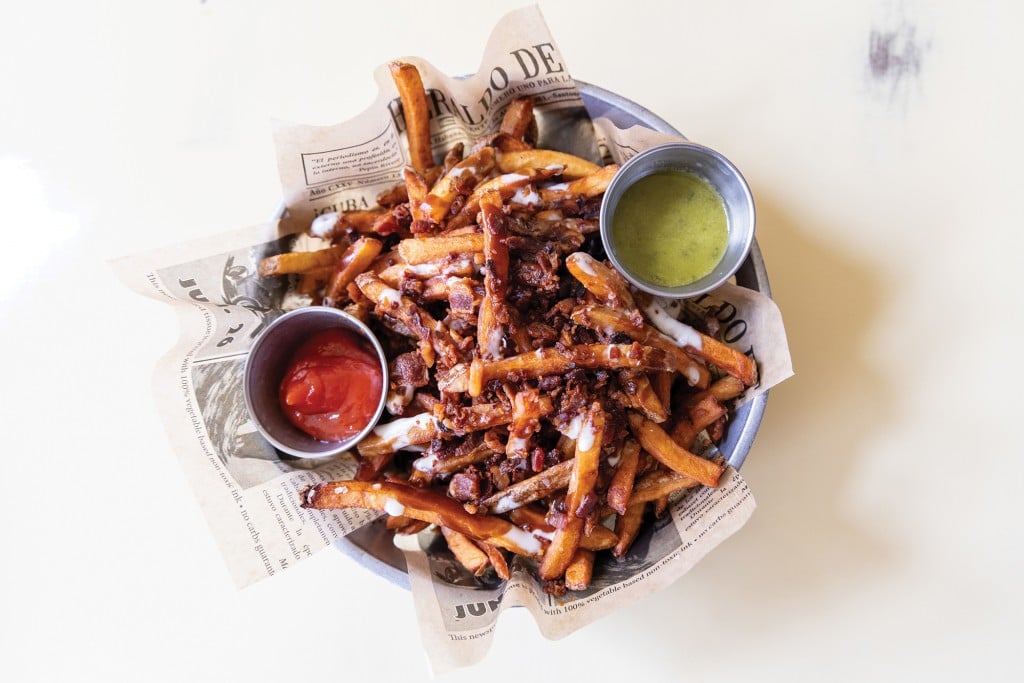 Havana 33 opened at the bottom of a peninsula on Lake Norman in late October, in the space formerly occupied by The Prickly Pear. The restaurant has the same lake views and one of the same owners, Val Panizzut. But instead of modern Mexican fare, chef Renee Garcia serves authentic Cuban dishes like picadillo and mojo chicken with yucca fries and sweet plantains. In place of the dark mahogany bar, stone columns, and black tablecloths, you'll find a brighter, more energetic interior with exposed shiplap walls, murals of classic cars, and light fixtures made from repurposed Bacardi bottles.
Have a seat at a table, booth, or the 10-seat bar—and don't be surprised if you hear a thumping sound coming from the kitchen. That's just the chefs using mallets to tenderize the pork. On a sunny day or warm evening, grab a table on the patio overlooking the lake. Start with a classic mojito ($8) or try a signature cocktail like the Cha Cha Cha ($10) with Stoli, Muddy River Carolina coconut, pineapple, and blue Curacao. There's also a short wine list and a beer menu with local brews like Sycamore's Mountain Candy IPA and OMB Copper.
The tapas are the stars of the menu. The Chicken Empanadas ($9) come with three warm, crispy chicken turnovers and a side of piquillo sauce for dipping. The Cuban Egg Rolls ($8) are an exquisite mashup of comfort food with pork, ham, Swiss cheese, and pickles encased in a crispy shell. (Don't be shy about requesting more spicy honey mustard dip.) The Yuca Fritters ($7) are addictive bite-sized dough balls stuffed with cheese and served with a side of cilantro aioli. And if you're just looking for a happy-hour snack, Havana 33 serves five varieties of bar fries, but the Four Cheese and Gravy Fries ($8), smothered in gravy, cheese sauce, and bacon, is a top seller for good reason.
Each of Havana 33's five sandwiches is served on authentic Cuban bread from La Segunda Bakery in Tampa and pressed panini-style. The Pan con Lechon ($12) is stuffed with crispy pork, grilled onions, and garlic mojo sauce. If you're craving a classic Cuban, the Sandwich Cubano ($12) gets it done with pork, ham, Swiss, and pickles. But if you want to kick it up a few notches, go for the Havana 33 Special ($14). It's layered with roasted pork, ham, prosciutto, Spanish chorizo, Swiss cheese, pickles, and mustard, and it's big enough for two people to split for lunch. Each of these sandwiches comes with a heap of Guajiro fries, which are sprinkled in cotija cheese and served with a side of cilantro garlic mojo.
The Havana Classics are plated entrees that come with white rice, black beans, and sweet plantains. The Ropa Vieja ($16), which translates to "old clothes" in Spanish, is a traditional Cuban dish of slow-cooked shredded beef, onions, peppers, and tomato sauce. The Masa Frita ($14), a medley of crunchy fried pork chunks and pickled red onions, is a punch of salt, spice, and tang in one bite. For a vegetarian option, there's Pisto Manchego ($12), a mix of roasted vegetables stewed in tomato sauce and topped with manchego cheese.
Whether you come for a weekday lunch with co-workers or a casual dinner after a day on the boat, Havana 33 is a fun, affordable alternative to the countless Tex-Mex restaurants in Mooresville. You'll get generous portions and colorful cocktails in a casual, lakeside setting.
Don't leave without trying: The Cuban Egg Rolls ($8) with a side of spicy honey mustard dip.
Havana 33
637 Williamson Rd., Ste. 100, Mooresville
704-799-0875
Hours:
11 a.m.-9 p.m. Sunday-Tuesday
11 a.m.-10 p.m. Wednesday-Saturday