Fresh Take: Menya Daruma in Elizabeth
It brings the art of authentic Japanese noodles to the neighborhood—and continues a family's restaurant legacy in Charlotte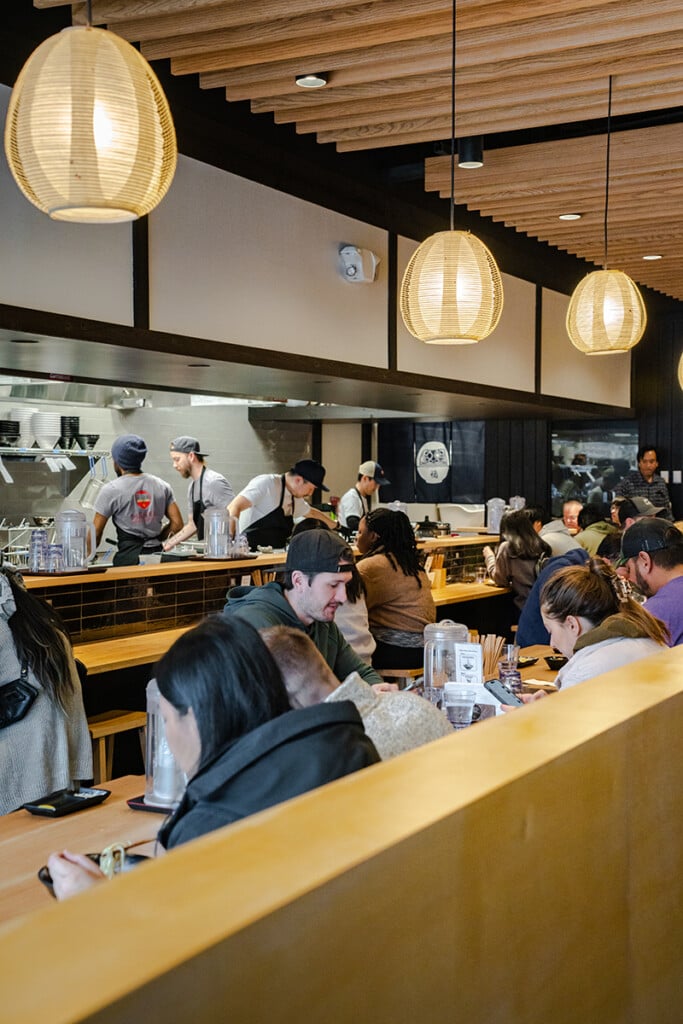 One day after Ted Nakato soft-opened Menya Daruma, his Japanese noodle counter, he had to close early to restock. The January chill seemed to have driven everyone within a 1-mile radius to his new place for a bowl of hot ramen. Many of Menya's broths simmer for 18 hours, and the noodles must rest overnight to achieve the proper texture. This process can't be rushed.
Menya Daruma occupies the former Sandwich Max space behind The Crunkleton. Ted Nakato, whose family opened the first Nakato restaurant in Atlanta in 1972 and the second in Charlotte four years later, already had a reputation for traditional hibachi and sushi. After five years in Portland, Oregon, where he managed a Japanese farm-to-table restaurant, Nakato wanted to add a new concept to his portfolio in Charlotte. He enlisted partner and Executive Chef Vince Tien to create Menya's menu and lead the culinary team. They wanted an experience like what you'd find in "menyas," or noodle shops, in Japan.
The restaurant is cashless and mostly self-service. Each table and counter seat has a QR code that allows you to peruse the menu, place your order, and pay your bill. Water, cups, napkins, and chopsticks are already at the table, and servers deliver food and clear dishes when you're through. "That goes back to how they do it in Japan," Nakato says. "Instead of a QR code, they have a kiosk where you put your money in. The service happens inside the kitchen."
Much like the restaurant's interior, the menu is tidy and minimalist. Drinks include Sprite, Coke, green tea, and just two beers, Sapporo (from Japan) and Juicy Jay (from Plaza Midwood). Most snacks, which include Spicy Chicken Wontons ($5), Buta Bao Buns ($4.50), and Pork Gyoza ($5), are portioned for one person—maybe two if you're feeling generous.
Abura Soba, or ramen without broth, comes O.G. Style ($12) with braised pork belly or Taiwanese Style ($13) with seasoned ground pork. If you order either, review the laminated instruction card on the table, which tells you how to properly mix noodles and toppings and when to add oil and vinegar. When you finish, ask your server for a small scoop of steamed rice to mix with the remaining sauce.
The five ramen bowls come with noodles made in-house with soy sauces and salts imported from Japan. Shoyu Tori Chintan ($15) is a not-too-pungent choice for beginners, with clear chicken broth and chicken wontons. The Spicy Tantan ($15) has ground pork in a creamier broth that gets its kick from the fiery sesame paste. The Spicy Tonkotsu ($15) has pork belly and a fermented chile sauce that turns the broth a deep orange. Each one hits those salty, fatty taste receptors without leaving you too stuffed.
Noodle-free entrées include a Tori Katsu Chicken Sando ($9), Hot Chicken Tori Katsu Chicken Sando ($9), and Buta Nira Itame ($12), a stir-fry. Menya Daruma also has a kids menu with Ramen ($8) and Abura Soba ($7). If you've brought your little ones—or if you're just a curious adult—go peek in the back window. You can watch Adriana Cavazos, a former pastry chef, feed slabs of dough through metal rollers and catch handfuls of fresh noodles that she arranges on an oversized metal tray.
A sous chef will later bring the tray to the open kitchen, which stretches across the entire left side of the restaurant. From the counter, you can watch the chefs drop handfuls of noodles into wire baskets and submerge them in boiling water. The noodles need about 90 seconds to achieve the ideal texture to absorb the savory broths and sauces.
This spring, Nakato plans to open an omakase-style experience called Kappo En at the 10-seat back counter and kitchen, accessible through a speakeasy-type door. "It will feature a Japanese tasting menu, and I have three talented chefs working on that project," he says. "We see that Charlotte is growing, and we wanted to bring more authentic Japanese flavor profiles here. It's still a risk, but we feel pretty good about the direction Charlotte is going."
TAYLOR BOWLER is the lifestyle editor.