Fresh Take: Nonna Maria's Italian Deli & Market in Matthews
It brings the soppressata and prosciutto and ricotta (and fresh bagels) down from the Bronx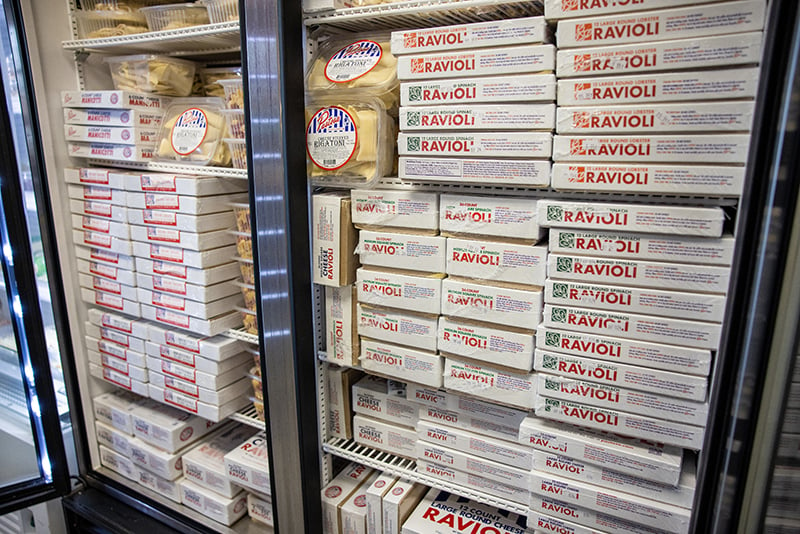 On a Saturday afternoon in late January, a woman browsing the prepared foods section at Nonna Maria's Italian Deli & Market stops when she spots a bag of Pastosa Ravioli. Her eyes fill with tears. "I usually special-order this from Brooklyn!" she tells owner Enza Pilla as she grabs three bags from the refrigerator. "This is what my nonna used to make us at home."
It's barely noon, and the line at the counter is already 12 people deep. Small children point to the glass dessert case beside the register and beg their parents for black-and-white cookies. Some customers are here for a bagel and a coffee; others are picking up a tray of lasagna or baked ziti to bring home for dinner. The four booths in the café area are occupied by families eating sandwiches layered with prosciutto di parma, mozzarella burrata, hot soppressata, and sun-dried tomatoes.
Rich Garcia and Enza Pilla opened in December in the Matthews Corners Shopping Center, between Marshall's and the Carmen! Carmen! salon. They moved from Nanuet, New York, in 2020 in search of a slower pace. As they settled in, they searched for Charlotte's version of Arthur Avenue in the Bronx, the main drag of that borough's Little Italy. When they couldn't find one, they decided to open their own Italian deli and market.
Enza named it after her late mother, Maria, whose family came from the Campania region, northeast of Naples. Enza spent her childhood summers there, and she wanted Nonna Maria's to carry the meats, cheeses, breads, wines, and fresh pasta she grew up on. As New York transplants, she and Rich also wanted to serve a proper bagel and Italian desserts like cannoli, tiramisu, and ricotta cheesecake.
The bagels, baked fresh daily, are available in 12 flavors with a variety of spreads and toppings. Breakfast sandwiches come on a bagel or roll with a choice of egg, meat, and cheese. Get your caffeine fix with an Espresso ($2.25), Doppio ($3.25), or Drip Coffee ($2.50 for 16 oz.), or grab a sparkling Limonata ($2.25) from the beverage case.
For lunch, choose from 18 cold sandwiches, four hot sandwiches, and a rotation of wraps, salads, and soups of the day. The L'Italiano ($12.95) sandwich is loaded with burrata, arugula, and prosciutto di parma piled so high you'll have trouble getting your whole mouth around the thick, crusty bread. The Capri ($12.95) might sound like a basic caprese sandwich with mozzarella, tomatoes, arugula, and balsamic glaze, but don't sleep on this one—when the ingredients are this fresh, it doesn't need anything else to dress it up. If you prefer something warm, try the Hot Chicken Parmigiana Sandwich ($11.95), stuffed with a fried chicken cutlet, marinara, and mozzarella that stretches the length of your forearm.
Maybe you didn't plan on ordering dessert, but you'll want to go back for that Cannoli ($3.25) in the pastry case. The smooth, velvety ricotta is rich and tangy, and the crunchy shell leaves you with a sweet cinnamon aftertaste you'll dream about later. You should probably get a slice of that Italian Ricotta Cheesecake ($4.99) and a few Black & White Cookies ($2.25) to take home, too.
It's hard to get out the door without stocking up on some Pesto Genovese, Frantoia Extra-Virgin Olive Oil, or a jar of Mutti Marinara. And you didn't really want to cook dinner tonight, did you? Better grab a tray of Nonna's Eggplant Rollatini to pop in the oven later. And your neighbor that just had a baby? She deserves a bottle of moscato and one of those pandoro cakes on the top shelf. They'd make really great hostess gifts, too. Might as well grab three more while you're at it.
TAYLOR BOWLER is the lifestyle editor.
---
Nonna Maria's Italian Deli & Market
2332 Matthews Township Parkway, Ste. B
Hours: 8 a.m.-5 p.m., Monday-Saturday
Don't leave without trying: The L'Italiano sandwich ($12.95), layered with prosciutto di parma, mozzarella burrata, and arugula.