Fresh Take: Omakase in Providence Park
Omakase Experience's pricey multicourse dinner brings a bounty of flavors worth waiting months for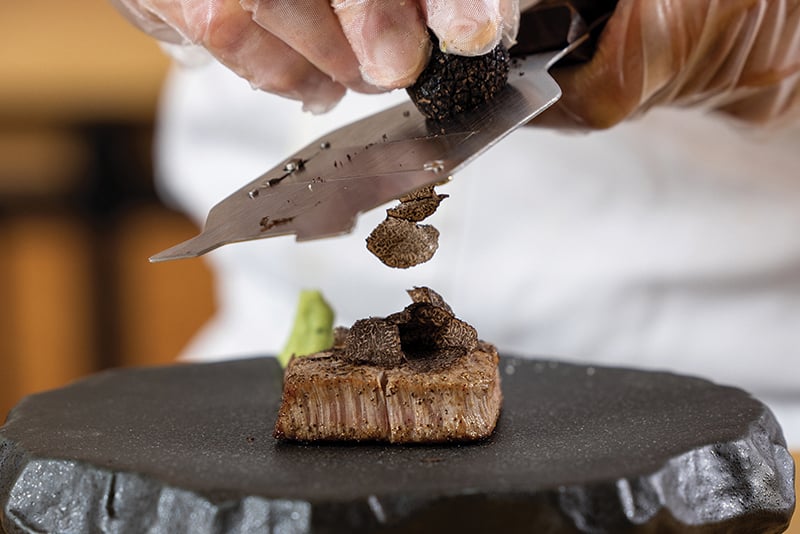 Omakase isn't just an experience. It's a performance.
The $300-per-person price tag might sound excessive, but when you see the ingredients, knife skills, and precision that go into plating this 16-course meal, it will make sense. Stay with me.
Omakase means, "I'll leave it up to you," so it's important to come with an open mind and adventurous palate. You don't order from a menu; each course is entirely the chef's choice. If you have food aversions or prefer your sushi deep-fried and doused in sauce, stick to P.F. Chang's. Omakase is for fearless foodies who don't flinch at sea urchins and salmon roe on their plates.
Omakase Experience is an extension of Prime Fish, the Asian sake and raw bar that opened in Ballantyne in May 2021. Prime Fish was the only Japanese restaurant in Charlotte to offer the Edomae-style omakase particular to Tokyo. It held omakase nights once or twice a month and always sold out, and Executive Chef Robin Anthony thought demand would grow closer to the city center.
He was right. When Omakase Experience opened in Providence Park in June, their waitlist was already up to 400 people; at press time, they were booked through September. Each dinner is available for six guests by reservation only, Wednesday through Saturday. A typical seating is about two hours, and they offer two per day at 5:30 p.m. and 8 p.m.
The dimly lit space has wood-paneled walls and a layout similar to restaurants in Tokyo. The six-seat, L-shaped counter overlooks a wooden sushi bar where the chef prepares your meal. Plates and bowls are what the Japanese call "wabi-sabi," which means asymmetrical or imperfect. If you opt for sake, you can choose one of six different sake glasses.
Chef Robin, who was previously head sushi chef at Red Sake and YAMA Waverly, says no two meals at Omakase Experience are alike; it all depends on what's fresh and available that day. You might have the same fish on subsequent visits, but the approach and progression is always different. Similar to a wine dinner where the sommelier goes from light to dark varieties, omakase starts with lighter fish and gets oilier with each course.
Your meal might start with Hamachi Tsukuri (yellowtail) and Ni Tako Ashi (braised octopus), which Chef Robin slices, braises, and drizzles in soy sauce with laser focus. He garnishes plates with wasabi root from Japan that gives the fish a gentle spiciness that won't clear your nasal passages. Here's why: About 99% of the wasabi we eat in America is fake. That stuff you usually get with your sushi is a mix of horseradish, mustard, and green food dye. Real wasabi comes from a plant that's notoriously hard to grow and typically costs between $80 and $100 per pound.
Chef Robin's hands never stop moving. He artfully arranges plates with Ebodai (butterfish), Hon Sakuramasu (cherry trout), and Otoro (fatty tuna). The silkiness of the tuna, the brininess of the sea urchin mixed with sticky rice, and the piercing taste of the wasabi combine in a tidal wave of flavors. Even the soy sauce is exquisite; its delicate saltiness lingers on your tongue.
The plates keep coming. But most courses are one- or two-bite items, so you won't feel uncomfortably full as Chef Robin progresses to Ma Saba (mackerel), Sake Toro (salmon belly), or Shako (mantis shrimp with roe). He slices daikon radishes, debones Japanese barracuda, and fans the fish over a countertop grill so you can smell it as it sears. Each knife has a specific purpose, and he butchers and debones every fish himself. When he hands a plate over the counter, it's like an edible present.
If you're lucky, your grand finale will include A5 Miyazaki Wagyu. This premium beef, imported from Japan, is sought after by five-star restaurants and world-class steakhouses for its snowflake-like marbling and explosive flavor. Chef Robin serves this thinly sliced, buttery meat over sticky rice and shaves Spanish truffles on top. It's one of the most magical things you'll ever taste. Full stop.
The smooth knife skills, rice shaping, and torch searing make this a memorable performance from start to finish. And the euphoric flavor combinations? You can take my word for it, but it's best to experience it all for yourself.
TAYLOR BOWLER is the lifestyle editor.
---
Don't leave without trying: The A5 Miyazaki Wagyu topped with Spanish truffles is culinary nirvana.
---
OMAKASE EXPERIENCE
2907 Providence Road, Ste. 101
Hours: 5-9 p.m., Wednesday-Saturday
KNOW BEFORE YOU GO: Omakase Lunch Service is available Tuesday through Saturday for $150 per person. Seatings are at 11:45 a.m. and 1 p.m. by reservation only. Lunch is for four people and includes 10 courses.