Fresh Take: The Making of Cheat's Cheesesteak Parlor—and What to Order
It serves a greasy, cheesy, meaty mess of a sandwich that's worth standing in line for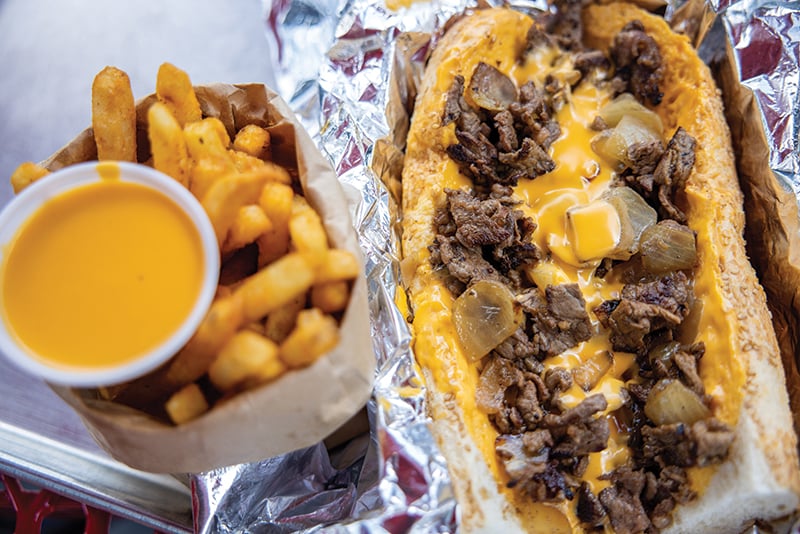 After its opening in July, Cheat's Cheesesteak Parlor announced on Instagram that it would have to close for a day to restock its steak supply. Charlotteans, who for the past two years have enthusiastically inhaled Cheat's cheesesteaks from pop-ups at local breweries and Panthers games, flocked to a new brick-and-mortar location on Pecan Avenue in Elizabeth, stood in long lines in 90-degree heat, and cleaned the place out.
Even considering Charlotte diners' well-known tendency to swarm around a just-opened eatery, the response to Cheat's seemed excessive. It's a cheesesteak stand. How magnificent could Charlotte's version of Philadelphia's signature sandwich actually be? Well, here's the thing: Cheat's uses sandwich rolls from a bakery in South Jersey, juicy strips of Angus beef, and the ingredient that separates genuine cheesesteaks from their imitators: Cheez Whiz.
Cheat's is part of 1957 Hospitality Group, the same team behind The Crunkleton. The walk-up eatery, which shares a parking lot with Villani's Bakery and Rico's Acai, has picnic tables in the shared common area and "smash rails" that surround the building for anyone who wants to eat on-site. The 500-square-foot building also has windows where you can watch the team, who wear black T-shirts that say, "May The Whiz Be Wit You," prepare the sandwiches.
Cheat's took a cue from decades-old chains like Char-Grill and kept their menu small. "Anthony Bourdain is famous for saying do a few things and do them very well," says partner Ryan Hart, "and we wanted to take this same approach."
The setup is efficient, too, with two walk-up windows for to-go orders and a pick-up window for services like Uber Eats and Postmates. When your order's ready, they announce your name over the loudspeaker. Your sandwiches are hot, wrapped in a foil cocoon, and packed in to-go boxes, but you're welcome to grab a seat or an open stretch of smash rail and tear into them.
The team experimented with various cuts of meat, from ribeye to A5 wagyu, before they landed on certified Black Angus top-round steak. They slice it in razor-thin strips before it hits the hot griddle, then season it, toss it with onions, and pile it on an 8-inch roll from Liscio's Bakery, a New Jersey bakery famous for its sandwich bread. You can opt for white American or provolone cheese, but for the proper Cheat's experience, go for the Classic Whiz-Wit Cheesesteak ($14). Each one gets a ladleful of hot Cheez Whiz that's likely to drip down your chin and get all over your fingers. Just go with it.
In addition to the signature sandwich, you can order a Chicken Cheesesteak ($14), a Vegetarian Cheesesteak ($15), or an Italian Hoagie ($14). Each comes on a seeded Liscio's roll. They also have a Breakfast All Day menu, which includes a Taylor Pork Roll, Egg & Cheese ($9) and a Breakfast Sammie ($12) with your choice of Black Forest ham, steak, veggies, or vegan Beyond Meat.
Cheat's sandwiches are hefty, so consider going halfsies on your cheesesteak or hoagie if you want to sample some sides. Highlights include Loaded Cheesesteak Fries ($14) with your choice of steak, chicken, or vegan Beyond Meat; or Hot Pretzel Bites ($9) served with honey mustard and Cheez Whiz.