Fried Chicken Doesn't Just Belong to Native Southerners
A James Beard Award-winning writer sees the future of Southern food on a plate in Charlotte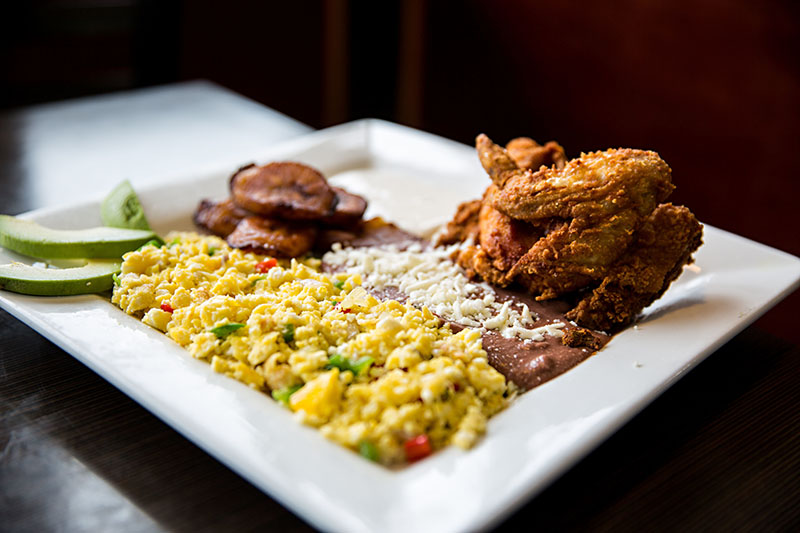 WHEN SHE PULLED fried chicken to her oft-televised bosom in the aughts, claiming mastery for the South she aims to represent, hackneyed Paula Deen and her cornflake crust persona nearly killed the South's golden bird for me. A recent lunch in Houston, during which my son took courteous bites of a chicken tender sandwich, tucked between two glazed doughnuts, almost buried it.
Redemption came at Morazan on South Boulevard in Charlotte. This past winter, I forked into a Honduran breakfast of dark meat fried chicken and scrambled eggs, flanked by a drift of refried beans, a jumble of sweet plantain slices, and half an avocado.
I've tasted juicier birds, smacking of lard and thyme and bursting with jus. But I can't recall eating a thigh with more relish than I did at that greenhouse-fronted restaurant. That meal helped me prove a twinned argument I have long made: Born and bred Southerners have no lock on fried chicken cookery. And traditional cultural forms gain much when immigrants direct the evolution.
My search for evidence to support those arguments has been willful. And active. Instead of preserving the South, I have recently fixed on reinventing it. At the very least, I angle to reinvent the stories we tell about our place and our people.
Born in the 1960s in Georgia, I grew up in a region derailed by the lies we told one another: Reconstruction was a corrupt failure. Jim Crow was just. Separate equated to equal. Marriage begged the union of a man and a woman. And fried chicken was our exclusive cultural dowry, bequeathed during that long and fitful dance of black and white that also yielded cathead biscuits and farmhouse souse and Nina Simone.
At the table, in sight of the Morazan fry bank, I glimpsed a newer South float into focus amid a canola-fogged haze. Between bites of fried chicken and refried beans, I recognized that Charlotte circa right-this-hot-minute may be the best place in the region to apprehend how immigrant cooks will, over the decades to come, reinvent the South and its cookery.
JOHN T. EDGE is the author of The Potlikkers Papers: A Food History of the Modern South, just published by Penguin Press.