From Uptown to South End: 3 Festive, Free Events to Kickoff the Holidays in Charlotte
From a parade through Uptown on Thanksgiving Day to shopping events and festivities, these free holiday events in Charlotte are the perfect way to kick off the season.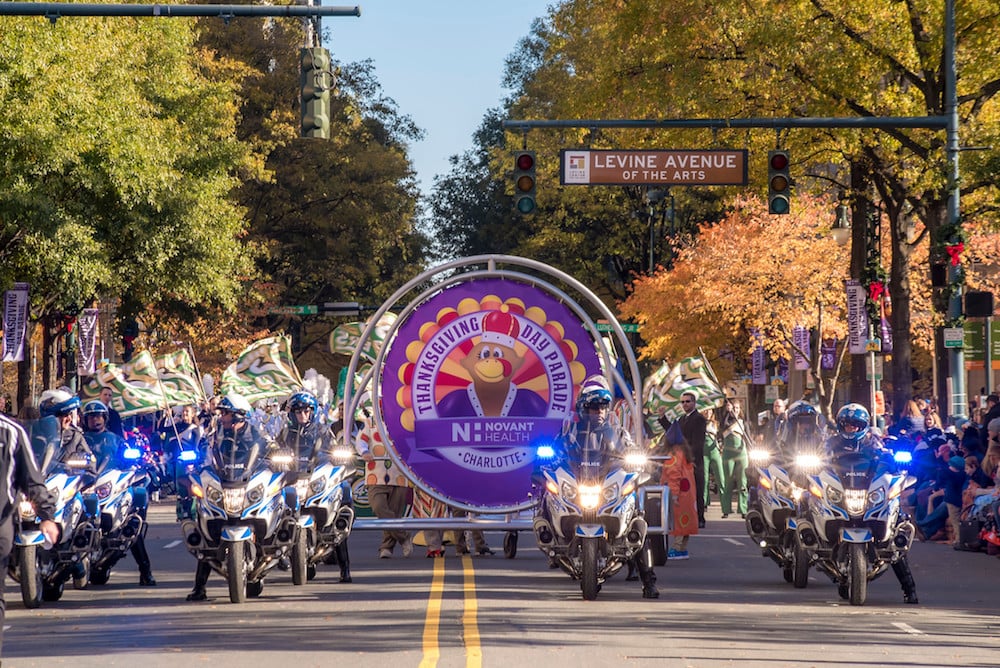 One of the most charming moments during the holiday season is when every neighborhood begins to twinkle with lights. To experience two Charlotte neighborhoods that wear the holiday sparkle especially well, venture to Uptown and South End. Not only will their cheery decor get you in the holiday spirit, but starting on Thanksgiving Day, their streets will also host a few wonderful holiday events. Oh, and did we mention the events are free?
If you're ready to say hello to the holidays and begin your month of merriment, mark your calendar for these three free, festive events in the Queen City during the 2019 winter season.
Novant Health Thanksgiving Parade — November 28, 2019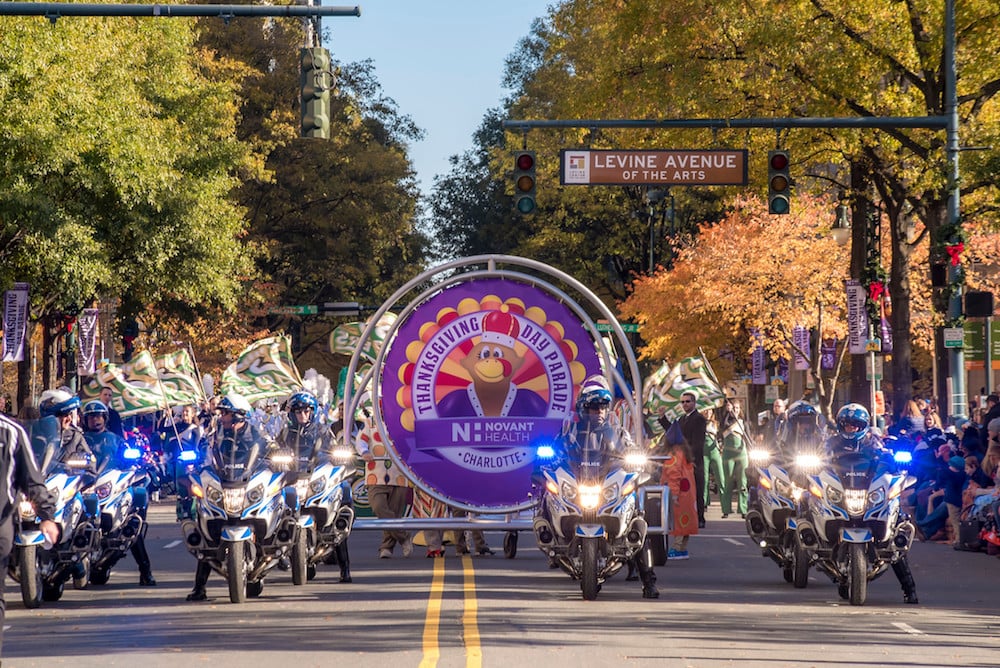 A Charlotte tradition with seven decades of history behind it, the Novant Health Thanksgiving Day Parade is a spectacle of sight and sound.
Now, with the impressive reputation as the fourth largest of its kind in the country and the biggest in the Southeast, the Parade drew 110,000 live spectators and 1.5 million household viewers via broadcast in 2018. Whether Charlotteans knew it or not, people were watching online all over the world—from Washington to Mexico to Sweden.
Don't miss this year's event on November 28. The Parade will step off at 9 a.m. and will proceed south along Tryon Street for a "Mile of Smiles" from 9th Street to Stonewall Street. It is free to attend, but if you want a seat in front of the performance area, VIP tickets are available.
For families looking to make the most of their day in Uptown, VIP tickets also include Breakfast with Santa, which takes place before the Parade. Click here for more information on Breakfast with Santa.
Check out the Novant Health Thanksgiving Parade website for all other details, from parking to performances.
Pro Tip: Worried about finding your way around in the city? Click here for an updated Uptown Charlotte map you can print out.
South End Small Business Saturday — November 30, 2019
Start your holiday shopping off on the right foot at South End Small Business Saturday. On November 30, from 11 a.m. to 5 p.m., you can explore local shops, restaurants, and breweries as you find unique holiday gifts.
Much more than a mere market, Small Business Saturday is more of a festival, featuring 200 Charlotte shops, 70 places to eat and drink, and holiday music. The festive atmosphere is easy to access, too—there will be free trolley rides throughout South End, and maps and free shopping totes will be up for grabs throughout the neighborhood. Park anywhere, use a ride share or scooter share, or ride in on the Light Rail—once you're in the district, you can hop from shop to shop using the free trolley.
At sundown, join the crowd for the South End Tree Lighting at the newly redesigned Atherton Mill (click for Google Map).
Free trolley stops during Small Business Saturday:
Stop #1: New Bern Station. Stop here for food, drinks, and light shopping. This new festival area is home to Suffolk Punch, Triple C Brewing, and Eight + Sand Kitchen, in addition to plenty of parking and a few pop-up shops.
Stop #2: Camden Road. Shop 'til you drop on South End's bustling main street. Camden will become the best holiday shopping destination in Charlotte with more than 150 pop-up shops and activities filling the street from end-to-end—from Atherton Mill to Summit Avenue. Pop into the year-round shops on Camden, too, such as Girl Tribe, 704 Shop, Candlebar, and Adair Boutique.
Stop #3: Lincoln Street. Lincoln Street and Riva Finoli Alley in South End's Gold District will transform into a holiday wonderland during this one-day festival. Head here for holiday shopping plus music, photo opportunities, gingerbread cookie decorating, and maybe a special visit from a jolly, red-suited man!
Stop #4: Dudeapalooza at Alchemy on Distribution Street. To buy "everything but potpourri," for the guys in your life, head to the annual Dudeapalooza pop-up at C3 Lab's new venue, Alchemy. Hosted by Jon Wilson of WCCB's Wilson's World, this event will feature gifts from local businesses and the artists and artisans of the C3 Lab creative community.
Pro Tip: Wondering where exactly to find parking? Look in the Gold District (Lincoln Street) and near the New Bern Light Rail station for free parking. There's also a paid lot at S. Mint and Quincey Streets in the Gold District.
Poptopia Holidays — December 4-7, 2019
From December 4 through 7, you'll be able to shop 14 of the area's favorite shops in the atrium of 101 N. Tryon Street (next to Coco & the Director in Uptown). Surround yourself with holiday cheer as you shop the unique (and free) Poptopia Holidays—there will be music, "insta-llations," and specials to enjoy. Poptopia Holidays will run from 11 a.m. to 6 p.m. Dec. 4 through 7, and from 11 a.m. to 4 p.m. on Sunday, Dec. 7.
Also, on Saturday, December 7, you can celebrate "Girls' Day Out," with your group. Enjoy brunch and mimosas on Stoke Charlotte's indoor patio before you get to shopping.
Poptopia 2019 participating shops:
Jordan McDowell Illustration
CLT Boutique
Ribenclt
CLT Find
Johnny Fly
Roses and Azalea
Juelerye
Vue by SEK
YEWO
Artisan Village Design
L'Esharpe
Pro Tip: Every day during Poptopia from 2 to 4 p.m., if you buy a cup of coffee from Coco & the Director, you'll receive a free holiday cookie.
Feeling ready to take on the holidays in Charlotte? For more information about the above events, please visit the event websites, listed below again:
About Charlotte Center City Partners
Charlotte Center City Partners envisions and implements strategies and actions to drive the economic, social and cultural development of Charlotte's Center City. The organization's vision is to help create a viable, livable, memorable, and sustainable Center City with modern infrastructure, a tapestry of unique neighborhoods, and a diversity of thriving businesses. For complete information about Charlotte Center City Partners, visit www.charlottecentercity.org.