Geno D's Pizza: From the Jersey Shore to Uptown
A father-and-daughter duo resurrect the family business at The Market at 7th Street, with love baked into every pie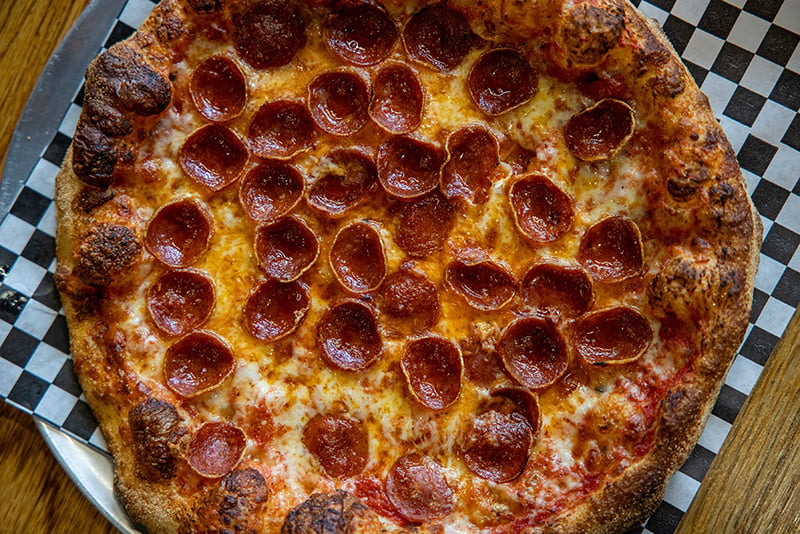 ON A FRIDAY IN JULY, Geno DiPaolo emerges from his stall at The Market at 7th Street with misty eyes. "I'm just so grateful to be doing this again," he says. He surveys the food hall, then returns to the oven.
It's the grand opening for Geno D's Pizza in uptown—and the rebirth of a business that once operated nearly 600 miles north of Charlotte. As we chat, Geno, 58, gestures toward a wall beside the cash register, where a laminated 1989 Asbury Park Press clip identifies a 20-something Geno as the Jersey Shore's "Pizza Guy." In the black-and-white photos, he serves his popular "Grandma-style" pies to a long line of customers.
Geno operated that original, standalone Geno D's in Toms River, New Jersey, for 35 years. He would take his daughter, Gena, to work there every weekend. "I would beg him to," she says, "and he'd let me shred the cheese, roll the dough, and taught me how to use the fryer. It was always a dream to do this with him."
The comeback is a collaboration between father and daughter. When they opened, Gena was 25, the same age as Geno when he opened the original, and she manages the business with her father. They'd been talking about reviving the brand for years, ever since the DiPaolos moved to the Charlotte area in 2009 in search of what Gena calls "a new beginning."
After they arrived, Geno joined the staff of Pure Pizza, which until recently inhabited his stall at the uptown market. He worked alongside celebrated bread-maker Peter Reinhart yet always hoped to make his own recipes again. Meanwhile, Gena went to high school in Concord and entered the service industry, working at The Market at 7th Street businesses and in fine dining. She learned to work in both front-of-house and the kitchen but now considers customer service her forte. When Pure Pizza closed its 7th Street stall in 2020 (while continuing to operate its Plaza Midwood location), the DiPaolos decided to bring Geno D's back.
"(Geno) of course learned and experimented during his time at Pure Pizza. You're always learning," Gena says. "But the DNA and taste of that original Jersey Shore pizza is still in there."
What is Jersey Shore pizza? It's close to New York-style, with an "even amount of sauce and even amount of cheese," she says. "We try to have that traditional crisp to the pizza." The Grandma-style pies are rectangular, with thinner crust and sauce on top of everything. They're 9-by-13-inch pies, smaller than the originals because of space constraints, but otherwise the same as the ones in the black-and-white photos from 1989.
Other carryovers from the original include a house, antipasto, and classic Caesar salads; "belly busters" (Geno's take on stromboli); garlic knots; calzones; and a slew of specialty pizzas like the Deli Pizza, Chicken Parm, Buffalo Chicken, and the aptly named Meat.
"People have been saying to us, 'This is exactly the kind of pizza we've been looking for in uptown,'" Gena says in August, a month after opening. "And it's just such an honor, because we put our love in every single pie that we make. Pizza is in his blood. It's in our blood."