Get fired up for National Barbecue Month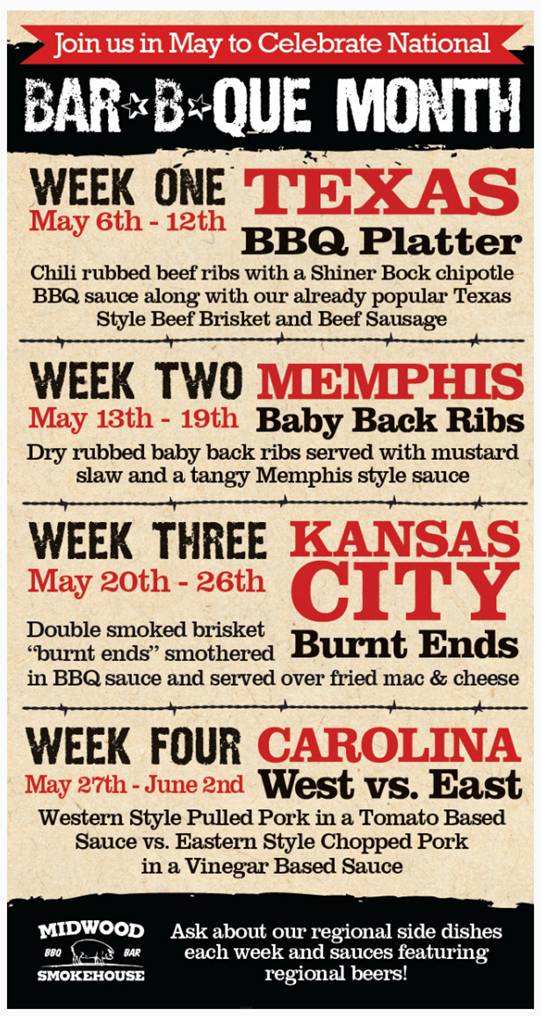 If you haven't heard, May is National Barbecue Month. You can celebrate at home with your own grill, of course…or you could check out what two local barbecue joints are serving up for the occasion.
Midwood Smokehouse (1401 Central Ave., 704-295-4227) plans to spotlight a different style of barbecue each week, beginning May 6-12 with a Texas BBQ Platter (May 6-12) featuring smoked sausage, brisket, beef ribs in a Shiner Bock chipotle barbecue sauce, charro beans, and a savoy cabbage and broccoli slaw for $15. Check out the Midwood Smokehouse Facebook page each week for the regional side dishes and pricing.
Meanwhile, Harper's Restaurants will celebrate May with a "BBQ Bonanza," spotlighting dishes like Texas-style brisket and pulled pork, Danish Baby Back Ribs, and Hickory Smoked Chicken throughout the month, plus specials including Maker's Mark Hickory Grilled BBQ Shrimp, Carolina BBQ Salad, Hickory Grilled BBQ Burger, BBQ Mahi Mahi, and a BBQ Chicken BLT.
Rather fire up the grill at home? Check out this authentic Carolina barbecue in the current issue of Charlotte Home+Garden—complete with recipes from Dan "The Pig Man" Huntley.