Get ready for a Funky Ride at Salud's sour beer festival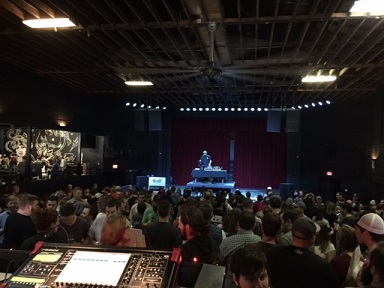 Sour beer. Old-school hip-hop.
Those two phrases are at the top of Salud Beer Shop's shirts and beer glasses, and every year owner Jason Glunt blends the two together for the shop's annual sour beer festival.
Heading into its fifth year, the "Release the Funk" festival has become a must-attend for sour beer/wild ale lovers. Now, it's once again time to mark your calendars, as Release the Funk 5: Let Me Take You on a Funky Ride has officially been set for December 16 at Neighborhood Theatre.
If you've never been to Release the Funk, here's what to expect: Some of the top sour beers from across the nation, as Glunt and his team work hard to bring in breweries usually unavailable in North Carolina, including Oxbow (Maine) and Casa Agria (California) last year. You'll also get a chance to try sours from local breweries such as Wooden Robot, Free Range, Heist, Lenny Boy and NoDa, which just started rolling out its full sour program earlier this year. In total, usually around 70 breweries are in attendance, and there are always unannounced surprises as well.
Of course, there has to be a hip-hop feel to the festival, and that's where the name comes in. Each Release the Funk is tied to a classic rap track, with Glunt revisiting Southern rap icons OutKast this year (RTF 3 was titled Funkonia, a play on the OutKast album Stankonia). This year's theme comes from the laid-back groove on OutKast's first album.
Final ticket details are still being ironed out, as tickets will go on sale either October 15 or November 1. Tickets will cost $70, which will include a commemorative glass and unlimited beer samples at the event, scheduled from 11 a.m. to 3 p.m.
As in previous years, there will be a festival pre-party the night before, with the newly opened Salud Cerveceria hosting it this time around. This year's pre-party will feature all local breweries and their sour beers on tap.
To keep up with the latest Release the Funk information, follow Salud Beer Shop on Twitter and Instagram.