Get Some Religion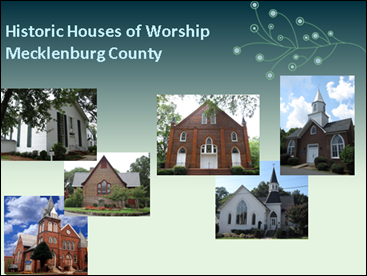 Historic Charlotte and the Duke Mansion History Committee present Historic Houses of Worship in Mecklenburg County 1750-1950 on — appropriately — Sunday.
Diane Althouse, executive director of Historic Charlotte and Nick Faulk, an architecture student at UNCC, will guide participants through a pictorial history of the development of our region's religious architecture from the 1750s to the 1950s.
It's a religious pot pourri, as the group looks at Presbyterian, Methodist, Baptist, Lutheran, Episcopalian, Catholic, and A.M.E. Zion houses of worship. Learn about the elusive James M. McMichael, who is credited with the design of more than 900 churches and buildings in South during the early 1900s, including what is now Spirit Square, the Great Aunt Stella Center, and the former Afro-American Cultural Center.
Get some churchin' this Sunday, Oct 23 from 3 – 4 p.m. at The Duke Mansion, 400 Hermitage Road. It's free to Members of Historic Charlotte and The Duke Mansion and $10 for all others. Seating is limited, so you're asked to reserve a spot by emailing RSVP@HistoricCharlotte.org or calling 704-375-2425.