Getting Greeky
A first trip to Greek Isles did not disappoint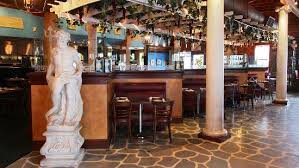 The availability of delicious and authentic ethnic food kind of makes or breaks a city to me. Being here nearly two years, it was time I explored the Greek options in Charlotte. I'd already found killer Thai, amazing Indian, and my new favorite Vietnamese pho joint, but I hadn't expanded my search to Mediterranean fare. On Friday evening, I finally set foot in Greek Isles – a restaurant specializing in authentic Greek cuisine. Good lord – I think I found my new Greek go-to.
The Atmosphere: First off, the entire outside of the restaurant smells like herbs – probably a product of the huge bushes of rosemary, mint, and basil adorbing the patio and sides of the eatery. Secondly, most Greek restaurants get a bit guady with lots of columns and colors and statues – Greek Isles downplays the Acropolis feel, but still feels fun and inviting with blue walls, white finishes, and columns dotting the interior. The owners — both originally from Greece — have stayed true to their roots.
The Food: Prices are reasonable and food is plentiful. A platter of saganaki (flaming cheese!) and pikilia (a platter featuring stuffed grape leaves, meatballs, sausage, grilled vegetables and spinach pie) is enough to nearly fill up on before your meal. But, please, save room.
For dinner, I went traditional. A HUGE helping of spanakopita was enough for two people, and the potatoes flanking the dish were impossibly fresh tasting with lemon, butter, and herbs. My guest got a beautiful lamb chop – likely the most tender I have EVER tried.
Sweet Endings: Dessert is always a must for me, and, again, I went traditional. I was served the largest slice of baklava I have EVER seen. The pastry, which layers phyllo dough with honey and nuts was sweet, rich, and earthy. The sheer amount of work that goes into this pastry usually accounts for the smaller servings. At Greek Isles, there must have been nearly 20 layers of phyllo carefully stacked and soaked with the honey and nut mixture. Crispy, delicious, and leaving me begging for more.
So, next Friday, if you're down around Food Truck Friday and find yourself craving something a little different — walk down to Greek Isles on East Bland Street near the Light Rail. Opa!