Getting to the Heart of It
In January and February, all three local Mellow Mushrooms will donate to The HEARTest Yard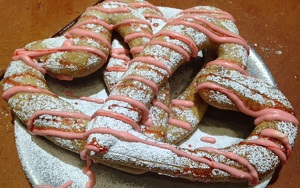 February is American Heart Month, and all three Charlotte-area Mellow Mushroom stores will donate $2 to The HEARTest Yard for every order of Heart Pretzels sold. But Mellow couldn't wait until February to start the special – so you can get your sweet pretzel heart right now.
What's a heart pretzel? Mellow's pizza dough is shaped into pretzel hearts then basted with honey butter and baked in the pizza oven. As a finishing touch, they're sprinkled with powdered sugar and served with a cherry and cream cheese frosting. Three hearts are $5.99; six are available for $8.99.
The HEARTest Yard, founded by Carolina Panthers tight end Greg Olsen, helps children born with congenital heart defects. Olsen's son was born in 2012 with hypoplastic left heart syndrome (HLHS), which prompted him and his wife, Kara, to begin the charity to help other families in need. It's a cause important to Mellow Mushroom co-owner Marc Kieffer, who lost his own sister to the same rare disease when she was 11 days old.
"We are happy to start the year off with a tasty promotion that will raise money for one of our favorite causes. Our newest Mellow Mushroom – our uptown location – raised money for The HEARTest Yard last year, and it was gratifying for us and our guests to participate," said Kieffer.
The HEARTest Yard works with Levine Children's Hospital to help provide necessary, but often costly, services to children born with congenital heart defects.
Regardless of which area in Charlotte you call home, you can take part in the HEARTest Yard at any of the three Mellow locations here: Ballantyne, Uptown, and Myers Park.