Getting weird at Unknown Brewing's Strange Brew festival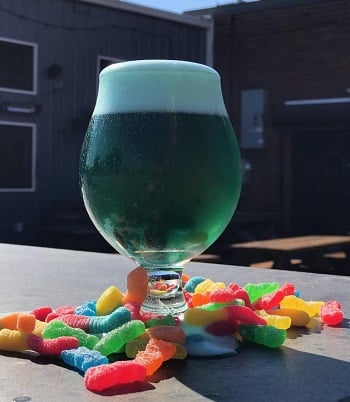 A stout brewed with MSG? Beer with ingredients solely from a local Food Lion?
And people are paying to try all of this?
Yes, yes and emphatically yes. It's all part of what has quickly grown into a must-attend festival each year, Unknown Brewing's Strange Brew.
Now in its fourth year, Saturday's sold-out event features 17 local breweries, whose task is to make the weirdest beer ever – no limitations or rules.
Unknown owner Brad Shell says the idea came from a similar event he attended when living in Washington state.
"Sometimes brewers get so burned out on festivals, you want to create a festival for them," Shell says. "This is a great party for those who are coming, but it's especially a chance for brewers to go out and have some fun."
A total of 18 breweries are participating this year, including Birdsong, Blue Blaze, Bold Missy, Cabarrus, Catawba, Cavendish, D9, DreamChaser's, Legal Remedy, Lenny Boy, Pilot, Rivermen, Seaboard, Sycamore, Town, Unknown, Wooden Robot and Monday Night Brewing out of Atlanta.
Some of last year's entries included Triple C's Sharkgull Chili Stout (brewed with cayenne pepper, tabasco sauce and MSG); Lenny Boy's Strawberry Whiskey Sour; Unknown's Imperial Strong Ale brewed with Milky Ways, Moon Pies and Mars bars then aged on petrified wood and meteorites; a beer from New Sarum with items foraged from a local Food Lion; and the winner of the 2017 Strange Brew festival, D9's kimchi beer.
"It's funny, the first year we did it, there was a peach saison and a s'mores beer," Shell says. "Now, don't get me wrong, those have a place but the point is to go way outside the boundaries. It's such a hyper-intensive world we live in, especially on social media where you make one wrong move and get blasted. Sometimes we forget that we're creative beings."
To that social media end, Shell stresses this is not a typical festival for someone to begin listing and rating beers on apps such as Untappd. In fact, Shell says if anyone is caught doing that, they will be asked to leave.
"Listen, there's going to be some crazy beers here," he says. "Some of them you may not like – but that's the point. It's thinking way outside the box with ingredients you've never thought of to put in a beer."
This year, brewers are keeping their entries close to the vest ("I don't even know – no one wants anyone to steal ideas," Shell says with a laugh) but a few 2018 Strange Brews have been made public. Birdsong is bringing a blue sour ale brewed with Sour Patch Kids, gummy worms and Sprees, while Cavendish and Rivermen are collaborating on a NE-style IPA that had bull testicles added in the mash. And of course, Shell says his brewery will have something special too – a spin on the ever-popular pastry stout (hint: think deep fried).
"We're excited for both the brewers and people coming who want a chance to get a bit adventurous," he says. "It's a rare event where you likely won't see these beers anywhere else, and I think that's why it has sold out in recent years. Everyone enjoys the exclusivity and being part of that."