Girl Talk
A Girl's Guide to Being Bridesmaid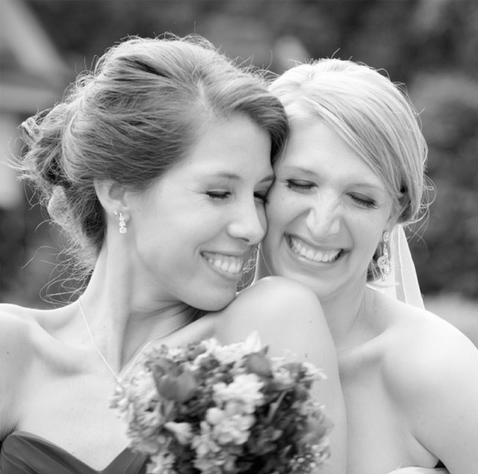 Speaking of maidzillas, now that we've covered how to deal with bridal party drama and MOH duties, it seems appropriate to discuss the duties of being a bridesmaid. Though the role isn't quite as involved as that of MOH, it's nonetheless an important commitment with certain expectations and related rules of etiquette. When the tables turn and you're asked to stand beside a best friend on her big day, be sure you know the bridesmaid basics. Having an understanding of expected duties will not only be greatly appreciated but will also help you keep your own expectations in check for your ladies-in-waiting as well.
School of Frock. You will need to make plans to attend bridesmaid dress appointments with the rest of the party. Provide thoughtful insight on styles while trying on dresses, but do so with the entire group in mind. Remember, just because the dress is flattering on your own figure doesn't mean that's the case for the other 'maids. And at the end of the day, the bride has the final say. Be respectful and think for the good of the group. You will be paying for the dress and any accompanying accessories.
Tailor Made. You will also need to attend all dress fittings and front the cost of alterations. It's crucial that you purchase the dress leaving plenty of time for alterations.
Party Fund. Though the MOH will likely be the one to plan, the cost of the bridal shower should be divided among bridesmaids. Be prepared to donate funds. Write your check to be given to the MOH in a timely fashion–ie before the event takes place. The same can be said for the bachelorette party or weekend. Your attendance is crucial for both of these events as well.
Beauty Queen. You will also be expected to pay for hair, makeup and nail appointments the day of the wedding.
DIY Do. Should the bride have any DIY projects related to the wedding, her 'maids should volunteer help for such. Aside from helping create the items, a helping hand for setup is thoughtful as well.
Dancing Shoes. As bridesmaid, you should save a dance for your escort. It's tradition that the bridesmaids and groomsmen dance at the reception.
Gift Guide. Unless the bride has a wedding planner, it's the bridesmaids' and groomsmen's responsibility to load all wedding gifts into the designated vehicle for transporting them home from the reception. This should be done close to the end of the night.
Stand-In. A loyal bridesmaid should be perceptive of MOH involvement. Should a MOH be geographically not present or simply hesitant to fulfill her own duties, a bridesmaid should step in to be of help. This includes appointment-going, shielding the bride from stressful situations and helping to organize and plan related parties and events.