Give Thanks
Ways to show gratitude toward dad on the big day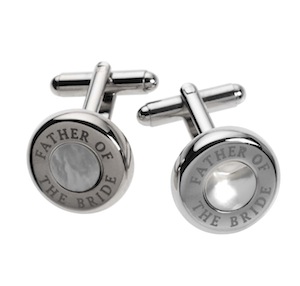 All too often, weddings can become a one-woman show. With the constant doting and wonderfully girly-centered festivities and fashion that simply go with the territory, it's almost unavoidable. Nonetheless, it's always important to take a step back and recognize all the important people who have helped to make your fairy tale begininng a reality. With Father's Day just around the corner, this week is our week in celebration of dad. So step out of your bridal bliss and take the week to focus on your father. First up, we've compiled a list of unique ways to show him just how thankful you are that he is a part of your special day, be it monetarily or not. Your wedding day is a monumental one for him. Make sure he feels touched and equally excited to walk you down the aisle and give you away.
Jetsetter
If your dad is still married (or even if he's on the dating scene), give him a weekend getaway with his special someone. If this is out of the budget, a simple gift certificate to his favorite restaurant will be equally special. For added sentiment, choose the place he went on his first date.
Bootlegger
No doubt the FOB has serious nerves, come wedding day. Scout out a sleek leather flask and have his initials engraved on the front. A little bit of liquid courage will do just the trick to walk you down the aisle, and each time he uses it, he'll be transported back to the day.
Father-Daughter Day
Think back to your childhood. Choose a cherished memory the two of you shared and recreate the event. Be it a fishing trip, a packed day of activities or a sports game, make sure you choose one that's centered around his interests. He'll be completely touched by the effort and the planning.
Pampered Pop
Schedule a Mad Men-style barbour shop shave for dad. Rather than schedule it for the big day, choose a random Saturday. Unlike women, men rarely frequent in random acts of pampering. Have the shop put together a gift bag of products used during the appointment for him to take home.
Urban Outfitter
Take your dad shopping for his ensemble to wear on your wedding day. He will likely not wish to attend your bridal gown appointment. Make an appointment with a personal shopper at a local men's boutique or department store. Make a day of it, just the two of you, and help him choose a dashing outfit to don. Many men's boutiques will offer beer to shoppers. (It's the man's equivalent to champagne on bridal appointments)! Sneak the tie away after all the purchases are made and have a special message embroidered on the inside.