Giving Whiskey More Than A Shot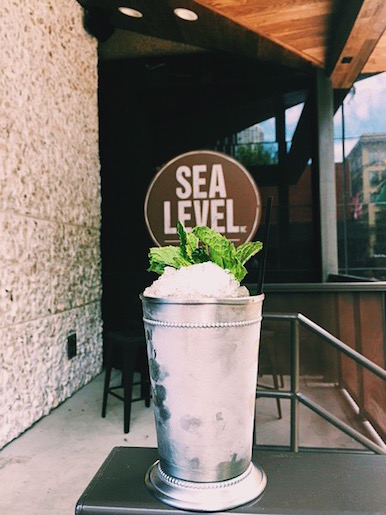 Colleen Hughes wants more women in Charlotte to give whiskey a chance. Hughes, who oversees the bar program at Sea Level, Crepe Cellar and Growler's Pourhouse, has teamed up with Heather Chaney of Republic National, a national distributor of wine and spirits, to try and make that happen this Wednesday during their Women and Whiskies event.
The event, which runs from 5 – 7 p.m at Sea Level, will include drink specials, food, door prizes, and other fun. Hughes describes it as being "almost like an afternoon tea, but instead of tea, whiskey." Her aim is to demonstrate the elegance and countless charms of the brown spirit.
The bar will offer three whiskey cocktail specials for the affair. The Mint Julep is a straight play on a Southern favorite, complete with the frosty silver cup and sprig of mint. The other two are riffs on classic gin cocktails: a Whiskey Clover Club made with egg white, lemon juice, and raspberry syrup; and a Bee's Knees, a lighter cocktail that mixes fresh lemon and local raw honey from Ritter Apiary.
Each of these cocktails has their own fascinating story. The Bee's Knees sprung up around the Prohibition era. Some believe the honey and lemon were meant to mask the harsh flavor of illegally-made bathtub gins, while others think it was meant to hide the smell of alcohol (for obvious reasons).
The Clover Club was born in Philadelphia before the Prohibition era. Businessmen enjoyed it for years before tastes changed and it fell out of favor for being a girly drink. In 1934, Esquire magazine called it one of the 10 worst cocktails of the previous decade. In their 1949 Handbook for Hosts, they even relegated it to the section entitled "Something for the Ladies."
Tomorrow night, the Clover Club will indeed be for the ladies, but that doesn't mean that Hughes's whiskey-based take can't also be enjoyed by menfolk. The original cocktail has made a comeback over the last few years, despite—or perhaps because of—its pretty pink color and frothy white top. It is sweet and a little sour and, though the whiskey adds some depth, still a refreshing choice on a summer's day.
Sea Level's event is a collaborative effort with Campari America, which founded the Women and Whiskies program in order "to empower women with knowledge so they feel comfortable tasting, talking, and buying a spirit that has been traditionally marketed and advertised to men." Besides engaging women through events like this one, which are held all over the country, their Facebook page and website offer recipes, purchasing tips, and history lessons on the storied spirit.
Hughes says they will aim to hold the event here in Charlotte twice a year. When asked if gentlemen were welcome to join, Hughes joked, "It's going to be real girly, but they are welcome here."