Globetrotter
Destination wedding tips & tricks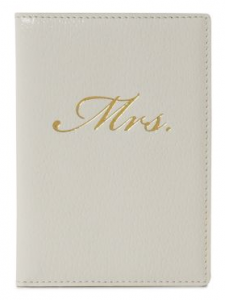 Destination I dos have become increasingly popular among couples. Whether for a budget-friendly intimate affair with just your nearest and dearest or for a grand soirée with an exotic backdrop, faraway nuptials require more than a few considerations and important planning steps. Be sure to visit the venue before committing to a date unless you've stayed previously. And keep in mind, the hot spots book up exceedingly quickly. Plan as much in advance as possible. Aside from these basics, here are a few additional pointers to help you choose whether or not a far-off wedding is your best bet, and some essentials for ensuring it goes off without a hitch.
Different Place, Same Idea. While the concept of an add-on holiday spot sounds delightful, should you opt for destination nuptials, the same rules apply when it comes to choosing a locale. Unless you pick a place that has special meaning to the two of you, the location should be emblematic of you and your fiancé's personalities. The last thing you would want is to choose a picturesque venue with a black tie-required dress code when your nature is laid back and casual. Like local venues, research is key.
The Great Debate. Most resorts and hotels offer at least one type of wedding package. Bundle packages can help you save in more ways than one, but don't forget that initial quotes can be negotiated. Be friendly but firm in explaining your budgetary restrictions. There is never any harm in asking for a bit of wiggle room in their offer.
Timing is Everything. Keep in mind that, while you may avoid a steep price tag by booking outside of peak tourist season, you may be putting yourself at risk for hurricane season. Keep timing in mind when sending out save-the-dates as well. Check first and foremost with local hotels to reserve a block of rooms. Likely the hotel will provide a discount for guests who book the alotted rooms. Be sure to give plenty of notice to all invitees to allow for vacation requests, budgeting and airfare research.
Trade-off. Guest travel is a hefty investment of time and money. There's simply no getting around it. For those who decide to make the trip, let them know up front that their presence alone is a gift in itself. By allowing guests to opt out of having to purchase a wedding gift on top of travel expenses, they will be more likely to RSVP 'yes.'
Get Hitched Pre-Plane Ride. It's essential to file all necessary paperwork for marriage well in advance of leaving for your ceremony locale. To avoid legal fees and unknown government customs in your destination location, you must be married on paper first. For instance, France requires couples be in the country's confines at least 40 days before a legal ceremony can take place. Naturally you'll want to avoid such a disaster situation.
Outsourcing Efforts. For those who lack the luxury of living in your designated destination for the months prior to "I do," hiring a planner is crucial. There is no efficient way to oversee wedding details remotely, so you'll have to relinquish control to a local for at least parts of the planning process. Don't forget that planners typically charge 10-15 percent of your total wedding budget. This is an essential aspect of budgeting for any destination wedding. Don't risk last-minute planning fails or unnecessary stress on the big day by opting out of a planner. Many resorts have in-house planners which may be included in their package prices.
Live Off The Land. Opt for a location with lots of natural beauty. You'll minimize cost for centerpieces and decor. When the venue stands alone in beauty, you need not much else besides friends, family and the love of your life.
{photo}