Gnocchi: You Say Potato
January is the perfect month for gnocchi, and these five restaurants do it right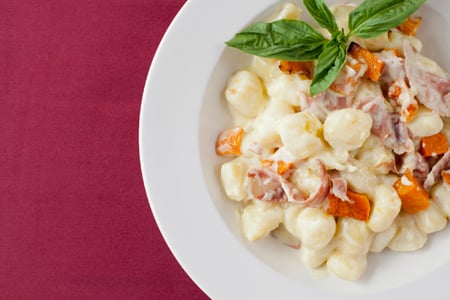 With this month's chilly nights, a warm bowl of gnocchi is the answer to your comfort food cravings. At these five local spots you'll find house-made versions of the traditional Italian dish featuring the savory potato dumplings in a variety of hearty sauces.
1100 Metropolitan Ave., 704-370-7755
At this chic-meets-rustic midtown spot, the gnocchi appetizer is seasonal, which means the simple pasta may be served alongside tender shrimp and peppery arugula in a spicy cream sauce on one visit and topped in a creamy basil aioli on another ($9).
100 N. Tryon St., 704-376-8880
Chef Frank Altomare caramelizes his tender potato dumplings for this trendy uptown restaurant's dishes, available as an appetizer or entrée. Opt for the appetizer version. It comes with bits of tart pear and salty prosciutto in a heady Gorgonzola and truffle oil cream sauce, all of which pair perfectly with the slightly sweet pasta ($10).
1710 Kenilworth Ave., 704-332-7525
Gnocchi is so time consuming to prepare that some local restaurants have taken it off their menus. Dolce has compromised, offering the freshly made Yukon gold potato dumplings only on Tuesdays. The sauce varies with options like a chunky Bolognese or a rich butter and sage, but the delicate flavor of the pasta shines through every time ($15).
7822 Fairview Rd., 704- 364-5755
While it changes season- ally, during the winter months Chef Bruce Moffett's handmade gnocchi is the ultimate in luxurious comfort food. Pillows of Parmesan gnoc- chi meet their match in
a sauce featuring tender braised veal and flavorful porcini mushrooms ($19).
1601 Elizabeth Ave., 704- 333-3396
All of the pastas at this elegant Elizabeth restau- rant are made in house, and during the cooler months, the gnocchi offer- ings expand to include a ricotta gnocchi in an egg- plant and tomato sauce, a potato gnocchi in a venison ragu, and a pumpkin gnocchi with lobster. The airy goat's-milk ricotta version is a standout any time of year ($19-$24).