Godiva's Fall 2011 Wedding Favor Collection
Surprise guests with sophisticated chocolate favors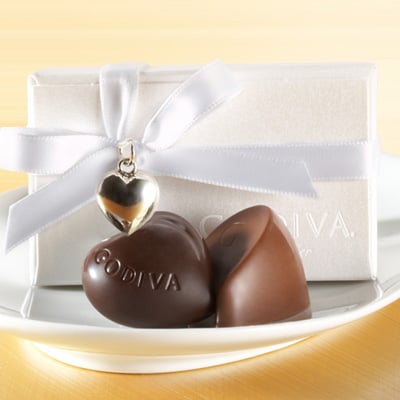 Wedding favors are meant to add a personable touch and leave a lasting impression to the end of your wedding soirée, and with Godiva's Wedding Fall 2011 Favor Collection, guests are bound to savor the moment with these decadent delights.
Chicly packaged in an assortment of ribbon-tied Godiva Chocolatier boxes, your favor options are endless. Individually wrapped for guests, Godiva's 2-piece sets include a Dark Chocolate Ganache Heart and Milk Chocolate Praliné Crescent while the 4-piece assortments include a Dark Chocolate Caramel Embrace and White Chocolate Raspberry Star. If the chocolate sets aren't enough to make your wedding day most memorable, Godiva also offers Signature Chocolate Truffle Assortments and authentic Milk Chocolate Cigars that are bound to wow guests.
Couples concerned that favors won't translate their wedding theme should worry no more. A Godiva favor offers a variety of ribbon colors to match wedding parties and adds personable touches to the ribbons with details such as calla lilies and silver heart charms—a perfect accessory for a gourmet gift.
With these sophisticated favors, it's time to ditch those dusty mints and leave guests with a piece of your heart, a chocolate-filled Godiva that is.