Going French for Valentine's Day
The Parisians are experts on romance, after all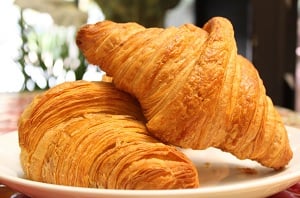 If you weren't aware, Valentine's Day is tomorrow. Instead of the usual roses, chocolates, overly-expensive dinners, and general gushy outward displays of affection, why not take your special someone out for a quiet, delicious, and French breakfast?
The Parisians pride themselves on, well, a lot of things, but food and romance are definitely in the top five. Luckily, for those of us calling the Queen City home, you don't have to trek half way around the world to get your hands on some delicious French breakfast items.
Amélie's French Bakery:This one is a given. If the shabby chic meets Parisian fun decor doesn't get you feeling cutesy and romantic, the glass case full of French macarons, éclairs, chocolate mousse cups, tortes, and tarts will. Of course, when it comes to breakfast, they have you covered. The pain perdu (French toast) coupled with a café crème (a latte combining espresso with milk) is a perfect way to start Valentine's Day.
Nova's Bakery: With several Charlotte locations, you can make a quick stop at Nova's Bakery or you can take a seat and enjoy a quiet breakfast. Food-obsessed diners in Charlotte swear by the scones, but if you're a bit more health-conscious, try the Glorious Morning Muffin; studded with Granny Smith apples, shredded carrots, coconut, walnuts, raisins and cinnamon.
Cafe Monte: This French restaurant snug in SouthPark has all the makings of a classic French breakfast. If temperatures drop as low as they're predicted to, Cafe Monte's quiche – in either Florentine with spinach and Swiss cheese or Lorraine with bacon, ham, and Swiss cheese – is sure to warm you up.
Sunflour Baking Company: Diners swear that this bakery has the best croissants in town. According to the eatery's website, "Each croissant is fashioned in a three day fermentation and lamination process that forms 27 luscious layers of dough and butter— the only way it can get so magically flaky."
Think outside the box, bag, jewelry case, and flower shop this Valentine's Day!