Going Toe-to-Toe at Queen City Q Trivia Night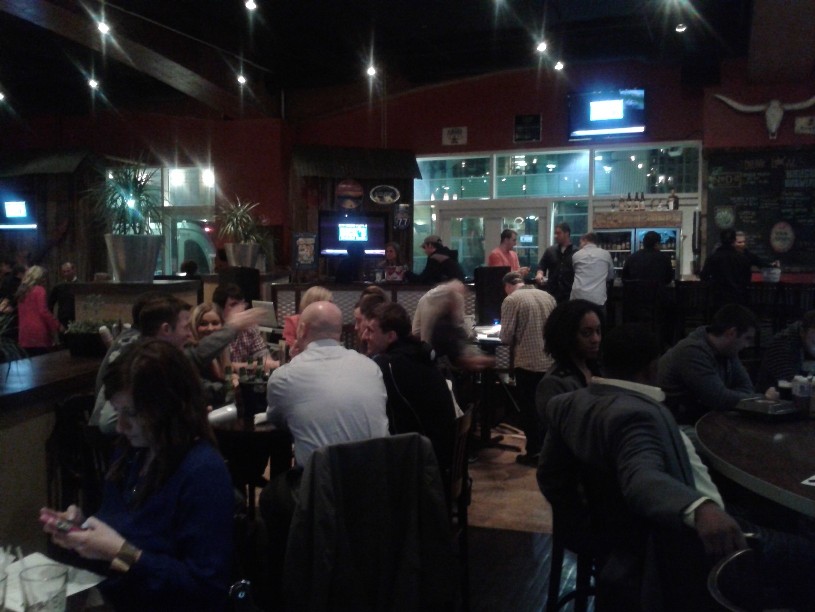 Since opening a little more than a year ago, Queen City Q has become a popular Uptown destination for great barbecue (and wings and burgers). It's also a place where Charlotte Bobcats and Charlotte Checkers fans come to pre-game. Recently, Queen City Q has sought to expand its nightlife offerings by adding a weekly trivia night on Thursdays. I joined in on the fun last week.
First off, the two large bars inside the Q, coupled with the large selection of beers (by the bottle and drafts), make this a great atmosphere for bar games. Trivia starts at 9 p.m., and is hosted by Chris "DJ Crackerjack" Roland. There are three rounds of trivia, and the winning team from each round wins a bucket of beer.
When I played last Thursday, the three topics were college basketball, Irish/St. Patrick, and early 2000s Saturday Night Live episodes. So the first two rounds were questions based on timely occurrences, with it being close to the start of March Madness and St. Patrick's Day; the third round could be considered pop culture.
After each round, two people are selected to compete in a challenge—often something silly—for the chance to earn extra points for their team. I participated in a challenge where I went toe-to-toe (pun intended) with a young lady as we had to put our hands in a pair of pantyhose apiece to see who would be the first to pull the coin out of the bottom. I won! (Mama would be so proud.) Another challenge consisted of pedometers being strapped to the participants' heads, and then they had to headbang (the way you would at a rock concert), and the winner was the person who registered the most activity on the pedometer.
The Q is offering a fun twist on the typical trivia night, and I think you'll enjoy it. I did.
Queen City Q, 225 E. Sixth St., Suite A, 704-334-TheQ (8437), queencityq.com; parking is validated for the Seventh Street Station parking deck.

Be sure to bookmark www.charlottemagazine.com/Blogs/Dusk-Till-Dawn to stay plugged into Charlotte nightlife. Follow me on Twitter @HollidayInk; email me at jarvish@grownpeopletalking.com.