Golf Getaway: Champions Retreat in Georgia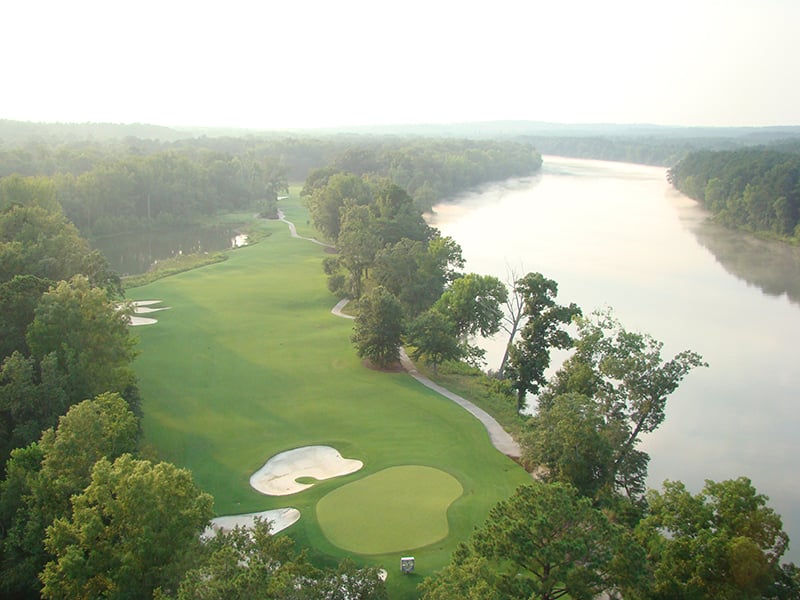 SIXTY-FIVE DEGREES and the sun is out to lunch. It's January in Georgia, and I'm at Champions Retreat, a golf club just 30 minutes or so northwest of Augusta National, the legendary home of the Masters. The hectic pace of life melts away as I make my way down a long drive, passing rows of impressive homes and pines. Compared to the course down the road, Champions' lesser-known status and seclusion give the club an elevated sense of serenity.
This one-time timber farm is now home to three nine-hole courses, each designed by one of the most celebrated golfers ever to swing a club: Jack Nicklaus, Arnold Palmer, and Gary Player. The trio shares 13 green jackets, 34 majors wins, and 159 career victories.
In 1999, Gary Player was at the Masters Champions Dinner trying to convince Nicklaus and Palmer to share his vision of a 27-hole, private golf club in Augusta. As the story goes, when it was time to divvy up the property, Player wrote the words "island," "creek," and "bluff"—words he had used to describe the site's natural terrain—on the back of three index cards. Since Palmer was the most senior and had played in more Masters than Nicklaus or Player, he drew first, at random. Island. Nicklaus was up next, since he had won more green jackets than Player. Bluff. That left Player with the creek property.
The three worked the terrain expertly, each highlighting his own unique style of play. Nicklaus's course is a challenging nine with its elevated tees, rolling hills, and sharp dog-legs. Palmer's island course—perhaps the most naturally beautiful—is positioned on a strip of land that connects South Carolina and Georgia along the Savannah River. Its forte: peaceful water views. And Player's creek course opens with wetlands, the rest of the course advancing through the towering native hardwoods.
Champions Retreat is the only club in the world that can boast designs by the illustrious three—but it's private, so your only option to experience these par three courses is to secure a coveted spot during Masters week, when the club opens up to the public with many of the high-end amenities that accompany membership.
While golf is the clear draw to Champions, the Grille House serves up inventive meals such as lobster tail atop tabbouleh and filet mignon grilled to a flawless medium rare over sweet beet cakes. Enjoy one of these dishes as you gaze out amid the Georgia pines and admire courses three legends drummed up on luck-of-the draw lots.
CHAMPIONS RETREAT
37 Champions Pkwy., Evans, GA
Distance:
2½ hours by car on I-77 South
and I-20 West
Courses and cost:
Creek: 3,194 yards
Bluff: 3,267 yards
Island: 3,187 yards
Prices range from $2,400-$2,750 during Masters week and accommodate four players. Cost includes one forecaddie, greens fees, facility access, cart fee, a $50 merchandise credit, and all-you-can-eat and drink for breakfast and lunch.
For more details, call 706.854.6960 or visit championsretreat.net.