Golf Getaway: The Greenbrier in West Virginia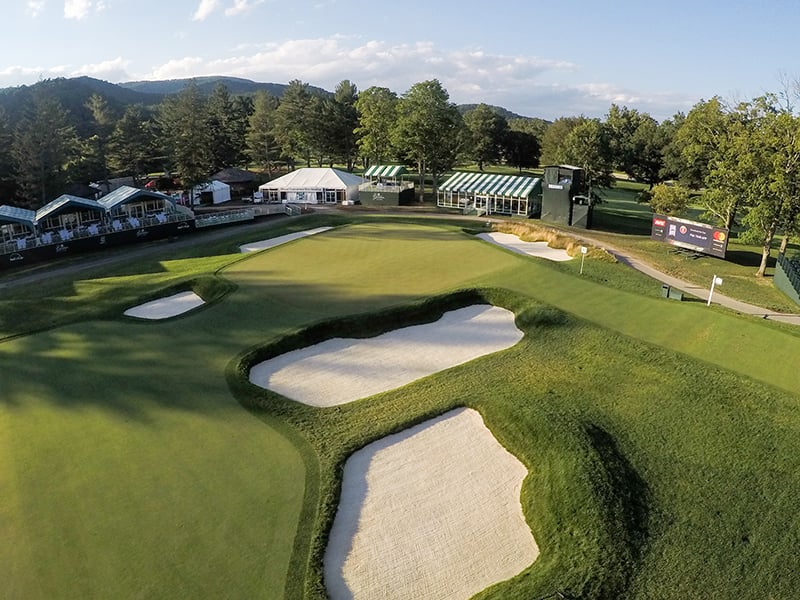 ONE SUNDAY this past February, in a humble West Virginia town with a famous resort, Greg Scott wondered how long the rain would last. He had the day off from his job as a doorman at the Greenbrier Resort, and he'd spent it watching the creek near his house creep closer to clearing its banks. Then his 97-year-old neighbor Glenna called.
"You ready to go?" Glenna, a retired schoolteacher, said. "My suitcase is beside the door!"
Scott laughed and told her not to panic. The rain would stop soon, he assured her. And it did. This time.
Almost two years ago, on June 23, 2016, it didn't, and Howard's Creek kept rising, and a monumental flood changed White Sulphur Springs forever. Scott lost everything on his first floor. Many had it worse. Twenty-three people died. Homes were destroyed. The Greenbrier hotel, situated on a hill above the town, was safe, but some families who'd worked there for generations lost possessions and loved ones.
Golf was hardly the first concern for anyone. But in the year that followed, the game took on a symbolic role as "America's resort since 1778" and the town that surrounded it recovered. The Old White TPC is one of golf's treasured stretches of land. The view of the mountains from the first tee looks almost the same as it did in 1914 when President Woodrow Wilson played it. Sam Snead, Ben Hogan, and Jack Nicklaus all played here, as have modern greats such as Tiger Woods and Phil Mickelson.
The 2016 Greenbrier Classic PGA tour event was just 10 days away when floodwaters totaled the Old White Course in a matter of hours. The tournament was canceled the next day. The resort—which includes a casino, spa, bowling alley, tennis center, and a Cold War-era bunker designed to house members of Congress in the event of a nuclear war—shut down. It took more than a month to reopen in earnest. Even then, only one of the three public courses on the resort, the Greenbrier, was in a condition to be be played.
Things have progressed from there.
The third course, Meadows, reopened in the summer of 2017 with more personality. Its bunkers now have steep walls resembling those at St. Andrews in Scotland. (They're actually made of sheets of Astroturf cut up from old soccer pitches in England, stacked with thin layers of dirt between them, like a tightly packed layer cake.)
The Greenbrier course closed after Meadows opened. Mickelson is designing eight new holes for the Greenbrier, with a tentative completion date of early 2019.
The people here knew, though, that one of the best ways to show off their resolve would be to have the Old White Course back up and running for the 2017 PGA event. Superintendent Josh Pope, a North Carolina native, had only 11 months to reconstruct the greens and tee boxes, then reseed and grow grass on all 18 holes. It would require 12-hour days from his team and good luck from a warm winter, but they made it. And when television crews flew in from all over in early July 2017, they shared the story of a historic golf course's new life.
Still, those who lived through it find themselves looking up at the sky most days, knowing how easily it could all go wrong again. "Some people in White Sulphur Springs," Pope says, "they're gonna think about it for the rest of their lives, whenever it rains."
---
300 W. Main St., White Sulphur Springs, WV
Distance
The Greenbrier is about four hours from Charlotte. Take I-77 north for 201 miles, through Virginia and into West Virginia. Take exit 40 and merge onto I-64 east toward Lewisburg. Take I-64 east to exit 175, then follow U.S. 60 east for 3.5 miles.
Courses and Costs
Old White Course:
Par 70, 6,426 yards
The Meadows Course:
Par 70, 6,109 yards
The Greenbrier Course:
Closed for restorations. Some holes may reopen this summer, but the full 18 holes aren't scheduled to be completed until 2019.
Prices range from $150 to $450 depending on the season and course. Resort guests get a discount.
For reservations, call 304-536-1110 or visit greenbrier.com.