Goodbye, Mr. Voller
The N.C. Democratic Party chairman prepares to end a reign of error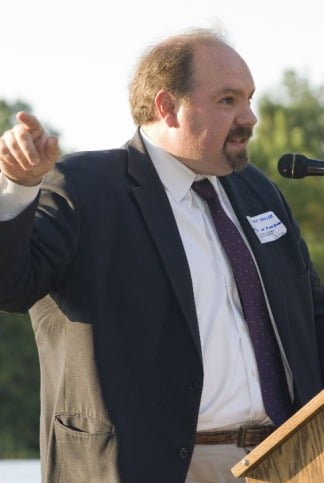 This is a good thing (from the N&O):
Embattled North Carolina Democratic Party Chairman Randy Voller said he won't seek another term leading the organization, citing Sen. Kay Hagan's loss on Election Day.
"I personally judge myself on the loss of the U.S. Senate seat," Voller told hundreds of Democrats from across the state Saturday at a meeting in a Pittsboro high school auditorium. "I'm not going to run for re-election because I believe that I need to take responsibility for that loss."
Voller, a former Pittsboro mayor, earlier this year faced calls to resign over concerns that he owed back taxes and for firing the party's executive director. He'd also come under fire for a trip to Las Vegas with friends in March 2013 to watch a basketball game in which he used a party credit card to charge $3,327. And some criticized him for awarding party consulting contracts to friends.
And still others expressed growing concern that he might accidentally reserve the Democrats' historic headquarters on Hillsborough Street in Raleigh for the Phil Berger re-election campaign.
His explanation is weird. When I talked to Voller back in the spring for this story about the party, he told me his main goal was to grow solid constituencies at the county level, and that the Senate race, while important, was not a make-or-break election for the Democrats. Now he's saying he holds himself responsible for Hagan's loss—after Hagan chose to work with the Wake County party instead of the state party?
Whatever. Patsy Keever of Asheville, the party's first vice chair, is in line to succeed Voller. She has plenty of work to do. If you're wondering if the party is any more united and determined after Hagan's loss, here's a strong indication:
And while multiple speakers Saturday called for unity within the Democratic Party, the meeting ended on a sour note when a representative from Chatham County voiced concerns about a voter shaming letter sent out by the party. He called the letter—which told voters they'd get a call from the party if they skipped the election—the "elephant in the room."
Before the representative finished speaking, someone else angrily called for the meeting to be adjourned immediately—and because the gathering no longer had a quorum, it was cut off without further discussion.
Oy.