Goodyear Arts Extends Uptown Stay, Plans New Season of Events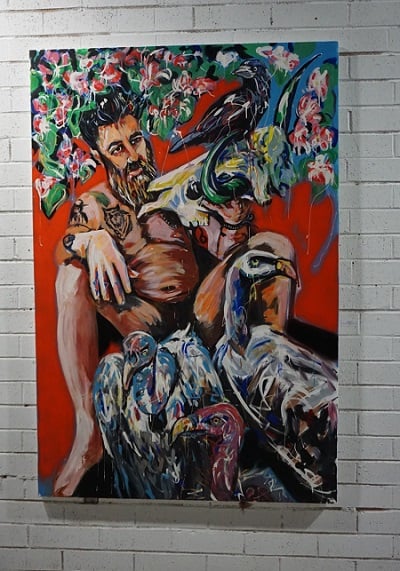 GOODYEAR ARTS FOUND a new home at 516 N College St. last year, offering two-month artist residencies between June and December. Now, the space changes hands between Levine Properties and new owner LMC, a division of Lennar. But that doesn't mean Goodyear Arts is bouncing to its next venue just yet: The group is planning to stay at the College Street space through June, with a new, month-to-month pro bono lease.
Though the Knight Foundation funding for the residencies ended in December, plans are to resume that side of the program once new funding is secured by directors Amy Bagwell, Graham Carew, and Amy Herman. Until then, the program's 22-plus alumni have free access to the facilities for readings, rehearsals, performances, gallery shows, and visual art creation.
Likewise, the gallery hours return on Friday (5 p.m.-9 p.m.) and Saturday (12 p.m.-6 p.m.). Also look for figure life drawing every Monday at 7 p.m. and monthly poetry readings facilitated by Vanilla Sex Magazine.
The trio of leaders at Goodyear Arts can't confirm the entire, packed schedule for the upcoming season, but we know it'll host the following:
* Apple Pie, the follow-up to the groundbreaking feminist art show Cherry Pie, which was hosted at Union Shop Studio. Grace Stott, Rebecca Henderson, Kathleen Bloom, Renee Cloud, and Melody Rood curate a new round of artists and works that touch on the several sides, viewpoints, and individuals of feminism. Read our piece about that first show here.
* XOXO's #CAKE, the experimental theater piece that's funded by the Knight Foundation, finally garners full life in an upcoming run at the space. This show's been in the works for a while.
* Multimedia/textile artist Andrea Vail is a recipient of a North Carolina Arts Council Fellowship Award. She brings the community project "Collecting_Pile" to Goodyear over the next several months. The idea is to make art out of crowdsourced, discarded household items. Donors can also get in on the creative process themselves by reaching out to Vail.
Your next chance to check out the space comes on Thursday's Uptown Crawl. The current duo show at Goodyear Arts, "Graham Carew vs. Robert Childers," features one of the co-directors of the space and one of its alumni. Read more about this month's crawl here.