Google Block Party
Boxman Studios turns shipping containers into party tents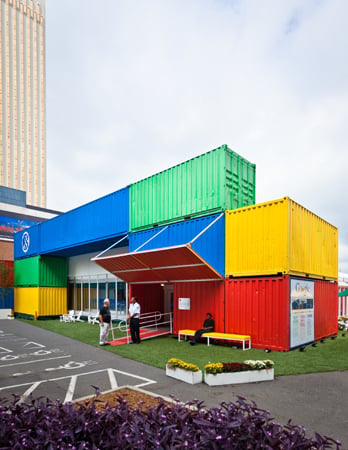 The line to enter the Google lounge during the Democratic National Convention snaked down the block. Giant rectangles in Google's trademark primary colors dominated the corner of Third and Tryon streets like a stack of overgrown Legos. Inside, the sprawling lounge was outfitted with sofas, massage chairs, TVs, Wi-Fi, photo booths, and snack bars. Many of the guests sipping coffee and eating popsicles had no idea that they were partying inside thirty-two metal shipping containers.
The lounge was the handiwork of Boxman Studios, a four-year-old Charlotte company that takes recycling to a whole new level. Founder David Campbell spent ten years as a commercial real estate developer. When the market took a nosedive in 2008, he decided to turn shipping containers into temporary real estate. Campbell originally imagined creating mobile lunch counters, portable office space, or affordable housing for students. A year later, his vision evolved into mobile hospitality venues.
Because America imports more than it exports, millions of shipping containers that are unloaded on U.S. shores every year don't have cargo for a return trip. Campbell buys the containers that would otherwise go unused. In his hands, the hulking 5,000-pound receptacles become malleable building blocks for all kinds of events. Workers assemble and paint the containers, put down carpeting or other appropriate flooring, and bring in furniture and décor to match the occasion.
Whether it's a pop-up skate shop for Olympic snowboarder Shaun White in Las Vegas, a showroom floor for Fiat in Canada, or a launch space for Samsung's Galaxy Note in New York City, Boxman Studios has designed, developed, and transformed decommissioned shipping containers into mobile lounges for big name brands across North America. They are used as music stages, classrooms, tradeshow exhibitions, and pop-up retail spaces.
The eye-catching DNC suite was not the first time Boxman delivered for Google. Last winter the company built the Google lounge for the TED Conference in Long Beach, California. When pitching new clients, Campbell can now point to such high-profile gigs as evidence of the company's success.
"People have been modifying shipping containers for non-shipping uses for decades," Campbell says. "Architects have been pushing this for about fifteen years, but we are the first to handle design, manufacture, and logistics. We're a one-stop shop."
The DNC Google suite was fabricated in Boxman's 10,000-square-foot warehouse off I-77, north of uptown. After the convention, the structure was dismantled and transported back to the warehouse, where the colorful rectangles will be redesigned for their next big close-up.