Grab & Go: 25 Must-Try Takeout Spots in Charlotte
A year ago, no one expected Charlotte's diversifying roster of restaurants to specialize in takeout, but COVID forced a hard turn. Here's a list of 25 restaurants that survived the switch—and which dishes to take home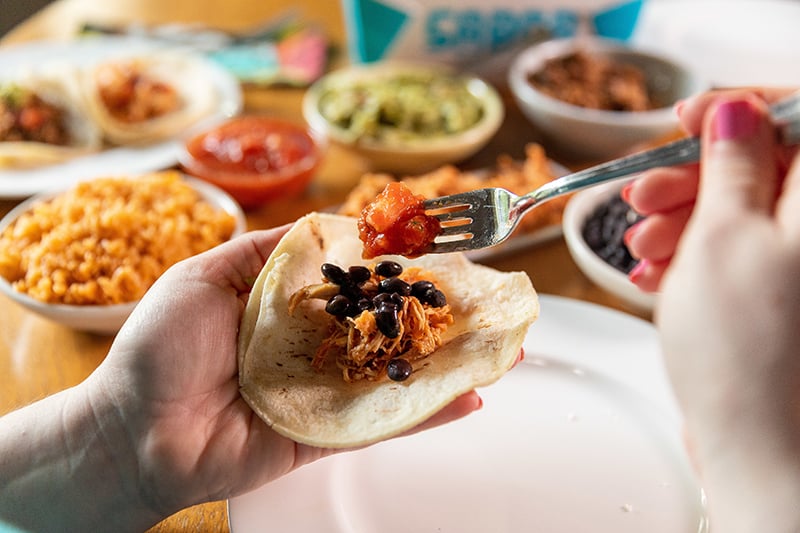 Home Kits
Multiple locations (neighborhoods: Ballantyne, Elizabeth, Montford, NoDa, South End, SouthPark, Steele Creek, University, uptown; towns: Davidson, Fort Mill, S.C., Greenville, S.C., Huntersville, Indian Trail, Matthews, Mooresville, and Pineville)
Sabor was one of the first local restaurants to pivot to kits during the COVID lockdown. The brand's family meal box—with its different types of tortillas, meats, beans, and dips— deconstructed tacos that wouldn't otherwise travel well. The most surprising item, however, was Sabor's DIY arepa and empanada meal kit. Pick two proteins, and the restaurants arm you with rosada sauce, arepa shells, and empanada discs—along with a YouTube video the brand produced that shows a child making the entrees. Watching a youngster pull it off grants confidence to those of us less experienced on the stovetop. —Andy Smith
Multiple locations (Dilworth, Plaza Midwood, and SouthPark)
As with Sabor's kits, diners embraced Yafo's Mediterranean family meal soon after COVID struck. It comes with a whole rotisserie chicken, two of Yafo's family sides, and a family-size Greek salad. The hardest part is picking out only two of Yafo's essential sides. If you're in the mood for some hot accompaniments, the Brussels sprouts and cumin rice are ideal—as well as the Greek yogurt mac and cheese. Cold sides include hummus, quinoa salad, and tomato-cucumber salad. (Important: You can order additional sides at an added cost.) The Chef's Features, including the Israeli Hot Chicken and the Chicken Schnitzel, can also be ordered to go.—A.S.
Latin
4625 Piedmont Row Dr., Ste. 115 D, 980-298-6138
Taqueria Mal Pan quietly opened in SouthPark's Piedmont Row in November 2019 and gained steady momentum with the grab-and-go lunch crowd. Owner Andre Lomeli brings a Mexican and West Coast-inspired menu from his former restaurant in San Diego; his tacos, burritos, and enchiladas have the pizzazz of a food truck's and the flavors of his native Yucatan Peninsula. The blue corn tortillas loaded with shredded chicken punch up a typical Taco Tuesday. The torta de cochinita pibil, a traditional Mexican sandwich, is stuffed with braised pork, black beans, queso, guacamole, and all sorts of sauces and spices you probably wouldn't think to put on a fluffy white roll. And the California burrito, packed with skirt steak, queso fresco, salsa, guacamole, and French fries, is a handheld feast. —Taylor Bowler
Tacos El Nevado
Multiple locations (Plaza Midwood and South End)
Tacos El Nevado doesn't have a proper Taco Tuesday special. But most of its tacos are just $2 every day, so it's always a solid deal. We recommend trying these four first: al pastor, asada, pollo, and lengua. (Vegetarians, fear not: Tacos El Nevado serves non-meat options.) The owners' native Oaxaca, the capital city of the Mexican state that shares the name, inspires much of the menu here. For a taste of "Mexico's culinary capital," try the Oaxaqueñas—tortas with ham, Oaxacan cheese, beans, jalapenos, tomatoes, and avocado—although you should at least order tacos on the side. —A.S.
These aren't the only spots that offer a tremendous Taco Tuesday—and Taco Wednesday and Taco Thursday. Head to Charlottemagazine.com/Tacos for several others
Italian
4127 Park Rd., 704-910-0142
The wood-fired pizzas are the main attraction at this family-run Italian spot. From the classic cheese to the prosciutto di parma, each has a crispy edge, bubbling cheese, and smoky flavor. Pasta dishes like the Rigatoni Bolognese and the Bucatini are solid and consistent, and the true meatballs with marinara sauce satisfy your Italian cravings when you don't want to cook. Just place your order online and pull up to Osteria LuCa's stretch of the curb at Park Road Shopping Center. A staffer will bring your order to your car—owners Tricia and Ken Martino run an efficient operation—and your Italian feast will be hot and intact when you get home. —T.B.
Multiple locations (Dilworth and SouthPark)
This local Italian chain prepares wood-fired pizzas and hearty pastas just fancy enough for you to forget it came from a fast-casual eatery. The "Familia Feast" is an essential grab-and-go weeknight dinner for parents on their way home from work or afternoon carpool. For $40, choose any two large pizzas, two family-sized pastas, or one of each. There's a variety of red pizzas like margherita, pepperoni, and San Lorenzo, or white pizzas with toppings like caramelized onion, artichoke, and roasted mushrooms. If you opt for pasta, we recommend the rigatoni with chicken—and ask for extra marsala cream sauce. It's so good you might want to drink it with a straw. Pick up your meal at one of Capishe's two Charlotte locations or have it delivered via Doordash. If it's been a really long day, tack on a few chocolate chip cannoli. —T.B.
Head to Charlottemagazine.com/Italian for the city's best Italian restaurants
3723 Monroe Rd., 980-219-7108
The "Factory" part of the brand is underscored by a robust menu. Owner Fabio Durazzo comes from natives of Naples, but his offerings include excessively American options like Stuffed BBQ Bacon and Buffalo Calamari pies. As for the traditional: Since Sal's opened two years ago, carloads have driven away with boxes of Grandma Vodka Sauce pizza, based on a recipe from Durazzo's grandmother. —A.S.
715 Providence Rd., 704-372-8110
Pizza is a habitual takeout meal, and Stagioni gets it right every time. The spaghetti, gnocchi, and truffle tagliatelle still anchor the traditional Italian menu, but the pepperoni and sausage pizza has remained a top seller; people will always crave this Friday night staple. Owner and longtime chef Bruce Moffett (who also owns Barrington's, Good Food on Montford, NC Red, and Bao + Broth) recognized this hankering for comfort food early in the pandemic and adapted his menus to emphasize family-style meals at home. He also came up with a DIY option for a family night at home: a $25 pizza kit with two house-made doughs, pizza sauce, mozzarella, sausage, and pepperoni. —T.B.
Read about the best pies in the city at Charlottemagazine.com/Pizza
Asian
2001 E. 7th St., 704-376-0880
This spot is a longtime go-to for American Chinese in the Elizabeth neighborhood, with all of the cuisine's mainstays executed with excellence, from sesame chicken and crab Rangoon to General Tso's chicken. Ho Ho's spin on the latter, the Shun Lee Spicy Chicken, is a hotter version of a classic takeout entree. —A.S.
3629-103 N. Davidson St., 980-859-3701
We somehow managed to get two mentions of pork rinds into this list. This Thai spot places them in an unexpected location: inside its Boat Noodles soup with slices of beef, slow-cooked steak, meat balls, herbs, and sprouts. The murky result isn't the most photogenic item on this list, but it's certainly one of the tastiest. —A.S.
1717 N. Sardis Rd., 704-708-9888
This small, 40-seat seafood grill and sushi bar specialized in takeout before the pandemic; the bulk of its business came from residents in nearby apartment complexes on Sardis Road. So the staff already excelled at arranging sushi rolls, barbecue salmon, and teriyaki chicken in aluminum serving trays. The café serves an assortment of specialty rolls—the spicy dragon, bamboo, and crispy eel are all colorful mouthfuls of bliss—and for less than its swankier uptown cousins. —T.B.
Lam's Kitchen
1369 Chestnut Lane, 704-821-0676
The menu at this unassuming Matthews restaurant is long; you'll find Chinese staples like General Tso's chicken and lesser-known clay pot dishes with salted fish and curry beef brisket. For a family meal at home, try the Pork Chop Peking-style—the sweet-and-sour pork is crisp and tangy but basic enough for kids to love. And if they don't, you can't go wrong with the Chinese-style fried rice. —T.B.
Lang Van
3019 Shamrock Dr., 704-531-9525
This 30-year-old Vietnamese joint on Shamrock Drive is best known for its spring rolls, vermicelli bowls, and pho noodles served piping hot with a plateful of mint, basil, and cilantro. But regulars know to start with the bánh xèo, a savory rice-flour pancake folded over sliced pork, shrimp, and bean sprouts. The familiar scent of turmeric, mint, and basil hits you as soon you open the takeout box at home. —T.B.
The city's best Asian spots can be found at Charlottemagazine.com/AsianFood
American
1807 Montford Dr., 704-525-4088
This sleeper on Montford Drive accomplishes what few restaurants can: chicken wings that travel well. Uncle Donnie's Famous Blackened Wings are Moosehead's smoky, not-too-spicy sig-nature flavor, but they also serve chipotle barbecue, honey mustard and wasabi, and eight other varieties you can take home in orders of five, 10, 50, or 100. To-go boxes come neatly packed with celery, carrot spears, and ranch or blue cheese. Ask for plenty of napkins, because once they reach your kitchen, it's your job to contain the mess. —T.B.
2718 Monroe Rd., 704-374-1232
Lupie's, open since 1987, is the closest thing in Charlotte to a roadhouse, with inexpensive, filling eats, dollar beers, and dark wood decor in dim light. COVID has made it harder to soak in the atmosphere, but you can still order takeout from the restaurant or through its delivery partners. Revolving daily specials include meatloaf and "Chicken n Dumplins" with sides like green beans and mac and cheese. Any of the four varieties of chili warms the gullet on cold nights. —Greg Lacour
1001 Belmont Ave., 704-910-2200
Other than the buttery buns, the secret to flagship burger The Ace is the comeback sauce, a blend of ketchup, mayo, hot sauce, and other finely tuned add-ins. And make sure you get the garlic mayo to dip those crispy fries in. —A.S.
Find more of Charlotte's essential burgers at Charlottemagazine.com/Burgers
Multiple locations (Montford, Plaza Midwood, and Rock Hill, S.C.)
You might try Jaco sauce and think, What is this exquisite elixir poured over my rotisserie chicken and rice? The concoction is a barbecue-teriyaki blend made in-house, and yes, it's great on anything. Queso, which has a similar all-purpose quality for this writer, comes as the dip for the restaurant's seasoned pork rinds. —A.S.
5610 Carnegie Blvd., 844-467-5683 ext. 2
To call it bar food would be an insult to Legion's executive chef, Gene Briggs. Sure, you can down a solid burger and chicken wings at this SouthPark brewery, but Chef Gene spans multiple cuisines in his kitchen. Get a pork belly gyro, a pho mi dip, carnitas pizza, or a pastrami cheesesteak—each one tastes like it's his specialty. Legion's menu changes regularly, so some dishes come and go. But his classic corned beef Reuben is a permanent fixture. For the full experience, crack open a can of Juicy Jay when you eat it at home. —T.B.
2711 Monroe Rd., 704-249-3317
The Tex-Mex spot in East Charlotte does it big, whether it's sizable chimichangas or the decadent South of Philly Cheesesteak. Dave's Fried Chicken Sammich is a hefty, juicy take on the chicken sandwich: a chipotle fried chicken breast topped with lettuce, tomato, dill chips, and avocado mayo inside a toasted bun. —T.B.
Explore many other must-have chicken sandwiches at Charlottemagazine.com/ChickenSammies
3418 Tuckaseegee Rd., 980-298-6811
If you're just trying a place for the first time, go for the entree that's plastered all over the signage. The "World Famous Lobster Mac-n-Cheese" is a favorite at both the Cuzzo's restaurant and its food truck. During Soul Food Sunday, get a takeout box with that and the Cajun fried chicken, collard greens, and rice for the complete experience. —A.S.
NoDa Bodega
1200 E. 36th St., 704-375-8704
This bodega's tagline is "Best damn sammies in NoDa!" But I'd put these up against the roster at any other sandwich shop in the city. The bodega's owners have garnered thousands of social media followers just by posting daily specials on Instagram and Facebook. A standout, among several, is the Bodega Reuben, a ciabatta roll packed with turkey, Swiss cheese, marinated slaw, and toasted caraway mustard. Also look out for this sammie regularly on special: The G-man's G-wich, packed with Boar's Hoad London Broil and 3 Pepper Colby Jack, chipotle mayonnaise, jalapeno bacon, onions, lettuce, tomato, and balsamic reduction. —A.S.
2729 South Blvd., Ste. D, 704-275-5558
The lobster rolls and shrimp po' boys are two of Charlotte's best seafood lunch options. For dinner, go for the dozen house oysters, nestled inside a foil container over ice with cocktail sauce, lemon, horseradish, and white fennel mignonette. The Nautical Mule Kit for 2 offers a house-made cocktail mix to complement. —A.S.
Food Hall
1115 N. Brevard St.
Optimist Hall was prominent in last January's restaurants issue, and that was before some of its best stalls opened. Its website lets you pick and choose from the enormous roster, and here are three options the food hall added in 2020. —A.S.
Harriet's Hamburgers
The teams behind Papi Queso and The Plaid Penguin opened a stripped-down, "hot and fast" burger stall with a walk-up window. Small menu (basically, burgers and fries); big taste (on a buttery bun with a "secret sauce").
Boxcar Betty's
The Charleston hot spot brought its fried chicken sandwiches to Charlotte just as the entree was having a moment last year (thanks, Popeyes). Flagship sandwich Boxcar hauls pimiento cheese, peach slaw, spicy mayo, and pickles.
Felix's Handmade Empanadas
The empanada is the ideal to-go treat, with all of its flavor packed inside a sealed pastry. With both savory and sweet options, one visit offers both dinner and dessert. You can also head downstairs to grab some award-winning beers from Morganton-based Fonta Flora Brewery. Having surveyed that many menus from the food hall, you've earned it.
Fusion
135 New Bern St., Ste. A, 704-370-9696
This counter-service restaurant and bakery covers breakfast and lunch. The fresh breads and pastries are some the best you'll find in Charlotte, and many of the salads and entrees have a global flair. The shakshuka, a classic Israeli breakfast, is a bowl of spiced tomato sauce with kale, chickpeas, two free range eggs, feta, and parsley with a thick slice of sourdough toast. For a classic Southern dish, order the Nashville hot chicken biscuit—it travels well and tastes good any time of day. —T.B.
1608 East Blvd., 704-208-4148
The lamb burger is more satisfying than anything from a drive-thru, and the super grain and avocado salad is a healthy weeknight dinner when your kitchen has seen enough grease-blotted paper bags. If you have a group to feed, the $26.95 Winner Winner Chicken Dinner is as close to a homemade meal as you'll get with takeout: a whole rotisserie chicken, creamy white beans, and Brussels sprouts or mac and cheese. The menu claims it feeds three to four people, but if you have children with smaller appetites, you can easily stretch this to five. —T.B.