Green Goddess Dip a la Nourish
A local company remakes our favorite dishes into clean, nutritious, vegan versions. Then it turns those dishes into meals and delivers them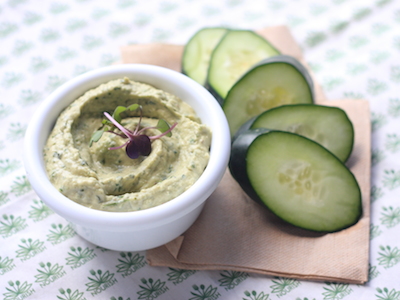 When Julia Simon sees a recipe, she sees possibilities. With her vegan diet, some might expect her to feel limited. But she finds pleasure in remaking some of our favorites in the "standard American diet," as she calls it. Macaroni and cheese becomes creamy butternut mac 'n' "cheeze." Her lasagna includes layers of brown-rice noodles, roasted vegetables, and cashew-white bean "ricotta."
In 2011, Simon turned these vegan recipes into a business. Through her meal-delivery service called Nourish, she offers fresh, clean, vegan meals and a la carte items that customers order online and her delivery team spreads throughout the Charlotte area. She; her husband, Erik Berns; and their team of about 17 staff members put together a weekly menu with an in-depth nutritional breakdown.
If a vegan diet (meaning no animal products or byproducts) sounds daunting, many of Simon's customers order Nourish meals and then supplement with locally sourced meat, seafood, or eggs. For those who want to move toward a plant-based diet, Simon recommends cutting out some daily dairy products as a starting point. Replace the dairy in your morning coffee with a nut- or plant-based product. While many people gravitate toward a vegetarian or vegan lifestyle due to ethical concerns, many others do so to improve their overall health.
"When you switch to a plant-based diet, for every bit of Nourish food or healthy, whole foods, you're cutting out the filler calories," she says. She also describes it as "getting more for your calorie dollar."
Many of the salads and dressings that are common in the American diet come from old hotel recipes, Simon says. She often remakes common mayonnaise-based concoctions, such as Waldorf salad. Here, Simon provides a revamped version of green goddess dressing. Blended cannellini beans give a smooth, creamy texture, and fresh tarragon and basil provide a bright green color for this Green Goddess Dip a la Nourish.
Green Goddess Dip a la Nourish
1/2 cup white balsamic or white wine vinegar
1/4 cup filtered water
1/2 tablespoon maple syrup
1 cup cashews, soaked overnight
1/4 cup extra virgin olive oil
1 1/4 cups cannellini or navy beans, drained and rinsed
1 cup parsley, minced
1 bunch scallions, light green and green parts only, minced
4 cloves garlic, minced
2 tablespoons Dijon mustard
2 1/5 teaspoons sea salt
1 1/2 teaspoons black pepper
3 tablespoons tarragon, whole leaf, chopped
1 cup basil, whole leaf, chopped
Blend first four ingredients together in a blender, scraping down sides as needed, until smooth. Slowly drizzle in extra virgin olive oil as blender is running to emulsify. Then, add everything else but the basil and tarragon and blend on high speed until dip is smooth, shiny, and light green in color. Add basil and tarragon and pulse blender 10-15 times, until herbs are minced and mixed throughout. Chill for an hour before serving with freshly cut crudite and crackers.