Grow Your Own Blueberries
July is National Blueberry Month, and what better way to celebrate than by planting the super food in your own garden?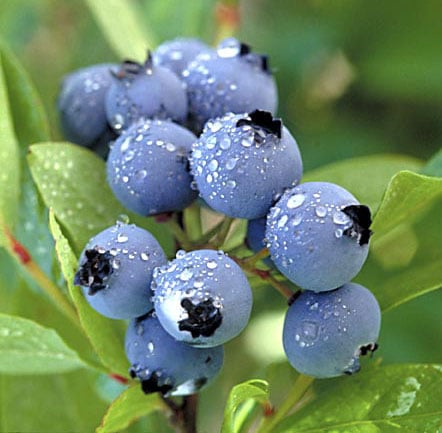 In case you haven't heard, blueberries rank among some of the most nutrient-dense fruits. Known for their disease-preventing antioxidants and as a good source of fiber, blueberries are consistently placed on top 10 "super foods" lists geared towards dieters and those seeking healthy lifestyles. Luckily, blueberries are also tasty. (Kale, another "super food," isn't so lucky in the flavor department.)
Blueberries are so great, in fact, that they have their own month. July is National Blueberry Month as of 2003, thanks to the North American Blueberry Council's diligence with the U.S. Department of Agriculture to get this special month proclaimed.
To celebrate National Blueberry Month, it'd be a shame not to try to grow your own berries. After all, a blueberry cobbler tastes much better with farm-to-table ingredients. The gardening experts at Pike Nurseries gave us the lowdown on planting and harvesting blueberries.
How to Plant Blueberries
1. Find a spot in your garden with full to partial sunlight (6+ hours of sun).
2. Space blueberries about 4 feet apart, and dig a hole twice the height of the original container.
3. Mix the native soil you removed with some Pike Azalea, Camellia, and Gardenia Soil at a 50/50 ratio. Blueberries thrive in acidic soil. To reduce transplant shock and give the plant a healthy start, mix in a handful of plant food such as E.B. Stone Sure Start.
4. Place the blueberry in the hole, then fill in with the soil mixture around the root ball. The top of the root ball should be at an even height with the soil around it. Then, tap down on the soil to ensure there are no air pockets.
5. Thoroughly water in the blueberry.
When Are My Blueberries Ready to Pick?
While waiting for your blueberries to ripen, you've probably already amassed a robust Pinterest board of berry-centric recipes. It's understandable you'd be excited and a bit impatient for your berries to finish ripening. But don't give in to the excitement.
Do not pick your blueberries until they are fully ripe. A red or pinkish color means they are not ready. A ready-to-pick berry will be full, plump, and evenly blue. You can always freeze extras in freezer bags to use them at a later date.
Extra Benefits of Blueberries
As if you needed any other excuses to grow your own blueberries, consider more of the nutritional benefits. Additional benefits of blueberries, according to Pike, include their ability to help lower the risk of diabetes, ease arthritis symptoms, slow down memory loss, fight bad cholesterol, boost immunity, and even help improve vision. So, what are you waiting for?
Happy National Blueberry Month!