Growing Culture: Behind the Scenes at Verdant Bread
They carry on an ancient breadmaking tradition with care—and a yeast-bacteria blend named Gloria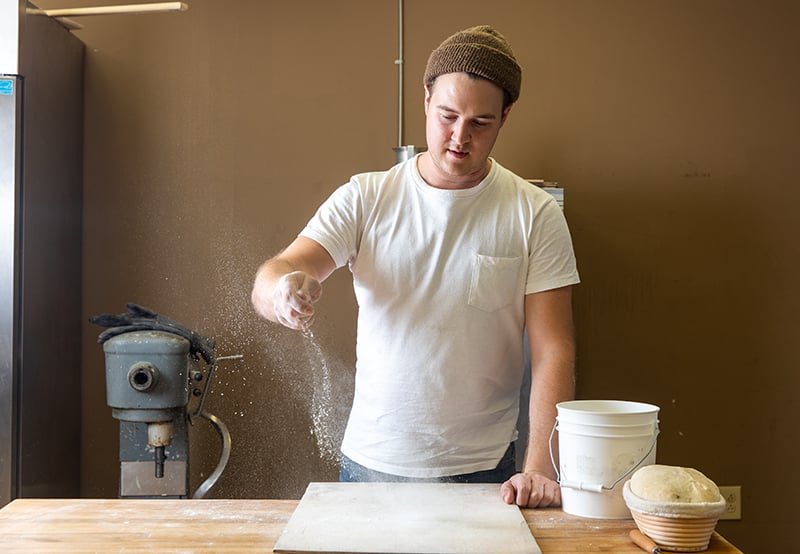 TANNER FINK, until recently a bartender at Kindred in Davidson, began to experiment with sourdough starters in his hometown of Missoula, Montana. When he combined flour and water and let it ferment, he joined a tradition that dates back to ancient Egypt. Together, water and warmth activate the yeast that occurs naturally in flour, and as the microbes feast on the flour's starch, they produce carbon dioxide and ethanol. When baked, the carbon dioxide bubbles and leavens the bread. The yeast die and the bubbles remain, yielding the light, fluffy texture that makes bread so delectable. The hapless Egyptian baker who left his dough out too long on one of those hot African days gave rise—literally—to one of mankind's most enduring culinary traditions.
But early last century, manufacturers perfected the mass production of yeast, and the result was a tragedy for the American palate. For many home bakers today, yeast is synonymous with foil packets from the baking aisle. This active dry yeast keeps for a long time—decades in the freezer—and causes dough to rise much faster. But what bakers bought in convenience, they paid for in flavor. Industrial yeast lacks the diversity and unique DNA fingerprint of wild yeast and bacterial communities.
Fink and bakers all over the world cultivate and maintain colonies of wild yeast and bacteria, known as sourdough starters. (Bread made from wild yeast is called sourdough for its distinctive tang.) Some starters become heirlooms, baked with for decades and passed down over generations. Fink and business partner Jaymin McAffrey have tapped into this little miracle of fermentation to bring quality sourdough to Charlotte. "I moved out here and had a bit of a hard time finding good bread," Fink says. "I had a sourdough starter that I was using for pizza dough. Then I started experimenting with bread and fell in love with it."
Fink cultivated a new starter when he moved southeast. But even if he'd brought his old one cross-country, the frothy goop would have ended up thoroughly North Carolinian anyway, full of microbes from the air, the kitchen—and his hands. Sourdough researchers at North Carolina State University found that bakers alter the unique profiles of their starters with microbes on their skin, and vice versa: The microbial communities on bakers' hands reflect the communities in their sourdough—one more way we are what we eat.
Fink, 31, and fellow Kindred bartender McAffrey, 27, used this new starter to craft a variety of sourdoughs with just three ingredients: water, salt, and locally milled flour. Once they felt confident, the pair convinced their pals at Hex Coffee in Camp North End to let them sell loaves at a holiday pop-up in 2017. McAffrey and Fink named their sourdough starter "Gloria," and Verdant Bread was born.
On a brisk Saturday morning in November, shoppers peruse vegetables and chat with foragers and farmers at the Matthews Community Farmers Market. The market, founded in 1991, requires that products be sourced within 50 miles and that the producers be present. Children bundled against the chill play as their parents line up for steaming coffee. Holiday harmonies from the Charlotte Chorale float over the vendors. By 10 a.m., the traffic at their booth has slowed, but McAffrey and Fink still welcome every customer like a friend. Some varieties of bread are sold out, but the shoppers scan the deep brown loaves that remain, tattooed with flour patterns. More often than not, they leave with one or two tucked in paper bags. You would never guess that the jovial bakers have been awake for 10 hours.
On regular days, McAffrey and Fink's alarms go off before 4 a.m. On market days, they're up at midnight, harnessing Gloria's magic to turn out loaf after loaf of tangy sourdough. For a while, the pair balanced their demanding hours with their bartending jobs and young families. Both are married, and Fink's 5-year-old daughter, Hollin, inspired the bakery's identity. While researching her name, Fink stumbled on a quote: "When all other flora has long lost its blush and gone dormant for the winter, holly can be found still, brightly verdant." Fink and McAffrey reckon bread's appeal is evergreen, too.
Their efforts soon won a devoted following. Upstream, Lincoln Street Kitchen & Cocktails, and Salud Cerveceria became regular customers. For $25 a month, families and individuals in Verdant's subscription service look forward to fresh loaves every Wednesday. In addition to manning the booth every Saturday in Matthews, the pair also hosts midweek pop-ups at Hex.
When Morganton brewery Fonta Flora hosted a Kvass Day last fall to celebrate the relationship between bread and beer (kvass is a non-alcoholic, fermented drink made from rye bread), McAffrey and Fink were thrilled to be invited, among some of the most admired bakers in the state. In June, they both quit tending bar to be full-time bakers. Now they're renovating their baking kitchen, and they plan to partner with Wild Hope Farms to add bread to their CSA program. Gloria, the sourdough starter they've maintained, is now four years old.
At the farmers market, the Verdant Bread guys are surrounded by makers, foragers, and farmers who care deeply about food—how it's made, where it comes from, and its power to bring us together. "Good food fuels good people in the community, and good people in the community fuel good food," McAffrey says, adding that it's a cliché only until you see the symbiosis in action. Fink acknowledges the Matthews Farmers Market's role in connecting them to like-minded people and restaurants. "I feel like there are a lot of people shaking their heads at Charlotte, like, 'Where is everybody?'" McAffrey adds, as he looks around. "But they're right here."
Wild yeast can be finicky, and Fink prescribes patience. The microbes hold out for just the right care and attention before they bloom. With Verdant Bread, McAffrey and Fink are out to prove that with just flour, water, and a little time, you can grow a thriving community—microbial or otherwise.
---
How to Make a Sourdough Starter
Cultivate your own wild yeast with these tips from the pros
In 2016, a team of microbial scientists at North Carolina State University began collecting data on sourdough starters from all over the world. "This is science you can do at home without a fancy lab," says microbial ecologist Erin McKenney, who helped lead the Global Sourdough Project, "and you can still do legitimate, novel research that tells us things about the world and the foods that nourish us that we've never known before." McKenney's advice for raising a sourdough starter of your own:
1. Let ½ cup of tap water sit overnight to let chlorine evaporate.
2. Place water and ½ cup flour in a glass or plastic pint jar. McKenney recommends rye flour; the Verdant Bread bakers use half rye and half malted barley flour. "Rye gives it a nice, happy fragrance," Fink says. "And there's a lot of strength in it."
3. Cover jar with paper towel and secure with rubber band.
4. Leave jar in an area where the temperature is consistently around 70 degrees, like your countertop.
5. Remove part of your starter twice a day (this is called "backslopping") and feed the busy microbes with ¼ cup flour and ¼ cup water. Be patient. It can be tricky to get a sourdough starter going. Fink suggests turning to YouTube for expert guidance.
6. You can keep your starter in the fridge if you don't plan to use it often—just don't forget to feed it now and then.
Adapted from posts on Homegrown, NCSU Extension's blog