Guide to Charlotte Craft Beer Week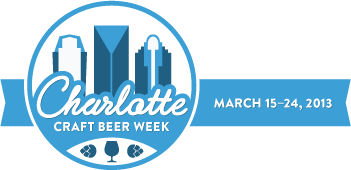 If you're a local craft beer lover, this is your time. Charlotte Craft Beer Week is once again upon us, beginning Friday with two top-notch events. The best part about CCBW? It has since been extended to 10 days, thanks to numerous participants being added with each year.
This is the fourth annual CCBW, and with the numerous new bars, bottle shops and breweries opening in Charlotte, there are more events than ever. So many, in fact, that it's tough to figure out which ones to attend. (Unless you have unlimited free time with deep pockets. If so, kudos to you. And do you need an assistant?)
That's where On Tap comes in. As a guide, here are my five can't-miss events for this year's Charlotte Craft Beer Week. The entire rundown of festivities can be found at www.charlottecraftbeerweek.org and on Twitter @CharlotteBeerWk.
Brawley's Black & Blue/Craft Beer Week Kickoff Event, 3/15, 6:30 p.m.-9:30 p.m./6 p.m.-9 p.m., Visulite Theatre/Taco Mac
Charlotte Craft Beer Week starts out with a bang, as Michael Brawley of Brawley's Beverages hosts his annual event, which combines outstanding beer with bluegrass music at the Visulite Theatre in Elizabeth. This is the one event you need to attend above anything else for CCBW, or the rest of the year, for that matter. One problem, though: It's been sold out for about a month. Those 250 lucky ticket holders will enjoy rare beers from nearly all of Charlotte's local breweries along with the likes of COAST, Wicked Weed, Foothills and Holy City. Brawley told me earlier this year that this is the best lineup yet and from the looks of it, he's spot on. Look for a recap of Black & Blue in a future On Tap blog.
For those without a ticket to Black & Blue, the Craft Beer Week Kickoff Event isn't a bad alternative. The Taco Mac in SouthPark will feature what's listed as "rare and unique beers" including a mango/chili beer and selections from Oskar Blues. Tickets are $25 and can be purchased at the restaurant or online here
Battle of the Casks, 3/17, 1 p.m.-5 p.m., Duckworth's (Park Rd. location)
This annual event features beers that do wonders on your palate. For those who don't know, cask beer means it's unfiltered and doesn't contain any extra carbonation pressure. It's served warmer than your usual beer, which allows for a better taste of all the ingredients without the extra "bite" that a lot of craft beers have. Brewers are able to show off their creative side with cask-conditioned beers, and the lineup at Duckworth's is enticing. For $30, you get to enjoy deliciousness such as NoDa's Coco Loco with oak chips, vanilla beans and cherries; a Chipotle Lime Basil IPA from Four Friends; New Belgium's Trippel with fresh blueberries and strawberries; and two of my personal favorites in Terrapin's Wake 'N Bake Coffee Oatmeal Stout and Birdsong's Honey Pie Double IPA. Tickets are on sale now and can be purchased at Duckworth's or by calling (704) 527-5783.
White Elephant Bottle Party, 3/18, 6:30 p.m. until, NoDa Brewing Company
This is similar to the festive parties that take place around the holidays, where everyone brings a wrapped present. Names are drawn in an order, and you can either pick a gift from the pile or steal someone else's gift. This white elephant, however, comes in the form of a 22-ounce craft beer bottle. I imagine a lot of these will be rare beers that are hard to find in this region, or perhaps aged beers. NoDa first did this event in December, and some of the bottles people brought were nothing short of spectacular. I expect the same this time around. And please, if you go, no gag bottles (i.e., a Budweiser tall boy).
NC Brewer Rumble in the Alley, 3/20, 6 p.m.-11 p.m., Common Market (Plaza Midwood location)
I went to this event on a split-second decision last year, and it turned out to be the sleeper of the 2012 festival. Fifteen North Carolina breweries battle it out in a blind taste test to see who has the top craft beer in the state. The 2012 rumble included Olde Hickory, Green Man, Highland, Natty Greene's, and Foothills, among others, along with local products NoDa and Birdsong. In the end, though, it was a surprise winner in Free Range Brewing, which is still looking for a location in Charlotte but already has a significant buzz among the local craft beer community. It was the first time I had experienced Jason and Jeff Alexander's concoctions, and the Sweet Heart IPA won the masses over. Tickets for this year's event are $25 and can be purchased at Common Market.
World of Beer One-Year Anniversary, 3/23, Noon until, World of Beer
It's been a big year for local beer in this city, and one of Charlotte's newest (and biggest) bars is celebrating its own anniversary with selections from local breweries in NoDa, Birdsong, Olde Mecklenburg, Four Friends and Triple C. There will be live music, along with food. World of Beer is also planning a number of giveaways and raffles. Prizes include gift cards from World of Beer, a home brewer's kit, neon signs from selected breweries, growlers from local breweries and what's sure to be a sought-after treat in bottles of Westvleteren XII, which has been rated by many as the top beer in the world.