Guns and Butter: The Story Behind Suarez Bakery
The story of one family's journey to freedom, and what that freedom cost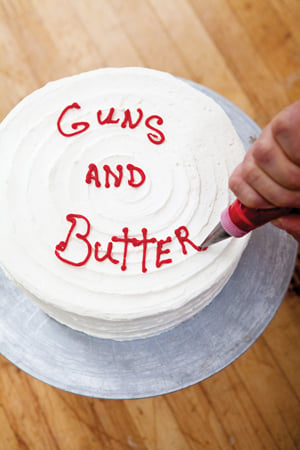 Carlos Suarez has this recurring dream. In his native Cuba, someone is pulling him out of bed in the dead of night, then pushing him and his brothers and sisters into a waiting car. At a hidden, moonlit runway, the driver slams on the brakes and hustles Carlos aboard a small prop plane. From the plane's porthole he sees his father, alone on the runway, tears rolling down his face, waving goodbye. Then Carlos wakes up.
A few years ago, Carlos, owner of Suarez Bakery in Charlotte, mentioned the dream to his mother. "That's no dream," she told him, "that was real."
It was 1960 and Carlos's father, Roberto Suarez, was running for his life. A year earlier, he'd helped his high school friend Fidel Castro overthrow Cuba's dictator Fulgencio Batista. Castro rewarded Roberto by making him chairman of the board of Cuba's most important bank. Before long, Roberto realized Castro was breaking every promise he'd made to the Cuban people. The day Roberto resigned his post he became a marked man.
In the next year, Roberto would go underground, running guns to Cuba and planning an assassination attempt on Castro. But on this night he had to get his wife and children to the United States.
Once the Suarez family was settled in Miami and Roberto began working to support his family, he rarely spoke of Cuba again. Carlos says he didn't learn of his father's gun-running exploits until he read his autobiography, which was published in 1995. "My father never talked about Cuba," says Carlos, who was three when he was put on that plane. "That's my parents; that's their lives," he says. "Sure they hate that sonofabitch Castro. But they didn't let him stop them from moving on with their lives."
Despite Roberto's silence and Carlos's denial, Fidel's revolution affected all the Suarezes, including Carlos and his eleven brothers and sisters—some tragically. In fact, the fifty-year-old revolution continues to affect them in ways that may defy even their own understanding.
With his long, steel-gray hippie hair, parted down the middle, Carlos doesn't look like he actually owns Suarez Bakery, the sweet-smelling community institution that has held down its spot in Park Road Shopping Center since 1992. He looks like he just shuffled out of the August Jam—Charlotte's 1974 version of Woodstock up at the Speedway—a little dazed and confused from the extra-long, bitchin' sets by Emerson, Lake & Palmer, the Allman Brothers, the Marshall Tucker Band, and Black Oak Arkansas. In fact, Carlos was there that hot August weekend when he was seventeen. He still listens to the same bands, his hair probably still the same length. He looks like he might work at the bakery—the humble little guy who comes in at night to clean and never talks. Or the sad-eyed mechanic who comes out of the back telling you, "Yeah, it's the transmission; there's nuttin' I can do with it."
But Carlos can do everything with flour, eggs, sugar, and yeast—petit fours, éclairs, Napoleons, doughnuts, cakes, cookies, and bread. In the late 1980s he spent three and a half years with what amounted to a master pastry chef who taught Carlos everything he knew about baking.
"No one in Charlotte makes a ganache like Carlos," says Ann Neill. Ann's husband is Rolfe Neill, once publisher of The Charlotte Observer, who himself is addicted to Carlos's éclairs. Others feel his turnovers are a revelation, made with his highly perishable puff-pastry dough that lives for only forty-eight hours.
Helen Schwab, the Observer's longtime food critic, remembers, "I was ecstatic when a friend told me, years ago, that I could get Cuban bread there. … On a Saturday when it's baking, it wafts through that whole parking lot like a benediction."
A benediction and a blessing was how Roberto, thirty-three, an anti-Castro freedom fighter, looked at the only job he could get when he rejoined his family in Miami in 1961: humping bundles of newspapers for $1.86 an hour on the loading dock of the Miami Herald.
That's pretty tough stuff for a guy with degrees in finance and economics from Villanova and Havana universities. When his education and talents were discovered, he was bumped up into management. After eight years in Miami and ten years in Charlotte, he rose from controller to general manager, then founding publisher of Miami's El Nuevo Herald, and finally president of The Charlotte Observer.
Had Knight-Ridder conducted a thorough background check, they might have discovered that before he became a rising star in newspapers, Roberto Suarez schemed to remove Castro from power. In one of his last acts of sabotage, he planned an attempt on Fidel Castro's life.
Perhaps the reason Roberto never spoke about Cuba with his kids was because he wasn't just an anti-Castro freedom fighter. Two years before he tried to assassinate Castro, he helped put Castro in power. Hours after Castro's forces routed Batista, Roberto's photo ran on the front page of The New York Times. Maybe the reason Carlos had never seen that picture of his father until this article was because Roberto was ashamed to tell his children that he and the Cuban people had been betrayed by a family friend—Fidel Castro.
"Castro and Cuba made my father who he was, totally," says Ana Suarez Fleming, Carlos's youngest sister.
Roberto Suarez was no peasant-turned-guerilla. His forebears came to Cuba from Spain in the 1500s. Born in 1928, Roberto was sent to the most prestigious boarding school in Cuba, the Jesuit-run Colegio de Belen. In his early teens, Roberto joined the school's basketball team. One of his teammates was a boy named Fidel Castro.
"I think Fidel had some issues with his father," says Carlos. Fidel was the illegitimate son of a wealthy planter and his maid. It wasn't until Fidel was in his late teens that his father acknowledged him by finally giving him the family name. His passions were sports: track, baseball, and basketball. But Fidel was also looking for a father figure. He found one in Belen's coach, Otelio "Cappy" Campuzano.
Campuzano was a celebrity in Cuba. An all-around athlete, he represented Cuba in 1926 at the Central American Games. Fidel spent many hours with Campuzano.
The coach's daughter, Miriam, remembers Fidel and Roberto Suarez as frequent guests in their home. In fact, the first time she saw Roberto she was convinced he was the man she would marry.
As a young girl, Miriam remembers accompanying the team to an away game—and an episode on the train she'd never forget. Miriam, then about ten years old, brought a box of cookies, hoping to share them with Roberto, fourteen. She found him in the same compartment as Fidel. After sharing the cookies with them, both boys thanked her. But when she got up to leave Fidel, fifteen, grabbed the box from her. "No, no, no," he instructed. "Take a few for yourself but leave the box here."
In 1950, after graduating from Villanova with a degree in finance and economics, Roberto returned to Cuba and married Miriam. Working with his father in real estate development, Roberto seemed assured of a prosperous future.
In 1957 Roberto joined the anti-Batista movement. When he was caught and jailed as a subversive, his father got him released, then put him and Miriam on a plane to New York, leaving a newborn son with their nanny. They had named their son Armando Fidel, after the hope of Cuba.
In New York, Roberto, then thirty, created a documentary, book, and radio program, each telling the story of Fidel Castro, the oppressed Cuban people, and Castro's dedicated guerilla fighters in the mountains. He showed the film in Manhattan and in one day raised close to $100,000. Roberto handed off the money to Castro's man in Miami, who took it straight to him in the Sierra Maestra mountains of Cuba.
Roberto Suarez also drove other things to Miami destined for Castro: firearms, ammunition, explosives, and on one trip, a bazooka.
On New Year's Eve, 1958, Roberto and his wife celebrated in the apartment of other Cuban exiles in New York as Castro routed Batista and took control of Cuba. Fidel appointed Roberto chairman of the board of the Financiera Nacional de Cuba. Che Guevara was his boss.
"There were early signs that something was wrong," Roberto later wrote. Some executions were expected. But the bloodletting continued longer than was necessary or humane. "He had betrayed the revolution," Roberto wrote.
Unhappy with the increasingly oppressive regime, Roberto quit his post. When his work establishing revolutionary cells became too dangerous, he took a nom de guerre and went underground, always moving, never sleeping in the same safe house twice, one step ahead of Castro's intelligence network.
When a rumor circulated that the government was about to institute the patria potestà, which permitted the state to raise citizens' children, Roberto told his wife, "You're leaving Monday [with the children]."
On Monday night, October 31, 1960, Carlos's "dream" began. Friends helped Miriam, twenty-eight and pregnant, pack eight children—including Carlos and his identical twin, Miguel—into a car. Roberto drove them to the airport. Later the same night they landed in Miami in a punishing rain. Carlos remembers waking up the next morning to a TV playing the Three Stooges in a bewildering new language.
"Leaving Cuba," Roberto wrote in his autobiography, "meant the end of a dream."
Castro took many things from Roberto Suarez. But he couldn't take the happiest years of his life in Cuba. And most of all, "He could not take away my education," he wrote.
"My time was past," he also wrote. It was his children's time, now. And he would make sure they got what no future despot could ever take away from them—an education.
"Education was of the utmost importance to my father," says Carlos's older sister, Elena.
Roberto, a stern disciplinarian, became almost obsessed with educating his children, which put him on a collision course with his third son, Carlos. If Cuba and Castro made Roberto Suarez who he was, then through Roberto they also made Carlos Suarez who he is.
About the time they teach kids to read, in first or second grade, Carlos began having trouble. In the early 1960s little was known about dyslexia. All Roberto saw was Carlos's dismal grades. Even after being disciplined, Carlos still didn't improve. Holding him back a grade didn't help.
"Leaving Cuba," Roberto wrote in his autobiography, "meant the end of a dream."
"I had six sisters getting straight A's," Carlos shakes his head, "younger brothers getting straight A's." Even Miguel, his identical twin, managed good grades. What was the problem with Carlos?
Roberto surmised that Carlos just wasn't trying. The "W" words were particularly tough. Roberto would write each one on a sheet of paper and leave Carlos alone to study them. After a while, Roberto would return to test Carlos.
"I used to hear him coming down the hall," remembers Carlos. Roberto would walk into the room and point to one of the W words. "What, where, when—they all looked the same to me," says Carlos, "all W's and H's."
Invariably, Carlos got the words wrong. Roberto understood that people have different levels of intelligence. That couldn't be helped. But Carlos's continued failure meant only one thing: he was lazy. That was an affront to Roberto.
The words hurt the worst. " 'What are you doing? … You're not paying attention in class … You're a loser … You're a dummy.' "
Today, in the midst of all his brothers and sisters who have collected degrees, honors, and postgraduate degrees, Carlos is the only one who never went to college.
"I never thought that far ahead," says Carlos. "I was just worried about going to school the next day and not being exposed." Avoiding the attention of teachers and other students, Carlos went into his own, personal exile, concealing the dyslexia and becoming painfully shy for the rest of his life.
When he turned fifteen, his parents sent Carlos to Louisiana State University, where Roberto's sister held a faculty position. She had Carlos tested. They diagnosed him as dyslexic. But giving it a name didn't change a thing for Carlos. Nor did it change Roberto's perspective or move him to apologize.
Just after Carlos was diagnosed, the family moved to Charlotte, where Roberto became controller for The Charlotte Observer. Carlos enjoyed having his brothers around him at a new school, South Mecklenburg High. But he was still figuring out ways to hide the dyslexia every day. "It was weird," Carlos remembers, "nobody to even talk to about it. Then go home and act normal like everybody else."
Only one thing made him feel normal: soccer. A brother a year older, Tony, also fell in love with the sport. Tony was a natural. He had the height, the speed, the agility. "I had to work ten times harder than him to master things," Carlos remembers. "Tony was just blessed."
Soccer was Tony's destiny. He played for the Carolina Lightnin' and became one of the first sports figures in Charlotte to earn more than six figures. Soccer gave Tony the ability "to live his life exactly the way he wanted," Carlos says with obvious admiration.
Carlos looked up to his older brother, but he was never jealous of Tony. Carlos was happy just to watch him play.
While most eighteen-year-olds have some idea what they're going to do after high school graduation, Carlos didn't. He says he was offered soccer scholarships at Chapel Hill and at Erskine but he didn't think he could handle the academics.
With no immediate prospects, this would have been the perfect time for Carlos to relax and slack off. He didn't. "I'd already partied," he says, "I'd done all that." Determined to find a job and prove that he wasn't lazy, Carlos took some construction and landscaping work. "I was there on time and I worked hard. I might be stupid," he says, dead serious, "but I'm not lazy."
One day a waiter friend told him that they were looking for kitchen help at the Adams Mark hotel. Carlos became an apprentice to a tall Vietnamese executive pastry chef who had learned his craft from his father in France. "The hours sucked, the money sucked," he says, "but I liked it."
After three and a half years at the Adams Mark his chef/mentor declared him good enough to go out on his own.
"I wanted to stay," he says. But his teacher pushed him out of the nest, recommending Carlos to a chef at the Hilton at University Place.
Carlos worked another three years at the Hilton, then for some caterers who taught him the business side of baking.
By then, Tony's once-promising professional soccer career was over, the victim of injuries. He picked up some celebrity hosting gigs at Whispers, a nightclub behind Park Road Shopping Center. Carlos enjoyed hanging out there. Those were good times.
One night surveying the room from his perch at the bar, Carlos caught sight of a pretty blonde. Too shy to go over and start a conversation, he looked at her long enough for her to walk over to him. On February 29, 1984, Carlos married Barbara Catron. Later the same year, Carlos Jr. was born.
In 1988, Cappy Campuzano, Carlos's grandfather and Castro's old coach, passed away in Florida. Carlos took the death worse than the others. Ana remembers the scene after the funeral, all twelve of the Suarez kids at the table talking, drinking, and laughing—except Carlos, who sat quietly by himself. "What's wrong?" Ana asked Carlos. "We're not supposed to be here having a good time," he replied.
With Campuzano's death a cloud seemed to stall over the Suarezes. The Cuban community in Miami, where Roberto Suarez had been named the publisher of El Nuevo Herald, demanded that Roberto and others resign for being insensitive to Cuban exiles. For a time Miami police had to check Roberto's car for explosive devices.
In 1991, an FBI sting operation in Charlotte scooped up several men in a big cocaine bust. Tony was one of them, the hapless victim doing a favor for a friend. Tony ended up serving twenty-two months in Goldsboro in a minimum-security facility.
That same year, Carlos says, "I made my move. I was thinking about opening my own place for a while," he says. "It was just a matter of when." Between the bank and what his father lent him, Carlos assumed $65,000 of debt.
"I wasn't afraid," he says. "Lots of people like the safe side of things. I just figured, 'Go for it.' " Carlos bought the old Federal Bake Shop in the middle of the Park Road Shopping center. Ana, who has a finance degree, was eager to help her brother. Headstrong, he rarely followed her advice. "He could only see me as his little sister in fifth grade," she laughs.
The first twelve years were the hardest. Some nights the baking schedule didn't permit him to come home. He slept on the cold floor of his little office.
Until he got the bills paid, he couldn't hire anyone. During those grueling years, Barb, his wife, was his only help at the bakery.
"Close calls? Hell, yeah!" he says. He remembers frying doughnuts one morning when his sister waved an $1,800 utility bill that had to be paid that day. "I don't know if I got that much in the bank!" he told her.
"Baked goods ain't like medicine, something everyone will have to buy sooner or later," he says. When the economy tanks it's one of the first things people cut. As bad as it could get, a Cuban exile reminded him that it was worse elsewhere. Several years ago, Carlos hired an out-of-work baker from Cuba. The man said there were times in Cuba when they couldn't get eggs or butter. Or they were forced to use cake flour to bake bread. When Carlos gave the man a Coke, he went to a corner of the bakery and turned his back so as not to be seen drinking it.
"Drink your Coke," Carlos told him. "No one's going to take it away from you. Fidel isn't watching."
In 1994, Tony was released from prison. He took a managerial position in the mailroom at the Observer. His second marriage hadn't survived his time in prison.
A few years after he was released from prison, he met Maryanne. They had a son Tony named for Cappy, his grandfather.
Carlos and Barb had two sons, Carlos Jr. and Jesse. Carlos and Tony played weekends on the same club soccer team, but with the bakery and family commitments Carlos saw less of Tony. Still Tony would show up around lunchtime, Carlos recalls, to "shoot the breeze, eat an éclair, or a hot dog from the German guy out front." Sometimes he'd make a delivery for Carlos. Everything seemed fine.
Then, in 2006, he unexpectedly quit his job at the Observer.
One evening in April 2007, Tony argued with his wife at the bakery. As she walked out, Tony's words followed her to the car. "I'm done talking," he said. "I'm done."
The next morning the phone rang in Carlos's office. It was Tony's mother-in-law. Strange, he thought, she never called the bakery on a weekday. Initially, he misunderstood what she was saying. "I thought she said Tony was trying to commit suicide," Carlos says. "So I asked her what hospital is he in."
"She said, 'No, he committed suicide,' remembers Carlos. "I think I yelled, 'He's gone? What are you talking about? What the f— are you talking about? I just saw him yesterday!' "
The details were sketchy. A garage sealed tight, a car inside, idling for who knows how long.
Carlos told his cake decorator that he had to leave. "She says, 'What's wrong?' and I just broke down. Told her my brother died; my brother committed suicide."
At the funeral in Charlotte, Armando, who was born exactly twelve months after Carlos, and, like Tony, suffered from depression, sidled up to him. I wish he had called me. I've been there. I could have told him about this stuff.
Two weeks later, in the cruelest twist of fate, Armando was found dead in Miami of an apparently accidental overdose of psych meds.
Carlos and Ana were hit especially hard by Tony's death because Tony had lived in Charlotte. They usually saw him every couple of days. "Every day of my life I think about it," Ana says. "There should have been something we could have done but it just came out of nowhere. Carlos and I still talk about it and cry."
Today, five years later, full-page, heavy-stock reprints of Tony's obituary lie askew, rolled up on Carlos's desk as if it had just happened.
Maybe it didn't come out of nowhere. Carlos has replayed the last time he saw his brother hundreds of times, searching Tony's last words for a clue.
" 'I'm done,' that's what he said," says Carlos, managing a weak half-smile. "I guess that's what he was saying, he was done with everything.
"He always thought he was a disappointment," Carlos says. "But he wasn't a disappointment."
"Tony wasn't a good communicator. He kept things too bottled up," says Ana. Then she says the same thing as Carlos. "He always felt like he was disappointing everyone."
Roberto Jr., the oldest, understands. He connects Tony's lack of self-esteem with the way his family had to leave Cuba. He remembers better than any of the kids. "That affected me all my life," he says.
"It's like never being good enough. My whole life has been about never being good enough. We weren't good enough to stay there [Cuba]. We had it all there, and when we left we lost it all. That's been in my subconscious all my life.
"I'm sure this has been a major impact on my brothers and sisters," he says. "Even if they don't know it."
Roberto Suarez never really recovered from losing two sons in two weeks. It sped up his Alzheimer's until the man who once wrote fiery editorials in Miami every week—he collected an even hundred of them and published them under the title The Infamy of Castro—into his seventies, had to be coached to remember who Carlos was when he telephoned. Their conversations became so painful that Carlos finally stopped calling.
On July 6, 2010, Roberto, eighty-two, died in Miami. Once again, The New York Times put his picture in the paper, just as it had done fifty-three years ago for the freedom fighter.
Looking back, Carlos wishes his father hadn't loomed so large in that great swath of history, that he'd spent more time at home. "All he ever did was work," he says. "We had to find our own way to soccer games. Half the time they weren't there."
He quickly overcorrects, eager to give his father a pass.
"You don't realize till you have your own kids …" he says, thinking back to the first and only time he ever saw his father cry. It was the day he and his twin, Miguel, turned eighteen. On their way to the party, Miguel was in a terrible car accident. At the scene, they thought he was dead. Then something moved in the backseat. They pulled Miguel out of the twisted wreckage. He had a broken neck. In the first hours at the hospital, he was in a coma, and they weren't sure he'd live.
After a nightlong vigil at Miguel's bedside, Roberto returned home. Carlos, who'd been riding in another car, walked in the family room just as Roberto collapsed in a heap on the sofa. When he broke down crying, Carlos was shocked. "I'd always seen him as the strict disciplinarian … always at the top of his game … protecting all of us," he says. "Now I realized he wasn't Superman, he was just a regular guy. I didn't know what to do. I had to just leave the room."
Carlos says he's tried to raise his sons differently, tried to spend more time with them. But he admits that despite his best efforts he's ended up doing the same thing his father did, missing a lot of their childhoods because of work.
"Work, work, work," he laments. "That's just the way I was raised."
The difference is, unlike his father, Carlos has created something that his entire family is a part of. Son Jesse, twenty-six, bakes most nights while the shop is dark. Jesse's girlfriend, Amanda, twenty-five, joins him. Her specialty is baking cookies and cakes, but she has already shown a gift for improvisation, like the best chefs, that transcends the written recipe.
Carlos Jr., twenty-eight, is the marketing/branding guy, working off-site. Barb comes in each week to do her cookies. Tony's brother-in-law, Giacomo, comes in on Saturdays to help out.
Everyone seems to know what to do and is busy doing it. Dipping mini-éclairs in ganache, spinning dough, decorating a cake—there is no slacking. The smooth machine that is Suarez Bakery is no accident. Dyslexia now is spoken of not as a disease but as a "gift." Websites crow about famous dyslexics like Bill Gates, Albert Einstein, and Bill Clinton, and studies show dyslexics are particularly well wired for starting businesses.
Perhaps that's why Carlos survived the recession in 2009 by inviting another baker to share his space and the rent. Tiz Benson of Tizzerts is convinced this would never have worked with any other baker, citing Carlos's lack of ego.
Out of all his siblings' degrees, honors, and graduate degrees, Carlos is the only one who's built something for the next generation of Suarezes—the cornerstone of Roberto Suarez's dream for his children, as he wrote, "that they all build for themselves and their families a decent future."
Savoring Roberto's dream, Carlos has reached a moment of clarity, finally able to distinguish between the political Roberto Suarez and the private man who was his father. The man who left Cuba so his children would have much greater opportunity. "He didn't just do it for himself," says Carlos. "He did it for us."
Jonathan Singer is a writer in Charlotte.