Gush-Worthy Gardens
At an inspiration standstill for your outdoor greenery? Take a look at these five gardens we can't get enough of.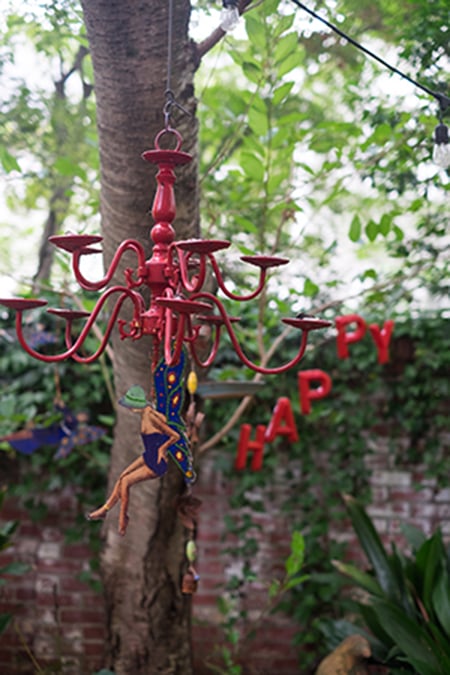 They say that imitation is the highest form of flattery. When it comes to gardens and whimsical outdoor features, sometimes the best inspiration is found in someone else's yard. It's not that the grass is greener on the other side, it's just that sometimes it's easier to see fresh ideas blooming in a different setting.
For inspiration today, we're looking at some of our favorite gardens that make us think outside the box in terms of greenery and outdoor accents. Won't you daydream with us?
For the full stories on these gardens/ homes, click the photos.

Imagine That
The fairy garden, part of a Dilworth couple's lawn, is a feature of extreme interest for their 21 grandchildren. Not only does it inspire fantasy, but the stone accents are a fantastic attribute to balance the surrounding foliage.

Urban Bliss
This Fourth Ward terrace is what dreams are made of. With walls made to resemble Settler's cemetery, the terrace's earthly ambiance transports you from a metropolis to a beautiful park.

Our Type of Arch
The homeowner made her garden arch impossibly fairytale-esque by covering it with Spetchly Ivy. Peonies, roses, and greenery galore create the most magical atmosphere for this outdoor oasis.

Happy Days
Whimsy runs wild in this Myers Park setting. The Habitat ReStore red chandelier paired with suggestive lettering and the delicate, dangling lady make this a place we'd happily spend our days.

Flowering with Beauty
So sue us; we're suckers for colorful blooms. This arrangement of azaleas is enough to make any visitor stop to appreciate the small things in life. Just a small feature in a Plaza Midwood garden maze, these blossoms add cheery color every home should welcome.