Halloween Parties in Charlotte October 28-31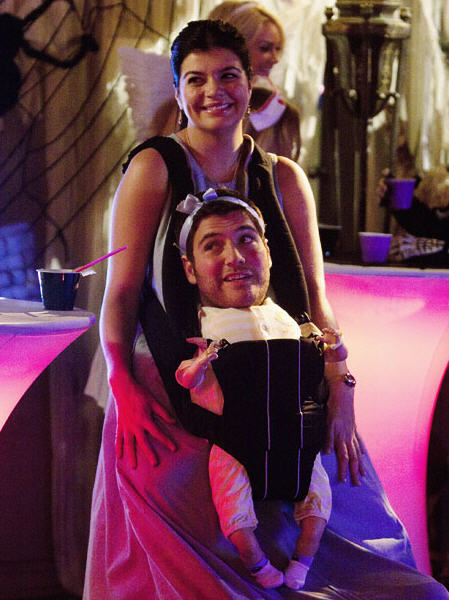 Halloween, officially, is Monday but partygoers will be celebrating the frightful holiday all weekend. Women use this opportunity to wear sexy costumes (nurse, cop, Lady Gaga,) and men dress as their favorite d-bags (pimp, beer commercial guy, Charlie Sheen). Whatever you choose, here's a list of 20 parties over the four-day Halloween weekend—carefully selected from the dozens that are taking place around the city. Use websites listed to verify event info.
Friday, October 28
Halloween Costume Party and Haunted Mansion
Sink your fangs into Chef Harrison Booth's gourmet food and enjoy special brews, while grooving to live music by the Bad Daddies. There will also be an auction where you can bid on jewelry, trips, art, Carolina Panthers tickets, and more at this fundraising event. 6:30 p.m. $125 per person ($75 is tax deductible). The Duke Mansion, 400 Hermitage Rd., dukemansion.com.
Sixth Annual Halloween Howler Costume Bar Crawl
Crawl from bar to bar, including Buckhead Saloon, Town Tavern, Prohibition, Howl at the Moon, and Suite. There will be costume contests at each venue with great prizes given away. Presented by Carolina Nightlife. 7 p.m.-2 a.m. $10. Begins at Buckhead Saloon, 201 E. Fifth St., halloweenhowlerclt.eventbrite.com, carolinanightlife.com.
The World's Greatest '70s Experience
Dust off your polyester leisure suits and mini-skirts, pull out those platform shoes and go-go boots, and relive the fun times of the 1970s (or if you weren't born then, borrow your parents' stuff). There will be dance and costume contests, food, games, and more. 8 p.m. $35 general admission; $75 VIP. CenterStage@NoDa, 2315 N. Davidson St., theworldsgreatest70sExperience.eventbrite.com, centerstagenoda.com.
Marvel Comics Halloween Party
Celebrate your favorite comic book characters at this party, and participate in the costume contest. Music by DJ Marvel. 10 p.m. Cost varies; VIP tables available. Suite, inside EpiCentre, 210 E. Trade St., suitecharlotte.com.
Trick or Treat
This martini bar will be transformed for a festive Halloween night. Enjoy $5 drink specials and music by DJ C-Rob. Come dressed in a costume and you're admitted free until midnight, and the first 25 ladies in costume will receive a complimentary drink ticket. 10:30 p.m. For VIP tables, james@loft1523.com. Loft 1523, 1523 Elizabeth Ave. facebook.com/loft1523.
Saturday, October 29
12th Annual Grave Diggers Ball
This annual party has become one of the biggest Halloween events in the region and often sells out. OneRepublic headlines the concert this year, along with a performance by Cobra Starship. Participate in one of the city's largest costume parties, where $1,000 is up for grabs. Presented by Kiss 95.1. 6 p.m. $20 in advance; $25 day of; $80 VIP club passes include complimentary beer, liquor, and food. Dixie's Tavern, 301 E. Seventh St., dixiescharlotte.com, kiss951.com.
Music, Monsters and Mayhem
In what's becoming an uptown Halloween tradition, this festival is even bigger this year, giving you admission to 10 NC Music Factory venues, featuring eight bands on five stages. O.A.R. headlines, along with Company of Thieves, Simplified, Blizzard of Ozzy, Kiss Alive, Breaking Laces, and The Hundred Days. Your ticket also gets you admission into the NC Fright Factory. 5:30 p.m. $25-$39.50. NC Music Factory, 935 N. Graham St., ncmusicfactory.com.
Trick or Sweet
If you prefer a more laid-back night out, enjoy this lounge where dessert is the main attraction. "Sinfully delicious" dessert selections will be served along with blood-orange vodka elixirs, and complimentary shots. Plus, there will be a nitrogen-infused heavy fog display at midnight. Your sexiest costume is requested. 8 p.m. Free. Crave Dessert Bar, 500 W. Fifth St., cravedessertbar.com.
Day of the Dead
Charlotte's most exclusive nightclub is getting in on the fright night action. Costumes highly recommended, and there's a $500 best costume contest. DJ Ciprian plays in the main room; DJ Ahuff in the upstairs room. 8 p.m.-2:30 a.m. General admission $15 and up; VIP tables $500 and up; click here to purchase in advance. Butter NC, at NC Music Factory, 950 Seaboard St. buttercharlotte.com.
Emergency Room Halloween Party
Come dressed in your best nurse, doctor, or injured-person costumes, and the "most critically injured" will win a VIP table valued at $500. Expect plenty of sexy nurses at this chic lounge. Music by DJ Rowshay. 9 p.m. Cost varies. VIP tables, vip@mezcharlotte.com. Mez, inside the EpiCentre, 210 E. Trade St., mezcharlotte.com.
Glitterati Booty Bash
It's one of the most popular nightspots in South End, and it's inviting the ghouls and ghosts to get down with the pioneer of booty house and ghetto tek music, DJ Funk, along with Adverb and Oliver Long. There will be a $1,000 cash prize costume contest—you must be there by 11:30 p.m. to register. 9 p.m.-2:30 a.m. $10 in advance. Ages 18 and older admitted. Dharma Lounge, 1440 S. Tryon St., wantickets.com/bootybash, dharmacharlotte.com.
Hollywood Halloween
MAZ Entertainment's Halloween party last year drew more than 1,000 people, and they're returning to the same venue for a repeat performance. There will be a $1,000 costume contest; visit the website for rules. Music by DJ Flash. 10 p.m.-2 a.m. General admission $15; VIP admission $29; VIP tables for six also available. Maggiano's, at SouthPark Mall, 4400 Sharon Rd., mazentertainment.net.
We Are the Night with DJ Biz Markie
The music is sure to steal the show at this party, featuring the legendary DJ Biz Markie along with DJ Complete and DJ C-Rob. Hosted by the Brides of Dracula, and your sexiest costume is requested. Everyone in costumes admitted free until 11 p.m. Ages 25 and up preferred. Presented by The Sol Kitchen, Rickmond Media, and Roundtable Entertainment. 10 p.m.-2 a.m. $10 in advance; VIP tables available, tami@republicofcharlotte.com. Re:Public, 314 N. College St., republicofcharlotte.com, thesolkitchen.com.
Eyes Wide Shut Masquerade Ball
Enjoy a "night of unfamiliar faces" at this trendy party, which features live music by the Peace and Love Band in addition to DJ Stacey Blackman. There will be great drink specials and a costume contest. Masks and/or costumes are encouraged. Presented by Digital Divas. 10 p.m.-2 a.m. $20. Blue Restaurant and Bar, 206 N. College St., digitaldivasevents.com, bluecharlotte.com.
Halloween on the Lake
Prepare for a scary night of mystery on the lake, as this restaurant and lounge is transformed for partygoers. Presented by Six Figure Entertainment. 10 p.m.-2 a.m. $10 general admission; VIP booths available, info@sixfigureentertainment.com. Firewater, 8708 JW Clay Blvd., sixfigureentertainment.com, firewatercharlotte.com.
Bloody Sexy After-Hours Halloween Party
You've seen women in scantily clad costumes all night, so what's a little less clothing going to hurt? Enjoy drink specials including $6 Crown and Down, $4 Jägerbombs, $3 domestic beers, as well as the coveted late-night breakfast buffet for $10. Music by DJ Matt Bolick. Open until 4 a.m. No cover with costume. The Men's Club of Charlotte, 444 Tyvola Rd., mensclub.com/charlotte-mens-club.
Sunday, October 30
International Sundays—Halloween Edition
It's two rooms and one big party, with three revolving DJs including DJ D-Nyce. Dance to the best in reggae, calypso, soca, top-40, and R&B. Cash prize for best male and female costumes. Presented by BrightLights and BrightWorks Promotions. 9 p.m.-2 a.m. Cost varies; ladies free all night; VIP available. Privilege, 223 S. Brevard St., privilegecharlotte.com.
Tricks, Treats, Beats and Freaks
Earlier this week I blogged about what Sunday nights are like here ("No Rest for Partiers at Town Tavern"), so expect this night to be even wilder. Enjoy $3 Stoli and $5 Red Bull and vodka. Music by DJ Dirty. 10 p.m.-2 a.m. Free. Town Tavern, 200 N. Tryon St., towntaverncharlotte.com.
Monday, October 31
Mainstream Mondays—Halloween Edition
It's one of Charlotte's largest weekly gatherings for Monday Night Football. And you're invited to wear your Halloween costume (prize will be given away for the best costume) as you watch San Diego take on Kansas City this week. Enjoy good food, drinks, and music by DJ Shogun. Hosted by sports personality SG; presented by Eddietainment. 8 p.m. Free. Buffalo Wild Wings at NASCAR Hall of Fame, 400 E. Martin Luther King Blvd., eddietainment.com, buffalowildwings.com.
Rising Icons Presents Miguel
Meet the fast-rising R&B star. Hosted by the Carolina Panthers' Charles Johnson and Power 98's No limit Larry. Music by Mr. Incognito and guest DJB4. There will be a Diamond Direct giveaway for the best costume. 9 p.m. Cost varies; VIP available, bbickerstaff@luxcharlotte.com. Lux, 200 E. Bland St., schmap.it/gph9yb, luxcharlotte.com.
For a list of Halloween-inspired arts events and shows, visit our Revue blog.
Be sure to bookmark www.charlottemagazine.com/Blogs/Dusk-Till-Dawn to stay plugged into Charlotte nightlife.