Hands-On Happenings
Five upcoming events offer opportunities to get your hands dirty and get involved in your community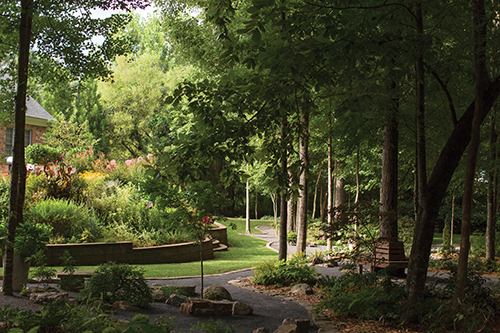 1. Art in the Garden (April 18-19) is the annual garden tour put on by the Charlotte Garden Club. As an affiliate of The Mint Museum, the club incorporates plein air painting into its event. Fourteen artists will be stationed throughout the seven gardens on tour. They will draw inspiration from their surroundings as they paint "en plein air," and tour participants can watch them work. The tour runs Saturday, 10 a.m. to 4 p.m., and Sunday 1 p.m. to 4 p.m. Click here for tickets and more information.
2. The Piedmont Culinary Guild will lead a gardening and cooking demonstration at Daniel Stowe Botanical Garden this weekend (April 18-19). Mindy Robinson of Tega Hills Farm and Kate Brun of Lucky Leaf Gardens will cover the basics of cucumbers. Megan Lambert, a senior instructor at Johnson & Wales University, and Michael Rayfield, executive banquet chef at The Ballantyne Hotel & Lodge, will prepare and serve kid-friendly cucumber recipes. The demonstration is included in garden admission and takes place from 11 a.m. to 2 p.m. both days. Click here for more information.
3. The UNC-Charlotte Botanical Gardens will hold a Spring Plant Sale (April 17-18) this Friday and Saturday. The sale promises to have a wide selection of Southeastern natives as well as shrubs, tropicals, and carnivorous plants. Thursday, April 16, (noon to 4 p.m.) is a members-only day; if you're not a member, you can join on Thursday and get access to the extra day. The hours for the general public are 9 a.m. to 3 p.m. Friday and Saturday. Learn more here.
4. The 23rd edition of Hands On Charlotte Day takes place this Saturday, April 18. The day honors the conclusion of National Volunteer Week and encourages community engagement through several service projects throughout the city. Gardening- and nature-related opportunities include landscaping at the Marie G. Davis Academy, trail maintenance at the Carolina Raptor Center, and weeding and mulching at Friendship Gardens. The work takes place from 9 a.m. to noon, and an after party follows at Sugar Creek Brewing Company. Advanced registration is required and closes Wednesday, April 15. Click here to register.
5. The 12th Metrolina Habitat ReStore opens this Tuesday, April 14, at 9 a.m. in Denver. A grand-opening celebration follows this Saturday, April 18, from 11 a.m. to 1 p.m. The event includes refreshments, door prizes, face painting, and an appearance by former NASCAR driver Harry Gant. ReStores support the mission of Habitat for Humanity in their communities. Learn more about the store and the organization here.