Happily Ever After: The Love Life of Today's Senior Citizens
The flirting, dating, traveling, and yes, even that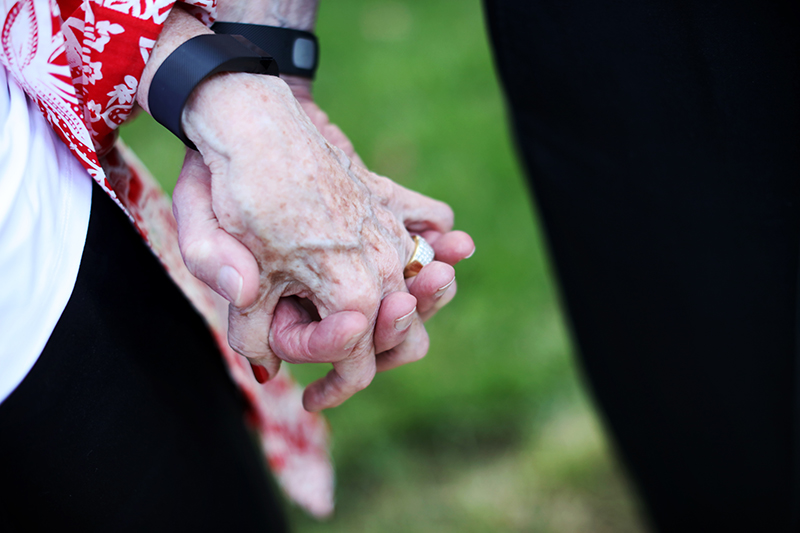 THIS LOVE STORY begins with apricots.
Richard Solar, a young artist living in New York City in the 1950s, escaped the city one afternoon with his hiking group. During the group's lunch in the woods, he noticed a pretty woman—new to the city and new to the group—enjoying apricots from her bag. He knew an opportunity when he saw one.
He asked the woman if he could have an apricot. She said yes. He asked to take her out for a drink when their bus returned to the city. She said yes again. That evening, they met at the rooftop bar of the Beekman Tower Hotel. She was so nervous that she spilled her drink; he was smitten from the start.
Thus began a 50-year romance. Richard and Lolly married, raised a son. When they worked, they had careers they enjoyed. She was a secretary, and he was a commercial artist whose work took them to New York, Washington, Atlanta, and Clearwater, Florida. When they retired, they logged even more miles, exploring Brazil, Canada, Europe, and China. But Richard's favorite moments with Lolly were spent closer to home, especially during the 15 years they lived in Atlanta. He'd find a restaurant in the country and take her there for lunch, using the drive to enjoy scenery and conversation. He loved that feeling, of Lolly in the passenger seat, of a long drive to a little restaurant, of believing they could talk all day.
Love stories begin without our notice. We don't know when the apricot will remain an apricot, or when the apricot will become the opening line to a 50-year romance. Only in retrospect can we point to the mundane detail that got the whole thing started. Perhaps that's why couples get a kick out of recounting their stories, the idea of so much springing from so little, of being characters in the same story before realizing it's a story at all.
And love stories often end without our permission.
About five years ago, as Richard and Lolly approached their mid-70s, he noticed that she forgot details she shouldn't and began to say odd things. He knows now that they joined in a conspiracy of denial about this for years. When she forgot how to make an apple pie—something she'd done countless times—he accepted the reality: dementia, which ran through her family. "Boy, you talk about a guy crying," he says now. "When I first picked up on it, it was terrible." Alzheimer's followed. She took a few bad falls. Then sepsis. She died in 2013.
After her death, Richard moved to an apartment at Waltonwood Providence, a senior living community in south Charlotte. The community resembles a resort: bright communal spaces with tall ceilings, big fireplaces, and comfortable furniture that offers places for residents to gather and an event calendar that provides them with many reasons to do so. Richard, now 80, gives a quick tour of his new home with pride. There's the café where he and his buddies enjoy breakfast and intellectual discussion each morning. There's the table by the mantel where that group shares dinner each night, where the Obama guys and the Trump guy can talk politics and it's OK, he laughs. There's even a putting green out back. It's almost perfect.
"That's what I wish, that I was here with my wife," he says. "Oh, would she love this place. And life would be absolutely terrific for me."
But Richard's not yet done with love. As much as he misses his wife, he longs for the companionship of a woman. He's keeping an eye out for the detail that will spark his next story. "I still love the women. When does that stop, if ever?"
Richard's had several dates, but so far, no big story to tell. He seeks the whole package: the woman he wants to share his evenings with, talking about the minutia of the day and the issues of the world. But he has to have the spark, too, the (here, he clicks his tongue and smiles a big smile) "you know."
Richard assumed that when he got older, sex wouldn't be as important. Wrong. He still loves the women. He finds it refreshing that talking about sex and relationships becomes easier with age, much easier than when he was a young man dating his future wife. With age comes experience, maturity, and no need to be coy.
"People are people, and you might as well not be so guarded. Be honest and straightforward," he says. "And also I know that these women are more mature. They've been there, done that. By the time they're in their 70s, they know the score."
***
FOR SENIORS reentering the dating world—sometimes for the first time since the 1950s—they encounter a new environment. Fifty years ago, they faced a strict societal script: dating (someone of the opposite sex, of course), marriage, children, career.
But now, seniors face more improv than script. For one, many seniors don't wish to remarry. Finances and family matters make remarriage a tricky topic. For another, pregnancy … well, no longer an issue. And online dating widens the pool of prospective mates. Seniors reenter the dating world in a society more tolerant of lifestyles and more generous with options. It's changing the way we grow older.
"It's a redefining of intimacy," gerontologist Dr. Lyndall Hare says of the options seniors discover with their love lives. "It's about learning to claim our passion in the world."
Hare sees senior adults seeking intimacy in increasingly different ways, feeling the freedom to be honest about who they are and what they need. Some seniors want a close companion, while others seek casual sex. And some reveal who they've been all along: Hare met an 80-year-old woman who came out as a lesbian at 70.
Yet some don't want another romantic relationship at all. Studies back what Hare and Solar note anecdotally: Women are less interested in starting a serious relationship in their later years than men are. Hare says that women tend to be more social, and they get intimacy from close friendships in a way that many men don't. Many women this age also equate romantic relationships with responsibility and caretaking—an insight into gender roles, generational norms, or both—and many aren't eager to return to those duties.
Lenore Labiner, 82, lost her husband nine years ago. She has friends who use dating sites such as Match and JDate—and she's even helped a couple of them create their profiles—but Lenore has no interest in doing so herself. She doesn't need a relationship, she says; she has Oasis, a club for seniors through the Levine Jewish Community Center. The club is mostly widows, and they go on outings such as group dinners and plays. This group has become a family to her, and she feels no need to date. "I just like the freedom," says Labiner, who also lives at Waltonwood. "I have a lot of friends, and I just like the fact that I can go to my apartment and shut the door and I'm me. I can do what I want. I'm happy."
Having such close connections—whether through platonic companionship or romantic love—has undeniable mental health and physical benefits, Hare says. During the senior years, interpersonal connections become critical: These are the years when people stop working and begin to lose spouses and friends to illness. Establishing intimate relationships prevents isolation, decreases the risk for depression, and wards off cognitive decline. In her work in senior living communities around Charlotte, Hare sees that intimacy not only makes elders happier, but it also compels them to become more active. Partners keep us on the go.
Ralph Bostian is 90, and Marinell Bostian is 86. Ralph lost his wife in 1995, and he wasn't interested in spending the rest of his life single. Marinell divorced after a 32-year marriage, and she had no interest in marrying again. When she began dating Ralph in March 1996, she had an "independent streak" and a life already full with career, friends, and family. So when Ralph would ask her about marriage, she'd say no each time. But then one night as she cooked dinner, she found her mouth saying the words, "Yes, I will," without her permission. It surprised her as much as it did Ralph. "I knew damn well I was in love with that man," she says, recounting the story recently in their Sharon Towers apartment, smiling at him. Two months later, in December 1996, they married.
In December, they'll celebrate their 20th anniversary. They've filled photo albums with their adventures: Kenya, Peru, Japan, France, Russia, South Korea, Denmark, China, New Zealand. One album labeled "Lexus Safari" details their 57-day, impromptu road trip around the country. "We ran the wheels off of it," Marinell jokes of that Lexus. It's been a busy 20 years.
"I've been happier now since being married to Ralph than at any other point in my life, other than giving birth and being with my daughter," Marinell says. "It's because I know what it means to love someone with all of my heart and soul."
***
FOR RICHARD SOLAR, single life isn't what he envisioned for 80.
"In the evenings when I'm alone in my apartment watching television or reading, I just think to myself, 'Oh, my God, this is awful. All by myself here.' I wish I could have a gal come over and just have someone to talk to. Exchange ideas, problems, wishes, desires. … It's tough being lonely."
Like any good protagonist, Richard knows that fate sometimes needs an assist. So he took a chance that his next love story begins with a ship: He booked a cruise to the Bahamas by himself in the hopes of meeting someone special. The first evening, a woman introduced herself—Barbara—and asked if he'd like to join her for dinner. His response was immediate.
"You bet!"
Each evening, on waters somewhere between Charleston and the Bahamas, they sat on the deck and talked about their families, their lives. Each night, they ate dinner together. But when the ship returned to Charleston, they parted.
Barbara lives several hours from Charlotte, and neither has interest in moving. But he couldn't stop thinking about her, so several months later, he called her to propose a romantic weekend in Wilmington. That weekend was the first of monthly rendezvous between them. He smiles as he reveals his plans for their next getaway. They'll meet in Southport, where they'll stay in a nice hotel, walk along the water, and he'll treat her to a wonderful meal at a pretty restaurant. And (tongue click), you know.
This relationship might not be one he craves—the one that provides nightly conversation, regular companionship and intimacy—but for now, this returns to him a piece of his life he's been missing: the thrill of flirtation, the feeling of completeness he has with a woman by his side. It allows him to reclaim his passion in the world.
"I need that tension, that excitement." Richard folds his arms into his chest, leans back, and smiles widely. "They're terrific creatures, the women."
Jen Tota McGivney is a freelance writer in Charlotte. Reach her at jennifer.mcgivney@gmail.com or via jenmcgivney.com.