Happy Brew Year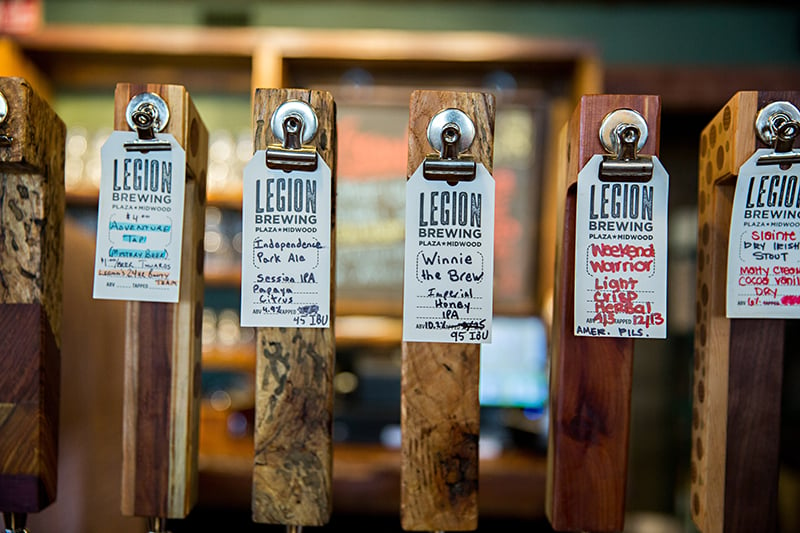 If you want to stay relatively low-key for your New Year's Eve celebration, look no further than Charlotte's and area breweries, as several are throwing parties to help ring in 2018. And a few more are having events the next day when it's time to recover. Here's a rundown:
New Year's Eve
–Blue Blaze Brewing: This would be the brewery to visit if you have plans already for later in the evening. Blue Blaze is open from noon to 7 p.m., and the first 60 people to buy a beer that day will receive a free ticket for barbecue and sides from Twilight Smokehouse, which will be onsite beginning at 1 p.m. The brewery is also tapping Brain Bucket, a German bock, and serving free "Lucky New Year's Soup" while supplies last.
Cabarrus Brewing Company: The Concord brewery's NYE bash will feature live music from Province of Thieves along with a champagne toast and "keg drop" at midnight. Admission is free, and while Cabarrus will open at its regular time Sunday (1 p.m.), the New Year's celebration officially runs from 9:30 p.m. to 12:30 a.m.
D9 Brewing Company: Up north, D9 will have a full taplist of its celebrated sours and other beers, highlighted by a champagne toast at midnight. Food from nearby Rocky's Pizza will be available, featuring discounted items and free delivery from 1 p.m. to 9 p.m. The party at D9 starts at 1 p.m. and goes until 1 a.m.
The DreamChaser's Brewery: Four bands (along with the beer, of course) are the highlight at the Waxhaw brewery's celebration. Enjoy live music from Jordan Middleton and the Low Down, Kevin Marshall and the Jaywalkers, Moses Jones and Shannon Lee and Tonya Wood's Dueling Pianos. Black Chicken will have a food option for the party, with all you can eat for $15. The festivities take place from 6 p.m. to 1 a.m.
Lenny Boy Brewing Co: It's a full-on dance party at Lenny Boy, as Aarodynamics will take you into the New Year from 9 p.m. to midnight, followed by a champagne toast. Speaking of which, Lenny Boy is also releasing a champagne beer (Brut de Charlotte) and orange vanilla creamsicle kombucha as part of the festivities. Pitchers of beer will be $15 all day and night, and there is no charge for the party.
Red Clay Ciderworks: The cidery is advertising a "No Hype" New Year's celebration with numerous raffles for apparel and gift certificates, late night appetizers and a cider toast at midnight. The festivities begin at noon and roll all the way through until 1 a.m.
Sycamore Brewing: Sycamore will tap special releases throughout the night, while Tin Kitchen is onsite from 2 p.m to 9 p.m. for all of your food needs. Tickets for this event (7 p.m. to 1 a.m.) are $20, with a pint of your choice included in the cost.
Thirsty Nomad Brewing: Thirsty Nomad is hosting an all-inclusive party, with tickets limited to just 100 people. For $30, you'll get access to unlimited beers from the taplist (11 in total), dinner from My Sausage Buddy and desserts from A Smart Cookie. The bash also features Clash of the Nomads, which will see Thirsty Nomad's four brewers go head-to-head with their best Belgian Tripel (partygoers will pick the winner, which will also go into regular rotation in the New Year). The party goes from 5 p.m. to 1 a.m. and tickets can be purchased here.
New Year's Day
Birdsong Brewing Co: Shake the cobwebs out from the night before and head to Birdsong beginning at 10 a.m., where you can start with a "bloody beer," which is Birdsong's Jalapeno Pale Ale blended with bloody mary mix with jalapenos and bacon on the side to add. If a lighter drink is more your thing, try Birdsong's "beermosas," its Paradise City IPA mixed with orange juice.
The brewery is also offering free coffee from Central Coffee Co. and a complimentary bagel bar from Owen's Bagel (while supplies last; Birdsong is accepting donations for Second Harvest Food Bank if you want to start your 2018 on the good foot). Finally, Birdsong will begin the New Year with a new can, Puppies on Penguins. Formerly in bottles, this will be the last run of PoP, a Belgian abbey ale aged in red wine barrels with cherries added, so get your 4-packs while you can.
Free Range Brewing: Three years ago, Free Range started a free soup and bread day as a way to start off the New Year and say thanks to its customers. This is a no-strings-attached event, and it's not just any old soup; some of Charlotte's top chefs are participating, including Heirloom's Clark Barlowe, Earl's Grocery's Marc Jacksina and The Chef's Farmer's James Swofford, among others. There will also be delicious local bread from Dukes to accompany the soup, along with live music from Sweet Sweet. Free Range's free soup day begins at noon until 4 p.m., and of course the brewery will have all its beers available.
Legion Brewing: Keeping with the free theme, Legion is offering complementary bowls of its "Pass the Luck" chili (made with traditional New Year's ingredients of black eyed peas, collard greens and pork) and cornbread. If you're feeling generous, the brewery will accept donations, which benefit the Cystic Fibrosis Foundation. Legion will also have several giveaways at the event, which runs from noon to 2 p.m.
Olde Mecklenburg Brewery: OMB is celebrating 2018 like it's 1768. The New Year marks Charlotte's 250th birthday, and Olde Meck has brewed a special beer to honor the occasion. This Dunkelweizen has clove and banana flavors with a dark undertone – the brewery says to expect it to taste like a darker Hornet's Nest Hefeweizen. The winter seasonal will be released at Olde Mecklenburg's taproom Monday beginning at 11 a.m.