Happy Hour at Threes
Threes adds versatility—and great happy hour specials—to the uptown scene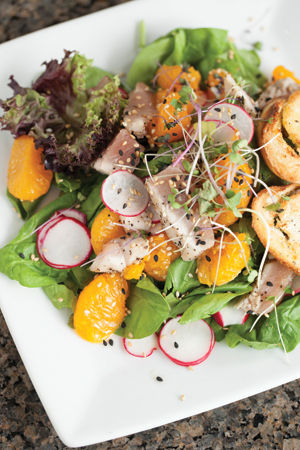 IN LATE JULY, a few months after restaurateur Pierre Bader sold it, the wine bar formerly known as Press quietly morphed into Threes—a new taproom, wine bar, and café. (The new name was inspired by the café's address: 333 W. Trade St.)
From the outside, not much has changed, and, at first glance, the interior might also appear the same. But subtle changes to the décor make it clear that Threes is more than just a wine bar. Most noticeable, Press's large charts describing the different weights of wines have been replaced with funky, modern wall sculptures. Unlike its predecessor, Threes offers draught beers and beers by the bottle in addition to its wine list, along with a full slate of espresso drinks.
The food offerings have also been overhauled, including a larger salad menu, new appetizers, and a selection of flatbreads, plus sandwiches and sushi. The rolls here are fresh and affordable, with few frills: a simple spicy tuna roll is $6.50, a California roll, $6. A small selection of sashimi and nigiri is rounded out by five specialty rolls, including the café's Signature Roll, which features tuna, kani, and avocado topped with a spicy aioli, crispy garlic, and fried shallots ($12). The only menu item that has remained entirely untouched is Press's spinach and feta salad with chickpeas ($7). One disappointing note: the Pan Rustica flatbread, which promised prosciutto, fire-roasted red peppers, goat cheese, garlic, and a balsamic glaze ($12), lacked even the tiniest dollop of goat cheese, though it arrived with a crispy, thin crust.
And while, yes, there are now beers on tap, and you can order a cappuccino if you like, the wine list at Threes is still the biggest draw. More than forty wines are available by the glass, including some by-the-glass rarities such as Dom Pérignon champagne ($25 per glass). There are also hundreds of wines available by the bottle at retail prices, which you can sip on-site.
But it may be Threes' happy hour deals that will secure its place among uptown hot spots. On weekdays from 4 to 7 p.m., traditional sushi rolls, flatbreads, hummus, and bruschetta are all half price, and, depending on the day of the week, there are specials on wine and beer, too. Get there early if you hope to snag a table on the sidewalk patio—this is the kind of place where people like to linger.