Happy Hour Events, Food Truck Festivals, Bartender Competition, Party with Mýa, and More August 22-25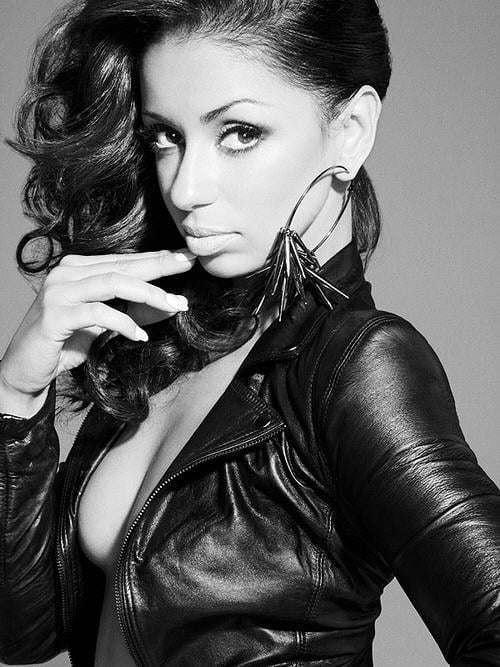 The kiddies go back to school on Monday. I don't miss those days, but I do miss having summer breaks. Well, keep the party going!

Thursday, August 22
Chow Down Uptown—A Food Truck Festival
Your favorite Charlotte area food trucks are selling their delicious treats in one place: Auto Burger and Fry Guys, Chef Street Bistro, Gourmet Goombahs, Herban Legend, JK Cones, King of Pops, Maryland Crab Co., Minacci's Gardens, NC Icy Treats, Root Down, Roots Farm Food, Ruthie's of Charlotte, Sauceman's, Smoke and Go, Sunrise Grill and Sandwich Co., The Homegrown Crepe, The Wingzza Truck, Turkey And…, and Wafflez and Wingz, as well as The Pink Culture Truck from the Greensboro area. Beer and wine can be purchased at the 7th Street Public Market. 5-9 p.m. Free; parking available for $5. 7th Street Station Parking Lot, 224 E. 7th St., facebook.com/ChowDownUptown.
Alive After Five (weekly event)
This week's installment is Ladies Night. Receive a flower and a complimentary glass of champagne, along with more giveaways. Music by 20 Ride – Zac Brown Band Tribute on the rooftop stage. 5 p.m. Free; VIP tickets available. Wristbands from Alive After Five get you free entry into official after-parties at Whisky River, BlackFinn, Suite, Vida, StrikeCity, and Bubble. EpiCentre, 210 E. Trade St., aliveafterfives.com/the-epicentre.
Former NFL Players Bartender Night
The NFLPA Former Players Charlotte Chapter is hosting a bartender night, where some of its members will be mixing drinks, and 15 percent of your food and beverage purchases will go to support the organization's charitable partners. 6-8 p.m. Free. Charlotte City Club, 121 W. Trade St., Suite 3100, charlottecityclub.com, nflplayers.com.

Friday, August 23
Bubble and Bites and Mixstrumental Part 2 (two events)
The weekly after-work event, Bubble and Bites, features a special $5 food menu, $7 glasses of champagne, $6 select cocktails, and $5 glasses of wine. 5-8 p.m. Later in the night, there's the return of Mixstrumental, an event that combines music from violinist Miss Edith with DJ KJ from Chicago. 10 p.m. For guest list or VIP table reservations, email bchristy@bubblecharlotte.com. Bubble Charlotte, at EpiCentre, 210 E. Trade St., bubblecharlotte.com.
FaceTime Friday
End your work week with this extended happy hour event. "Crisp attire is a must," says Moxie Society, the organizer of the event. 7 p.m. Free; RSVP to info@moxiesociety.com. Kanvas Gallery, 525 E. 6th St., kanvasgallery.com, moxiesociety.com.
Martini Madness: Bartender & Flair Competition
The nightclub's best bartenders will compete head-to-head in a series of challenges in three rounds: fire and ice, best bar trick, and unique martini. Hosted by Otis of The O Show on Kiss 95.1 FM. Your ticket gets you martini tastings from each competitor, light appetizers from area restaurants, and entertainment. 7-10 p.m. $20; purchase tickets in advance. Label, 900 NC Music Factory Blvd., labelcharlotte.com.
BlackFinn's Five-Year Anniversary Bash
Come out and help this EpiCentre staple celebrate reaching the five-year milestone. RSVP to receive VIP, which includes free cover for you and your friends, drink specials, and a complimentary $25 bar tab if you bring four or more friends with you. There will also five grand prizes given away, including $500 cash, two tickets to five events, a five-brewery tour, and more. 9 p.m.-midnight. Free. BlackFinn American Saloon, at EpiCentre, 210 E. Trade St., blackfinncharlotte.com, blackfinnfiveyearanniversary.eventbrite.com.
Exotica International
Dance to music from around the world, played by DJ Ciprian and DJ Glyde. Also be entertained by a live Capoeira show and samba dancers. Presented by Insomnia Ent. 10 p.m. Cost varies. Label, 900 NC Music Factory Blvd., labelcharlotte.com.

Saturday, August 24
First Down Beer Pound Crawl
Let this bar crawl get you ready for football season. At each stop, participants will compete against other crawlers in football-themed games for prizes, including Carolina Panthers tickets. There will be drink specials offered at each bar, and you're encouraged to wear your favorite team's colors. Bars include: Angry Ale's (4-6 p.m.), Brazwells (6-7:30 p.m.), 10 Park Lanes (7:30-9 p.m.), and El Camino (9-10:30 p.m.). Presented by SportsLink. 4-10:30 p.m. Free. Angry Ale's, 1600 Montford Dr., sportslinkfootballcrawl8-24.eventbrite.com.
What the Truck! Food Truck and Music Festival
It's the fourth installment of this food and music event. There'll be performances by Sunset Strip and 42: A Coldplay Tribute Band. And several food trucks will be set up on site. 6-11 p.m. Free, with advance registration. Amos' Southend, 1423 S. Tryon St., amossouthend.com.
Haunt: Pop-Up Cocktail Bar
A group of mixologists and cocktail enthusiasts have started setting up pop-up events, called Haunt, to offer guests classic and original cocktails over great conversation. You'll be able to order these special drinks alongside the food menu at this Plaza Midwood neighborhood restaurant and bar. 6 p.m.-midnight. Free admission. Letty's, 2121 Shamrock Dr., lettysonshamrock.com, hauntbar.com.
White Out
A special evening is planned at this upscale soul food restaurant and bar. All white attire is requested, and you'll be entertained by live jazz from Buff Dillard (7-11 p.m.), followed by party music from DJ '06 (11 p.m.-2 a.m.). Dinner reservations are available; cigars will be served on the patio. 7 p.m.-2 a.m. $10 without dinner reservations. Delta's Restaurant, 525 N. Tryon St., deltasrestaurant.com, facebook.com/deltascharlotte.
Tilt's Teacher Fundraiser
This Uptown bar wants you to aid local teachers by raising funds for classroom supplies, because too often teachers have to pay for them out of their own pockets. For your donation, you'll receive two drink tickets. Music by DJ Jimmy Hype. 9 p.m. School supplies or $7 donation requested. Tilt, 127 W. Trade St., tiltontrade.com.
Eye Candy: A Night with Mýa
Singer and actress Mýa has been a fantasy of many men since the late 1990s. She hosts this party, also featuring music by DJ Bro-Rabb. Presented by The Sol Kitchen. 10 p.m. $10 in advance; for VIP tables, tami@republicofcharlotte.com. Re:Public, 314 N. College St., thesolkitchen.com.

Sunday, August 25
Sunday Funday On the Patio (weekly event)
This Elizabeth hotspot has won a BOB Award before for Best Patio. Sundays are a good time to enjoy it, not only because of the great layout but also for the drink specials: $1 draft beers, $2 Bloody Marys and mimosas, $3 fireballs, and $4 well drinks. Doors open 11 a.m. Kennedy's Premium Bar & Grill, 366 N. Caswell Rd., kennedyscharlotte.com.
Jay & Silent Bob's Super Groovy Cartoon Movie Screening
Several of their movies are cult classics, and now Kevin Smith and Jason Mewes are coming to Charlotte to present a special screening of their latest film together. Following the showing of Jay & Silent Bob's Super Groovy Cartoon Movie, the duo will engage in a question and answer session. The bars at the venue will be open. Doors open 7 p.m.; show starts 8 p.m. $58-$69.50. The Fillmore Charlotte, 1000 NC Music Factory Blvd., fillmorecharlottenc.com, livenation.com.
S.I.N. Sunday (weekly event)
This is the second week in this series of guest DJ appearances in August and September at Uptown's only strip club. Music this Sunday by DJ Jason Wiggz. Drink specials include $3 domestic beers and $4 U-Call-Its. 10 p.m. Uptown Cabaret, 108 E. Morehead St., uptowncabaretclubs.com.

Charlotte Pride Weekend (August 22-25)
The 10-day Charlotte Pride Week is down to the final weekend, which is when most of the largest events are taking place. Celebrate the diversity and inclusion of the LGBT community at several parties and events at various bars and nightclubs Thursday through Sunday. And the highlight of the weekend is the Charlotte Pride Festival and Parade. For the complete schedule, visit charlottepride.org/events/prideweek.

Verify dates, times, prices, and other info at the web addresses listed for each event.