Happy National Burger Month!
A big juicy burger complete with all the trimmings is all you need this May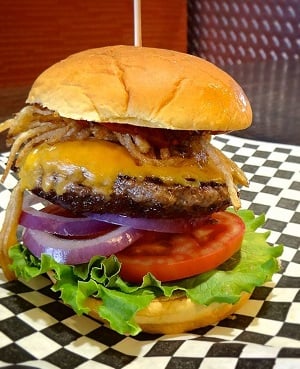 It's a pleasant surprise when a month starts off with a bang in terms of food. Lucky for us, May is National Burger Month, and Charlotte's burger joints are gearing up for 31 days to celebrate the staple.
Morton's The Steakhouse locations will offer hungry diners a chance to enjoy the delicious Million Dollar Burger with a glass of Stag's Leap Winery's "The Investor" throughout the month of May. The pairing is offered for $39 and available in the bar area all day every day from May 1-31.
Why is it called the Million Dollar Burger? A classic beef patty is topped with decadent foie gras, black truffle butter, and braised short ribs before being sandwiched in a brioche bun. Morton's is located at 227 W. Trade St. in uptown.
If you're a burger purist, Bad Daddy's chef Tim Kast has your answer. The Nick's Patty Melt at Bad Daddy's is one of the restaurant's most popular burgers, and what better way to celebrate National Burger Month than with the recipe? Now you, too, can create this ooey, gooey, delicious burger on your own grill.
Nick's Patty Melt (makes four burgers):
4 ea- burger patties
4 teaspoons- seasoned salt
8 slices- Swiss cheese
8 slices- rye bread, thick Texas sliced
¼ cup- butter, softened
4 tablespoons- mayonnaise
2 tablespoons- dijon mustard
½ cup- warm caramelized onions (recipe below)
Heat grill or skillet to med-high heat. Season each burger with 1 teaspoon of seasoned salt and then grill burger to desired doneness. Top each burger with 2 slices of Swiss cheese and melt. Spread butter on both sides of rye bread and toast till golden brown. Spread mayo on one side of 4 slices of the toast and the mustard on one side of the other 4 slices of toast. Top each burger with the warm caramelized onions and sandwich between two slices of rye bread. Slice each burger on a bias, corner to corner and enjoy!
For the Caramelized Onions
1 jumbo Spanish onion
1 tablespoon olive oil
½ teaspoon Kosher salt
½ teaspoon cracked black pepper
½ teaspoon sugar
Split onion in half from stem to root and peel skin, then thinly slice. Heat olive oil in large sauté pan or skillet on medium heat. Add onions, salt, pepper, and sugar to pan. Cook onions for 15-20 minutes, stirring frequently, or until dark mahogany color. Reserve warm for burgers.