Happy National Cheese Day
It's finally here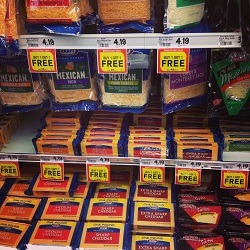 If you weren't aware, today is National Cheese Day! One of our most beloved foods, which pretty much makes everything better, is celebrated today. Even Time.com has written up this holy day, honoring it with a wonderful list of the best cheesy things in life. Obviously you need a way to celebrate cheese today, so, I've compiled a list of cheesy goodness found around Charlotte. You're welcome.
Queso Dip: Cheese dip is one of those things that solves all problems — it could probably even bring about world peace. The mixtures at Cantina 1511 and Zapata's are both favorites of mine. Cantina offers a 3-cheese blend while Zapata's has a jalapeno cheese concoction on the menu. Both are gooey and cheesey and warm and I may get some after work.
Fondue: I have to give this one to The Melting Pot. I mean, their specialty IS fondue. Bread and cheese — a meal for champions.
Nachos: Although I've rarely met nachos I didn't like, the nachos from Three Amigos are the winners here. You can't go wrong with either the appetizer portion or the dinner selection. Lots of layers and fresh flavors — they're meant to be shared, but you won't want to.
Cheesecake: Although a tiiiiiny part of me wants to give this to The Cheesecake Factory, I have to hand it to Good Food on Montford and Aria. At Good Food, the menu caters a bit to season, but the pumpkin cheesecake served in the cooler months was RIDICULOUS in a good way. At Aria, the espresso cheesecake is delcious and creamy.
Mac and Cheese: Although I've tasted killer concoctions at Vine American Kitchen, Dandelion Market, and Mert's Heart & Soul, the best mac and cheese is definitely over at Midwood Smokehouse. Ridiculously thick and cheesy — amazing stuff.
Get out there and celebrate this day for all things cheesey.