Happy National Shrimp Day
Celebrate with a cioppino from Chef Coleman of The Asbury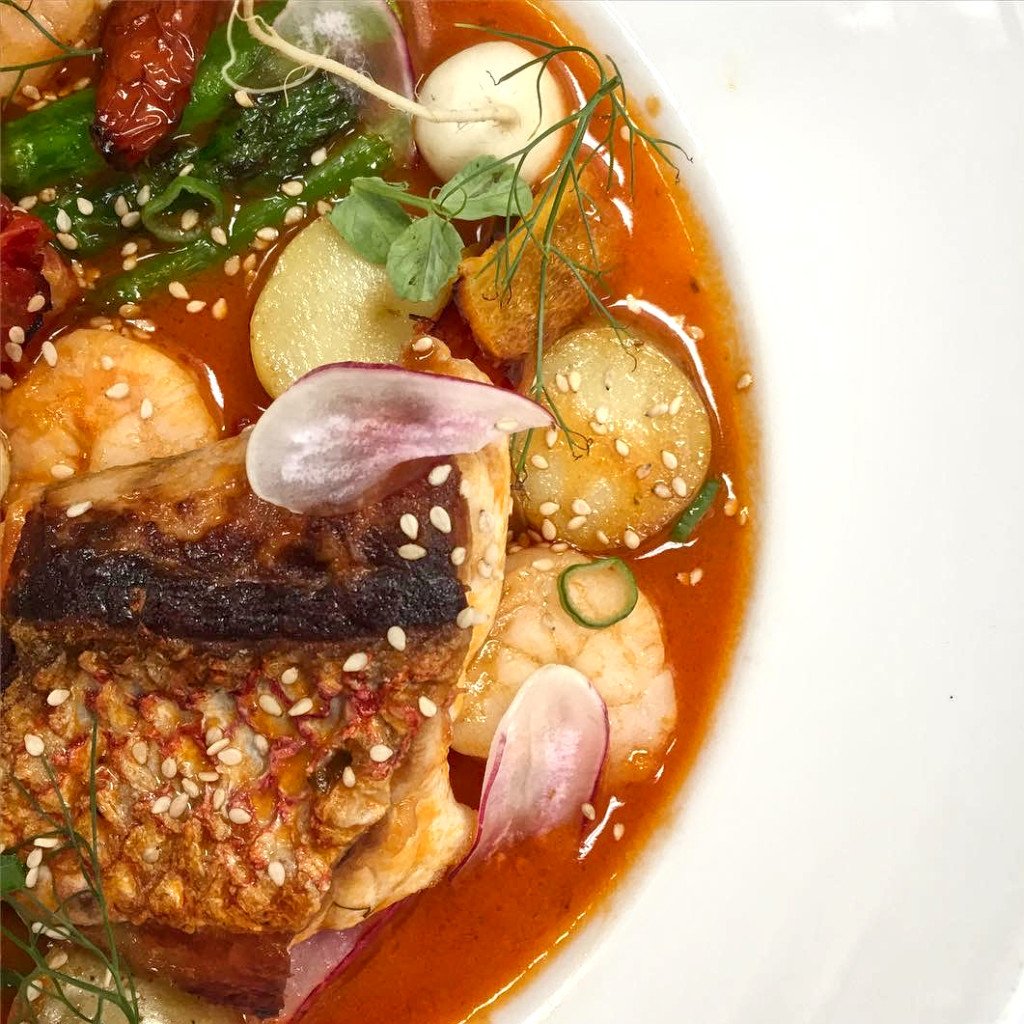 Americans eat more shrimp than any other seafood, but probably don't know a whole lot about their favorite crustacean. People have been enjoying shrimp since ancient times, and there is evidence of shrimp harvests here in the South dating back to at least the 1600s.
For over two hundred years, shrimp has played an important role in the Southern economy. Here in North Carolina, we are usually dealing with three types of shrimp: brown, pink, and white. The pink ones can grow to be up to 11 inches long; the brown ones make up the bulk of the catch. According to the NC Division of Marine Fisheries, shrimp are the second most important fishery to our state economically. Our fishermen haul in almost five million pounds of them annually.
It's hard to imagine, but there was a time when shrimp was not widely enjoyed across the U.S. Railroads, ice, and various technologies like the automatic peeler had to be introduced first. Television also made shrimp popular in places like the Midwest, where they'd never heard of it before the 1950s. Those that did enjoy it outside of the South often ate it canned.
While today is as good a day to enjoy some good ol' shrimp and grits, Chef Chris Coleman of The Asbury shares a recipe that makes good use of spring produce—think asparagus, fennel, and radishes—to create a bright and fresh seafood stew called cioppino. Pair this with a crusty sourdough bread and you're all set to feed a hungry crowd.
Coleman's cioppino is also on the restaurant's spring menu, if you prefer to let the experts work in the kitchen. The menu also includes a playful take on shrimp and grits, where pickled shrimp and crispy boudin balls come served over boiled peanut grits and dressed with a green tomato broth and pickled ramps. Doesn't get much more Southern than that.
For more shrimp recipes to honor the occasion, including one for a classic Southern-fried shrimp, visit the NC Seafood cookbook page. And please, save your shrimp shells in the freezer and use them to make a shrimp stock later on. You'll thank me when you make your next batch of shrimp and grits.
LOCAL CATCH CIOPPINO
Makes a good bit; the base freezes well for future use. The Asbury typically uses black bass or grouper for their fin fish, but most mild white fish will work.
Note from Chef Coleman: Cioppino is a West Coast dish credited to San Fran-Italian immigrants, but it has everything a seafood-loving Southerner could want: fresh coastal seafood, veggies, and good bread. This is a more refined take on a hearty stew.
For the broth:
Splash canola oil
1 fennel bulb, sliced thinly across
1 onion, sliced thinly
4 cloves garlic, smashed
2 stalks celery, sliced thinly
2 tablespoons tomato paste
2 teaspoons red pepper flakes
1/2 cup white wine
2 tomatoes, cored and smashed
1 quart fish fumet (stock) or clam juice
1 quart vegetable stock
Fish sauce (optional), to taste
Miso (optional), to taste
Lemon juice, to taste
Hot sauce (optional), to taste
To serve:
3–4 pounds fresh seafood (The Asbury uses a mix of fin fish, shrimp, and clams)
3 pounds mixed seasonal veggies (see below for their mix)
1 pound tomatoes, cut into large chunks
1 pound baby carrots, trimmed and blanched
1/2 pound asparagus, trimmed and blanched
1/2 pound fresh raw green peas
2 radishes, sliced thinly
1/4 fennel bulb, sliced thinly
Fennel fronds, tarragon leaves, and/or chervil for garnish
Rustic sourdough, sliced
1–2 tablespoons butter
Lemon wedges, for serving
To make the broth
Heat a large, heavy bottomed pot over medium and add a splash of canola oil. Cook fennel, onion, garlic, and celery until softened and just starting to caramelize. Add tomato paste and chili flakes and continue to cook until tomato is very fragrant, almost burning. Deglaze with white wine and stir vigorously to scrape up the stuck-on bits. Reduce until the pan is almost dry ("au sec"). Add the crushed tomatoes and cook until all juices have leached out and the pot is once again au sec. Add the fish fumet/clam juice and vegetable stock, and simmer until reduced by a third.
Carefully purée the mixture with a handheld immersion blender or in a stand blender, working in batches if necessary. Season to taste with fish sauce, miso, lemon, salt, and hot sauce, if you'd like. The cioppino broth can be made 3-4 days ahead. (It gets better with age, and freezes well.)
To serve
Lightly blanch the carrots and asparagus In a large pot of boiling water. Remove from pot and plunge into ice water to stop them from cooking, then drain. Set aside.
In a large, heavy sauté pan, sear your fin fish in a little oil until golden brown but not cooked through. Remove from pan without flipping. Add the clams and a few ladlefuls of cioppino broth (and a splash of white wine, if you've got it handy) and cover.
Cook until the clams have opened. If any are unopened after 5–6 minutes, they're more than likely dead; discard these. Without removing the cooked clams, add the shrimp and the fin fish, uncooked side down, and simmer gently until all is cooked through. Meanwhile, warm the cooked vegetables through in a separate sauté pan. Toast the sourdough bread on a hot grill or in the toaster.
Once the seafood is done, swirl a knob of butter in, and adjust the salt and acid levels (using lemon juice), as needed. Divide seafood among bowls or into a deep serving platter. Pour cioppino broth from the pan over the seafood in the bowl. Scatter your warmed veggies on top along with the peas, radish, and fennel. Garnish with fresh herbs, and serve immediately with warm toasted bread and lemon wedges on the side.