Harry Jones's Long, Strange Trip
When Mecklenburg County government stumbles, he takes the fall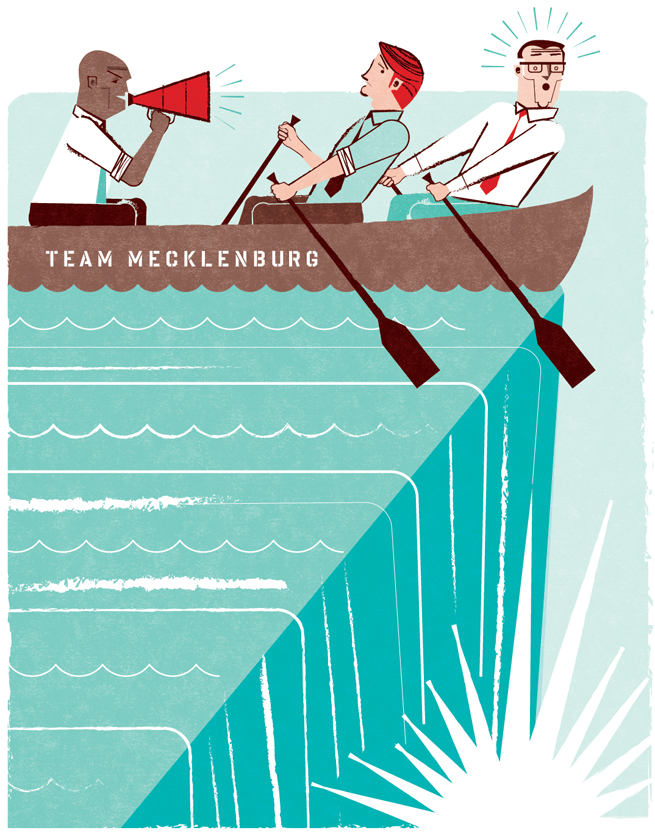 Whether failing to protect abused kids or bungling property tax assessments, Mecklenburg County commissioners are struggling to perform some of their essential duties. Fortunately for them, for 13 years they've had someone else to blame: County Manager Harry Jones, who never met a scandal he couldn't ride out. Commissioners alternately chastise and praise him for doing their dirty work. How long are they going to keep pretending everything is all right?
July 2009: In an email to Jones and the county commissioners, a Bank of America employee complains about the Department of Social Services. "There seems to be a need for a wholesale cleanup of many county agencies, and I think that starts from the top down," Harry Lomax writes. Jones doesn't take kindly to the criticism. He forwards the email to a vice president at Bank of America, inquiring if she knows Lomax. (Four months later, after the story makes headlines, Jones calls Lomax to apologize.)
May 2010: A former DSS employee pleads guilty to embezzling $112,000 from the Giving Tree program, which provides Christmas gifts for needy kids. Yes, this is the same DSS scandal that Harry Lomax, the object of Jones's scorn, mentioned in his email. Ah, karma.
November 2011: Commissioners give Jones a 1.5 percent raise, bringing his annual compensation to $298,000. (Merit raises had been restored for other county workers earlier in the year.)
May 2012: Many homeowners are furious to see the assessed value of their homes go up after a controversial 2011 county revaluation. They complain about the way land values and foreclosures factored into the process and say appealing to county officials didn't help. Jones argues that it's "neither necessary nor appropriate" to hire an outside firm to investigate the property appraisal process. The county commission, discovering a spine, overrules him.
September 2012: Jones abruptly fires DSS Director Mary Wilson—whom he had recommended for the job four years earlier—offering no public explanation. Wilson later tells The Charlotte Observer that Jones didn't appreciate the dirt she uncovered in the department. "I found a lot of stuff that was wrong, and I kept finding stuff that was wrong, and I kept pushing to fix those things, and I think that made the county management team very uncomfortable."
October 2012: News breaks of a scathing 2011 consultants' report declaring the child welfare division of DSS a mess. It recommends ousting Youth and Family Services head Paul Risk—who was clashing with Wilson—and bringing in outside monitors to help oversee the dysfunctional division. County commissioners are alarmed to learn about the taxpayer-funded report, which, until the scandal hit the papers, they had never seen.
November 2012: Consultants find significant flaws in 2011 property assessments, a property database that hasn't been updated in 17 years, and a "lack of customer service" from county officials. Property Assessor Garrett Alexander resigns. Jones admits he was wrong about the need for an outside review. Then he asks the commission for a 4.5 percent raise. Citing a new fire service tax in outlying areas, a new park in Third Ward, and the county's split with Carolinas HealthCare System, he argues the previous year was "one of my most successful." Um, no.
December 2012: The commission hires outside appraisers to review property assessments in all county neighborhoods and help them work toward a future revaluation. The price tag could reach $1.7 million.
February 2013: Commissioners vote to support the "concept" of refunding property owners who were over-billed. But because the property database has to be fixed first, the checks might not come for two or three years. Jones's paychecks, last we heard, are still arriving on time.
—Research assistance by Katherine Burd