Hat Couture
Artist McKinna Hahn is turning heads in Charlotte, one accessory at a time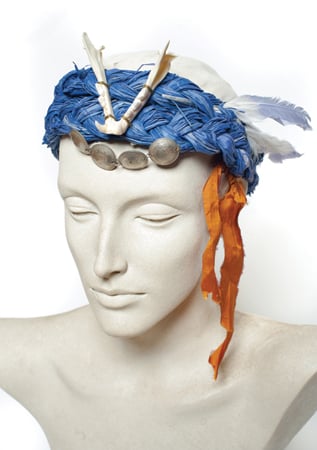 McKinna Hahn finds beauty in the unusual. Abandoned hornet's nests, stray animal bones, vintage mink fur, old Peruvian coins— she collects them all to craft the wreath-like headdresses in her custom line, Ceremony.
Her business began on New Year's Eve 2009, when she decided her outfit called for a touch of extravagance. The headdress she designed and wore was a hit with other revelers and inspired her to make more. "It was an unusual niche that no one had even thought of in a struggling economy," she says. "I wanted to give people something special—wearable art—to adorn themselves."
Three years later, Hahn operates her customized line out of her NoDa attic. To get your hands on Hahn's one-of-a-kinds, check out Ceremony's Facebook page: facebook. com/houseofceremony.