Have Fun with Florals
Try these tips from a local florist to decorate your backyard for the weekend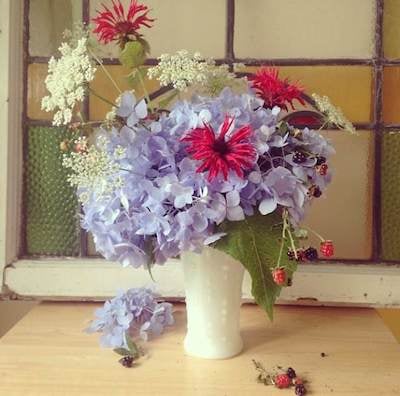 When it comes to floral arranging, Deedie Springer makes it sound simple. The fulltime florist and owner of Springvine Design in Iron Station has a fine art degree from Western Carolina University, so she approaches flowers as if they were any other art media, such as paint, colored pencils, or crayons. Her arrangements have a natural, free-flowing look that makes them welcome additions to any wedding, party, or other special occasion.
Although Springer is a professional, she assures us that with a few tips and tricks, amateurs can make attractive accents for their home parties. She gave us these six suggestions. Try them out this weekend to make your Fourth of July extra festive. (All photos courtesy of Deedie Springer.)
1. Think hydrangeas. Especially this time of year, hydrangeas are a good go-to option. Their large size makes them easy to arrange. Springer likes to keep the leaves on for what she calls "a very pretty, full, and yet simple arrangement.
2. Source flowers from your yard. "People forget they have flowers in their yard," Springer says. She enjoys going to someone's home where she can tell that he or she made an effort to bring things into the house from the backyard. Even if the arrangements aren't spectacular, it adds a personal touch. "Your party is your party, I think," Springer says. Pulling flowers or greenery from your yard also helps perk up supermarket offerings. For those worried about bringing in bugs, Springer recommends giving the flowers a quick rinse and lightly shaking them dry.
3. Think seasonally. For this weekend, anything with red, white, and blue will be appreciated. Springer pulled all of these items from her yard—blue hydrangeas, red bee balm, and Queen Anne's lace. Then she added some blackberries as an interesting detail.
4. Trim the stems. Whether you get flowers from your yard, the grocery store, or the farmers market (which is a great option this time of year), you need to cut the ends. Springer says leaving the stems too tall is one of the biggest mistakes people make. "People need to not be afraid to trim the stems," she says.
5. Once you trim the stems, arrange the flowers. If you purchase a mix from the grocery store or farmers market, the bunch is arranged to look pretty from the top, Springer says, because that's how customers see them. When you sit them on a table, they don't look quite right. "They've given you all the pieces, but they don't tell you how to put them together," she says. She suggests arranging them in a "ball shape." Let one or two flowers be a little taller in the center, and then rest the remaining flowers around the rim of the vase. Even if the filler and other flowers are a little wild, those blooms resting on the rim help pull it all together.
6. Vary the vases. Your flowers can be the same or different, but put them in vases of varying styles and heights. "Use mixed drinking bottles, … apothecary bottles, empty vegetable cans," Springer says. "And use boxes, wood slabs, and books to create height to place your vessels on. Get creative with this. Add a doily or handkerchief to add texture or color. Groupings are always easy and a great conversation piece."