HB2: How North Carolina Got Here (Updated)
The long and complicated road that led to a national furor: a timeline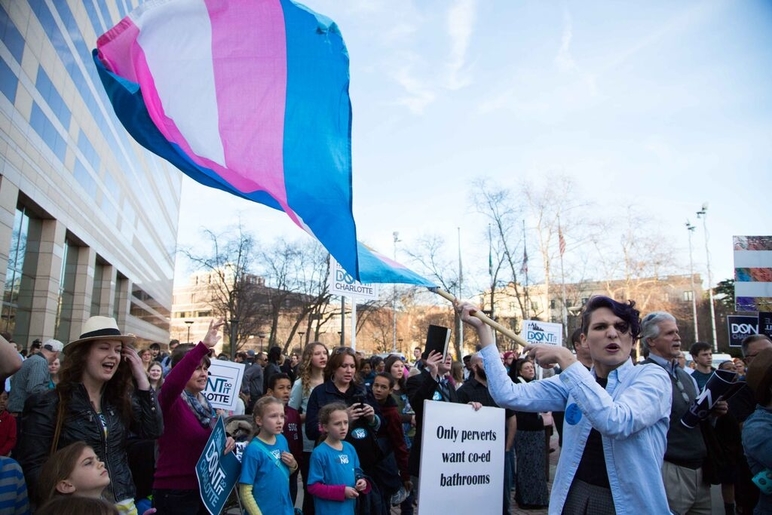 Note: I originally posted this April 1, 2016, nine days after the N.C. General Assembly passed House Bill 2. I updated it in May with the filing of a pair of state lawsuits against the U.S. Department of Justice and the Justice Department's suit against the state; and again in September when the City Council rejected a proposed compromise involving a repeal of HB2 conditional on the council repealing its nondiscrimination ordinance. Here's a fresh update that includes the repeal of HB2 and its replacement by HB142.—GL
North Carolina's House Bill 2 is no more, replaced by a new law that made few happy. Here's how we got here. The relevance of a couple of items might not be immediately clear, but hang with me.
April 29, 2014: The U.S. Department of Education's Office for Civil Rights publishes a 53-page document that offers "guidance" on sexual assault for schools that receive federal funding through Title IX, the 1972 civil rights law that prohibits discrimination on the basis of sex in federally funded education programs and activities.
For the first time, the federal government says explicitly that "Title IX's sex discrimination prohibition extends to claims of discrimination based on gender identity or failure to conform to stereotypical notions of masculinity or femininity" and that "the actual or perceived sexual orientation or gender identity of the parties does not change a school's obligations …" In other words, transgender people are protected from discrimination under the law.
November 24, 2014: During a presentation at the Charlotte City Council's dinner meeting, Scott Bishop of MeckPAC, a Charlotte LGBT political organization, says he's spoken with City Attorney Bob Hagemann and the Charlotte-Mecklenburg Community Relations Committee about adding five categories—marital and familial status, sexual orientation, and gender identity and expression—to the list of "protected classes" in city ordinances with non-discrimination language. The city already prohibits discrimination, among contractors and in public housing, taxis, and public accommodations such as restrooms, against people on the basis of race, gender, religion, national origin, ethnicity, and age.
Bishop notes that 17 of the 20 largest American cities—Charlotte, Houston, and Jacksonville, Florida, are the only exceptions—have adopted similar protections for gay and transgender people. The council votes unanimously to have Hagemann prepare proposed language for the changes, to be discussed and voted on at a later meeting. Mayor Dan Clodfelter says he generally supports the idea of adding gay and transgender people to the list of protected classes. Word spreads about the proposal.
March 2, 2015: The City Council holds a public hearing in advance of the vote to add the protected classes. It draws 117 people, many of them furious about a specific provision in the proposed language that would allow transgender people to use publicly accessible restrooms according to the gender they identify with. Opponents claim this would allow sexual predators to cite the law to gain access to public bathrooms.
An amendment removes restrooms, locker rooms, showers, and changing rooms from the proposed changes. The amended ordinance is voted down, 6-5.
November 3, 2015: Charlotte elects a new mayor, former Mecklenburg County Board of Commissioners chair Jennifer Roberts, who openly supports the LGBT-inclusive changes that were originally proposed in March. The City Council adds two new members, Democrats Julie Eiselt and James Mitchell, both of whom also support the changes.
November 21, 2015: North Carolina Governor Pat McCrory issues a release that calls on Attorney General Roy Cooper—a Democrat running for governor in 2016—to "stop the federal government from taking over our schools, and challenge the ACLU and President Obama's attempt to force local districts to open sex-specific locker rooms and bathrooms to individuals of the opposite biological sex." (The impetus is a pending federal civil rights case involving a 16-year-old transgender boy in Virginia; I wrote about it in detail then.)
January 2016: During its winter meeting in Charleston, South Carolina, the Republican National Committee issues a memo that "calls on the Department of Education to rescind its interpretation of Title IX that wrongly includes facility use issues by transgender students"; "encourages state legislatures to recognize that these Obama gender identity policies are a federal governmental overreach"; and "encourages state legislatures to enact laws that protect student privacy and limit the use of restrooms, locker rooms and similar facilities to members of the sex to whom the facility is designated."
February 1: The city and Community Building Initiative hold a public forum on the LGBT protections, which are coming back up for a vote.
February 22: The City Council, after another public hearing that draws more than 140 speakers, votes 7-4 to add gay and transgender people to the list of classes protected against discrimination in Charlotte, effective April 1. McCrory has already warned two council members about the prospect of "immediate state legislative intervention."
February 23: N.C. House Speaker Tim Moore also calls for legislative action, focusing specifically on "the bathroom piece" of Charlotte's ordinance changes.
March 3: Republican legislative leaders—including Moore, Senate President Pro Tem Phil Berger, and Senator Buck Newton, who's running for Attorney General—hold a news conference renewing their support of a special session to overturn the Charlotte ordinance.
March 21: Moore and Lt. Gov. Dan Forest, the Senate president, call a special session for two days later. They do so against the wishes of McCrory, who declines to order the session because he worries that the General Assembly will go "beyond the scope of the bathroom issue," says a McCrory aide.
March 23: In one day, the General Assembly goes far, far beyond the scope of the bathroom issue. McCrory signs it into law within hours of its passage.
March 28: The ACLU of North Carolina leads a lawsuit against the state in federal court, alleging that HB2 violates the Equal Protection Clause of the U.S. Constitution's 14th Amendment.
March 29: Cooper, calling the new law "a national embarrassment," says his office will not defend the state against the ACLU suit.
April 5: The international financial company PayPal cancels its plans for a 400-job, $36 million operations center in Charlotte.
April 8: Bruce Springsteen cancels his April 10 concert in Greensboro because of HB2. "Some things are more important than a rock show," he writes on his website, "and this fight against prejudice and bigotry, which is happening as I write, is one of them."
April 12: McCrory issues an executive order that adds sexual orientation and gender identity to the list of protected classes among state employees but leaves the bulk of HB2 intact.
April 19: The 4th U.S. Circuit Court of Appeals in Richmond, which has jurisdiction over North Carolina, rules in favor of Gavin Grimm, the transgender teenager in Virginia. In a 2-1 ruling that sent the case back to U.S. District Court, the appeals court says the Virginia school district's refusal to allow the boy to use the restroom that corresponds to his gender identity violates Title IX, the federal law that prohibits sex discrimination by schools that receive federal funding.
April 20: Berger says he does not support a repeal of HB2, despite the 4th Circuit's ruling in the Grimm case.
April 25: The General Assembly convenes for a short session and takes no action on HB2.
May 4: The U.S. Justice Department's Civil Rights Division tells McCrory that HB2 violates federal civil rights law and asks him to respond by May 9. McCrory and other state officials accuse the Justice Department of overreach.
May 9: McCrory and legislative leaders Berger and Moore file separate lawsuits against the Justice Department, seeking a ruling that HB2 does not discriminate against LGBT people—and therefore doesn't violate federal civil rights law. The Justice Department sues North Carolina, alleging that the law violates three specific federal civil rights laws, including Title IX. "This law provides no benefit to society," says U.S. Attorney General Loretta Lynch, a North Carolina native. "All it does is harm innocent Americans."
May 23: The City Council removes from its meeting agenda a potential vote to rescind its non-discrimination ordinance as a show of good faith to the General Assembly, which has indicated it might be willing to revisit HB2. Councilwoman LaWana Mayfield observes that HB2 has nullified the Charlotte ordinance already, so there's no longer an ordinance to rescind. Council members Kenny Smith and Ed Driggs, the only two Republicans, move to place a similar motion on the agenda for a later meeting; it fails 7-4.
July 18: McCrory signs into law a change to HB2 that he had requested: restoring the right of employees who believe they've been fired because of discrimination to sue for relief in state courts. The other provisions of the law remain.
July 21: The National Basketball Association announces that it will relocate its 2017 All-Star Game, and a week of events around it, that it had planned for Charlotte in February 2017. "While we recognize that the NBA cannot choose the law in every city, state, and country in which we do business," the league says in its statement, "we do not believe we can successfully host our All-Star festivities in Charlotte in the climate created by HB2."
August 26: U.S. District Judge Thomas Schroeder rules in favor of several plaintiffs, including a transgender man and student at UNC Chapel Hill, who had asked the court for an injunction barring the enforcement of HB2 in the UNC system pending the resolution of the Justice Department's case against the state. Schroeder, a George W. Bush appointee, notes in his ruling that the courts will likely find HB2 in violation of the Civil Rights Act.
September 12: The National Collegiate Athletic Association announces that it's moving seven planned championships in 2016-17—four in Cary, two in Greensboro, one in Greenville—to other states because of HB2. "The NCAA Board of Governors made this decision because of the cumulative actions taken by the state concerning civil rights protections," the organization says. This action prompts one of the stupidest press releases in human history.
September 14: The Atlantic Coast Conference announces the relocation of its planned championship events in North Carolina as well, including conference basketball tournament games from their traditional venue in Greensboro and the conference football championship game, held at Bank of America Stadium in Charlotte since 2010.
September 16: McCrory drops his office's suit against the Justice Department, citing "substantial costs to the State." His office makes no formal announcement. The Berger/Moore suit remains.
September 19: Charlotte's mayor and City Council reject an HB2 "compromise" floated by legislative leaders and the North Carolina Restaurant and Lodging Association: McCrory calls a special legislative session to consider a repeal of HB2 if the City Council acts to repeal its non-discrimination ordinance. Roberts says during a morning news conference that the city has no plans to place an ordinance repeal vote on the council agenda and "continues its commitment to be a welcoming community that honors and respects all people."
November 8: Cooper wins more votes for governor than McCrory, who begins a month of election challenges, alleging irregularities in several counties and numerous instances of voter fraud.
December 5: McCrory's challenges are found to be baseless, and election recounts push Cooper's margin of victory above 10,000 votes—removing the possibility of an automatic statewide recount. McCrory concedes.
December 19: In an unannounced meeting, the mayor and City Council meet to repeal the changes to its nondiscrimination ordinance that involve adding gay and transgender people to the city's list of protected classes in public accommodations. The action was in response to what Governor-elect Cooper describes as assurances by Senate President Pro Tem Berger and House Speaker Moore that legislators will convene in a special session to repeal HB2. The council vote contains a provision that should the General Assembly fail to repeal HB2 by December 31, the revised ordinance the council adopted in February would go back into "effect"—although it would be strictly symbolic, as the state law supersedes the city ordinance. Later that day, McCrory calls the session for 10 a.m. on Wednesday, December 21.
December 21: At 9 a.m., the City Council holds an emergency meeting to repeal all of the nondiscrimination ordinance changes from February, including those that do not involve gay and transgender people, after legislative leaders suggest the HB2 repeal is in jeopardy. The new council action also removes the provision that would reinstate the ordinance changes if the General Assembly fails to repeal HB2. The General Assembly gavels in its fifth special session of the year later in the morning—but ultimately fails to repeal the law. Observes Senator Floyd McKissick, a Durham Democrat: "We're worse off now than we were when we arrived."
March 30, 2017: Under pressure from the NCAA, which has threatened to withhold championship events from the state through 2022, the N.C. House and Senate vote to repeal HB2 and replace it with House Bill 142, which Cooper signs into law in the afternoon. The new law establishes the legislature as the sole authority to regulate access to bathrooms, showers, and changing facilities; and institutes a moratorium on any new local ordinances on regulating public accommodations or private employment practices until December 1, 2020.