He Won't Admit It, But Luke Kuechly's Homecoming Is Special
Sunday's Panthers game will be Luke Kuechly's first time playing in Cincinnati since he was a tight end and free safety at St. Xavier High School.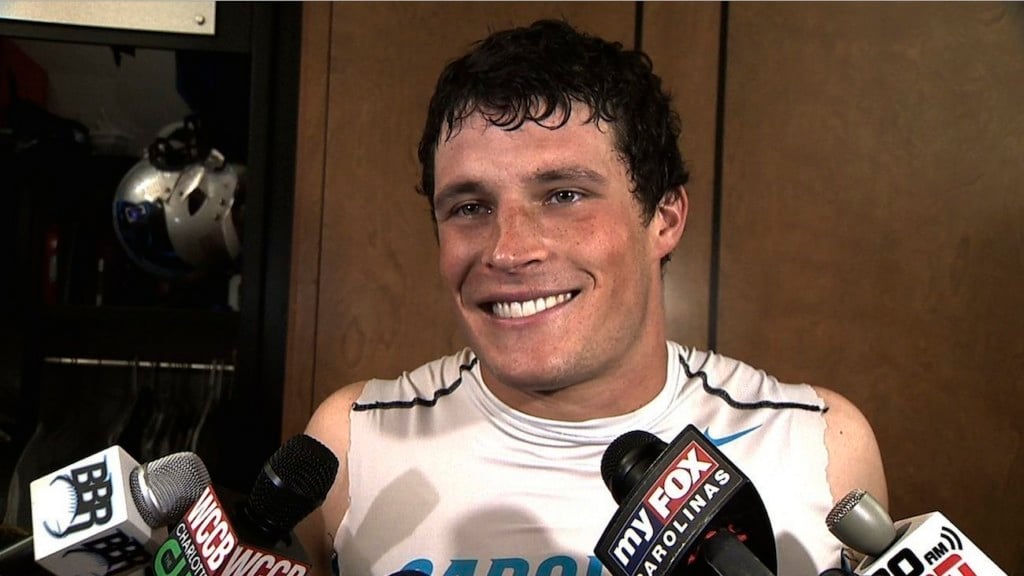 Luke Kuechly took a couple of steps away from his locker Thursday and faced the circle of cameras and reporters. By now, they are familiar to the Panthers linebacker. He does this every week.
Nine years ago, though, speaking was anything but natural. Kuechly was a freshman at St. Xavier High School in his hometown of Cincinnati, and one day during an oral communications class, he was called upon to give a presentation. He stood up and walked to the front and stared out into a room full of unfamiliar faces. One of them was Steve Specht, who was more than just the class's teacher.
"He was the varsity football coach, and you were always nervous because you didn't want to mess up in there," Kuechly said Thursday.
And how did the 14-year-old do in his speech class?
"He was god awful," Specht answered with a big laugh. "He had this big, giant tuft of dark hair. He was bad, but all freshmen are bad when they get up in front of a group."
That was just one of a handful of Kuechly memories Specht shared with me and Chris Kroeger during WFNZ's 'Primetime' earlier this week. On Sunday, the Panthers will play the Bengals in what will be Kuechly's first football game in Cincinnati since he was a tight end and free safety at St. Xavier.
Not surprisingly, the football-obsessed Kuechly, who had to be talked into flying to California this summer for a shoot with six-time Grammy Award winner Carrie Underwood, hasn't changed much from his high school days.
"The silent assassin; he didn't say a whole lot," Specht said. "Luke's day was filled with: He'd go to class; he'd go to football; he'd come to my office, and he'd watch film. Then he'd wake up in the morning; he'd come in; he's watch film; he'd go to class, practice, watch film."
Kuechly's days are somewhat similar now, except the Panthers' meeting rooms at Bank of America Stadium are his classrooms. This week he's studying the tendencies of the Bengals' offense. And he's much more focused on that than making sure he gets some of Cincinnati's famous Skyline Chili this weekend.
"I get to go home, get see my family, get to eat with them. Then it's a game," Kuechly said. "I'm not going to be too emotional. It's going to be fun to play in front of a bunch of people I know, but once the game kicks off—and I'm not just saying this—it's just a game."
But Kuechly understands that homecomings are special.
Few Panthers know Kuechly better than fellow linebacker Thomas Davis, a Georgia native and 10-year veteran who still gets excited when the Panthers play in Atlanta every year.
"Whenever you get the opportunity to go back and play in front of your hometown, you're going to try to give a little bit extra if you have it in you," Davis said.
"You know when you go home, the game is going to be shown at home. All of your friends will be watching, your family's going to get to watch. And I'm pretty sure he's got a lot of family members that are Cincinnati fans, and he wants to perform well against the home team."
The Kuechly family has bought nearly 150 tickets for Sunday's game, but there won't be a lot of Bengals' orange in the group. Among the dozens who will be wearing Panthers' black and blue—Kuechly's former coach, Specht, who years ago had a premonition a day like this was possible.
"I told Luke's mom once, when we were talking about college recruiting, she said, 'You really think he can play at that level?' And I said, 'I think Luke can play on Sundays,' " Specht said.
Not only is Kuechly playing on Sundays in the NFL, but the 23-year-old is one of the league's best players. And this February, he won his biggest award yet.
In less than a decade, Kuechly went from a nervous freshman in speech class to making an acceptance speech as the NFL's Defensive Player of the Year.
"I never thought he was going to turn into what he is. I don't think you ever think your kids are going to be that," Specht admitted.
"It's almost surreal to know that a guy you coached that has done it the right way is being recognized for all his hard work. It's humbling. I was just so proud. I get choked up every time I think about that."