Heap Blame on Odell Beckham, But Panthers Aren't Completely Innocent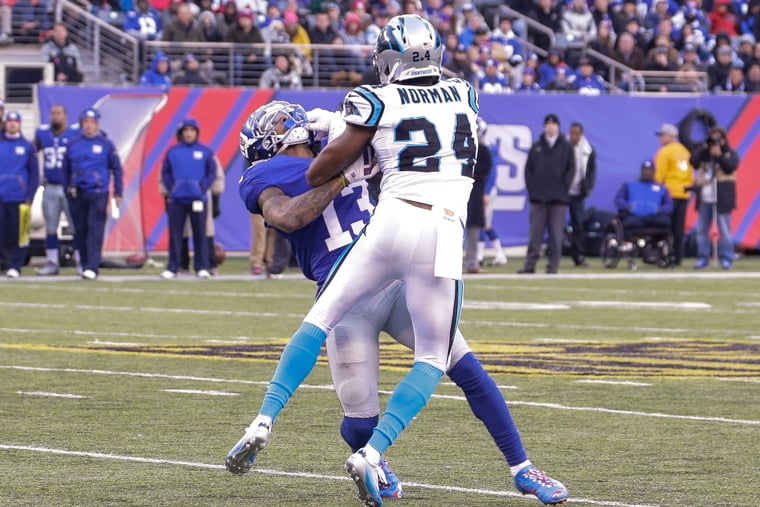 Before we get started, let's get this out of the way—none of this excuses Odell Beckham Jr.'s actions. The Giants' receiver was out of control Sunday against the Panthers, and the NFL got it right when they gave him a one-game suspension.
But the Panthers aren't completely innocent. Not cornerback Josh Norman, even if he wasn't the main instigator. And certainly not safety Marcus Ball.
When this story initially blew up Monday afternoon, an initial video of Ball on the field with a baseball bat was rather tame. That the Panthers even had a bat was also easily explainable with some further context. But a second video released Monday night should make even fans who see things through Carolina-blue glasses shake their heads:
What is a Panthers practice squad player doing going into the Giants team stretching area.. with a baseball bat? pic.twitter.com/4mIQ0jwYRg

— Giants Daily (@NYGDaily) December 22, 2015
Ball, who was cut just before the season after a solid training camp, has been on the Panthers' practice squad since the end of September. Practice squad players don't typically travel to road games, but five from that group—and injured receiver Kelvin Benjamin—were invited to go on this trip.
Ball did not make himself available for the media Tuesday and Norman is scheduled to talk Wednesday, but coach Ron Rivera did chat about plenty, including why guys like Ball traveled this time.
"This was for their hard work," he said. "It's just a reward. They don't get a lot and they're out there everyday. Most of them, I don't think I've ever heard a practice player complain about their opportunity, so this was just a chance to be there and be with the guys and unfortunately it got taken out of context."
It sure did.
Hall of Fame receiver Cris Carter now says that the Panthers threatened to end Beckham's career. Others claim the Panthers yelled homophobic slurs. Who knows if the accusations are true? What we do know is Ball was out there jawing with Beckham. With all due respect to Ball, a practice squad player has no business yapping like that with one of the league's best players. The baseball bat just makes it look that much worse.
Again, that doesn't excuse Beckham for his physical outbursts toward Norman and other Panthers. And anyone who knows anything about PR can see right through all this as damage control to Beckham's reputation.
"Everyone wants to sit here and tell us, this happened or that happened. Really? Until we hear something concrete and we get a phone call with something concrete, we're not going to react to it," Rivera said. "This is a very important social issue and we shouldn't be treating it as what it is, and that's a distraction.
"I think the problem in this situation is that there is a lot of hearsay, and I don't know, maybe this is spin control by somebody."
All sorts of verbal jabs get tossed around during before, during and after NFL games. Many times, lines get crossed. Ball may or may not have crossed one with his words, but he did with his actions.