Heath Morrison's Hard Charge
Education took a beating this year in state and local budgets. In Mecklenburg County, one man, now in his second year as superintendent, stands as the first line of defense against letting the punches reach the kids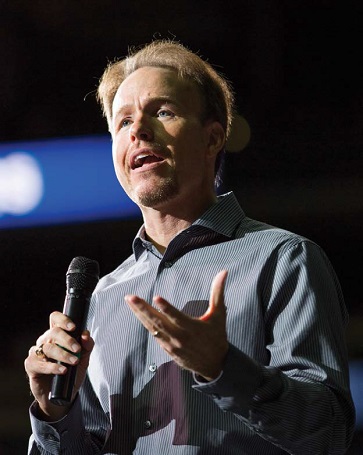 Heath Morrison lies face-up on a weight bench, powering through a hundred crunches. His skinny legs, capped with beat-up, white Reebok shoes and tube socks folded over once, bob in the air.
We started the abdominal workout at the same time, but the hard-charging Charlotte-Mecklenburg Schools superintendent has nearly doubled my pace. He springs to his feet, bends at the knees, and palms two 25-pound dumbbells. Morrison does 20 curls, 10 on each arm, drops the weights, and plops back down on the weight bench. He does this three more times.
It's quarter after 6 on a Monday morning. We've already been at this Planet Fitness in South Charlotte for 90 minutes. Morrison has broken a sweat only once—after nearly an hour on the stationary bike. Justin Bieber wails through the gym's overhead speakers.
"It's the only 'me thing' I do for myself," Morrison says.
We're chewing peppermint gum Morrison brought along. He came prepared with a rolled-up magazine—an education journal, I think—but he never unfurls it. He doesn't need it. During the course of two hours, the conversation meanders from his son and daughter to sports to zombie movies.
But the real issue on Morrison's mind is staring us in the face. The local television stations are airing stories about a busload of CMS teachers going to Raleigh to protest the new state budget, which, among other things, didn't include raises for educators. He motions to the screen and shakes his head.
Morrison views his job as "a teacher on special assignment," and battling with the legislature was not part of the lesson plan for his first year as superintendent. Unlike his predecessors, he avoided attempting sweeping reforms, instead favoring a watch-and-listen approach that sets the stage for change later. In many ways, the tone Morrison sets during the next nine months will determine whether he spends a transformative decade with CMS—or whether he moves on to The Next Big Thing, like so many of those who had this job before him.
Three days before our workout, a couple of hundred people pack a beige room inside Friendship Missionary Baptist Church in northwest Charlotte. They're huddled in the aisles and sitting in red chairs, balancing Styrofoam plates of fruit and sandwiches on their knees. It's a friendly crowd for the most part, and Morrison seems to know at least half of them. He laughs with a middle-aged woman in a long red dress. He slaps a young father on the back, practically putting him in a headlock with an around-the-neck hug. He bounces from conversation to conversation with ease.
He's just come back from Raleigh, where the General Assembly passed a $20.6 billion, two-year state budget that denies teachers a pay raise, eliminates tenure rights, and slashes funding for teacher assistants. It makes North Carolina the first state in the nation to eliminate bonus pay for teachers who earn master's degrees. And it makes it easier for teachers to be fired.
He makes it three paces inside the church auditorium before someone asks, "What on Earth is happening up there in Raleigh?"
Morrison and academic administrators from three neighboring school districts are here to talk about literacy and the achievement gap between poor and affluent kids. Their conversation will be broadcast on public radio later, and Morrison waits about 15 minutes into the conversation before launching his first salvo at Raleigh.
"Our ability to put great teachers in front of our students is questionable," he says. "You can't just raise the accountability and lower the resources. That's not fair, and that's not right."
The audience applauds. Half a dozen young teachers sitting in the back trade excited glances. One raises her eyebrows and contorts her mouth, pursing her lips slightly. She's visibly impressed by Morrison's public support for teachers. She mouths an exaggerated "Wow!" to her friends.
Morrison is frustrated by legislators—some of whom are car salesmen and eye doctors by trade—who feel more qualified to assess North Carolina's public schools than the teachers and principals who are in classrooms every day.
"There's a tendency for people to get elected and then immediately think they have all the answers to all sorts of areas they've never had any experience in," he says. "We have a lot of people who think they know more than the teacher does, or more than the principal does.
"I often don't find that to be true."
In a classroom, teachers like to say that there are two types of students: those who listen and those who hear.
It's clear Morrison has been listening. When he joined the district in July 2012, he went on a listening tour that took him to all 159 schools. He brought his family to a different house of worship each week. He hit the usual rotation of breakfast groups and Rotary clubs.
"Probably the big thing I heard prior to my coming was that Charlotte-Mecklenburg Schools didn't do enough listening," he says.
Morrison, 46, came to CMS from the Washoe County School District in Reno, Nevada, where he was named National Superintendent of the Year by the National Association of School Administrators in 2012. Before that, he worked in two different school systems in Maryland—as an administrator, principal, and teacher in Charles County, and then as a community superintendent in Montgomery County, just outside Washington, D.C.
"Charlotte-Mecklenburg wasn't a broken school district. It wasn't a dysfunctional organization," he says. "To come in and say, 'Well, I know better. I've been here for a hot second, and yet I'm going to make huge changes just because it meets better the way I want to run the school district' is incredibly disrespectful."
In his first year, Morrison made a series of personnel changes, shuffling central office staff and principals. He tweaked some policies and procedures. But he generally stayed away from controversy. He appointed 22 task forces—covering everything from special-needs students to marketing and branding—to deliver recommendations for CMS to consider. More listening.
But has Morrison heard?
Maybe.
"There's an awful lot of inquiry—or perceived inquiry—into topics," says Judy Kidd, president of the Classroom Teachers Association, "but there doesn't appear to be a lot of action as a result of the inquiry." Kidd says Morrison hasn't moved quickly enough to address two controversial decisions made by his predecessor, Peter Gorman: an extended school day that cut teachers' planning periods but did not pay them for the additional work time, and the closings of nearly a dozen schools.
Other observers wish the superintendent would take a tougher stance on the 52 new tests Gorman instituted for CMS students before he left for a job at News Corp., the parent company of Fox News. Morrison and CMS leadership have moved away from that controversial testing program, but not as quickly or as boldly as some parents wanted.
"[Morrison] seems to understand it's a problem," says Pamela Grundy, a historian and education activist who has a son in Charlotte-Mecklenburg Schools. "The question is, will he be able to do something that makes a significant difference? And we haven't seen that yet."
The underlying concern is whether Morrison is forthright in his promises. Charlie Smith, a history and government teacher at Independence High School and president of the Charlotte-Mecklenburg Association of Educators, says he and his colleagues have a difficult time trusting superintendents. But Morrison, he hopes, is changing that.
"He hasn't lied to me yet; I'll give him that," Smith says. "I've worked for seven superintendents, and none of them have been straightforward with me."
That's why Morrison spent so much time in his first year working on his rapport with the community. "We've probably done more surveying than ever in the history of CMS," he says. "The thing about trust is you're never done with it. It's not just something you check off. You're constantly earning the public trust."
On average, school superintendents stay in their jobs for about four or five years before moving on. Morrison left Reno after just three. A student who started kindergarten in CMS and graduated from high school this past June studied under no fewer than six superintendents.
So will Morrison be here to see the effects of whatever he does as superintendent? He says, adamantly, that he will. Other school districts have called him since he landed in Charlotte. But Morrison hasn't entertained their offers. "I'm not interested," he says. "I appreciate those opportunities, but this is the job I want. This is the job I intend to do for a long time."
But he must understand that parents and teachers have heard this line before.
How do you convince people you just met that you're being sincere when you talk about something as serious as their children's education?
"This is part of that trust thing," Morrison says. "I don't know what else people would want me to say about that."
If Morrison wants to measure the trust he's built so far, the new school year offers two chances to try.
Next month, voters will weigh in on the district's first postrecession school bond referendum, a $290 million package to fund 18 projects across the district—everything from additions to ease overcrowding in suburban schools to the long-overdue replacement of schools in northwest Charlotte.
"They have to pass," Morrison says of the bond proposal. "We only put forward the most important projects." His point, he continues, is these projects are not wants. They're needs.
But taxpayers have proven before that they have no problem scuttling CMS's plans if they're uncomfortable with the district's leadership. In 2005, school board meetings regularly disintegrated into shouting matches about everything from school crowding to Robert's Rules of Order. It got so bad that one member asked for extra security because she felt unsafe around some of the other board members. Voters grew tired of the circus, and 56 percent of them rejected a $427 million bond package on the November ballot that year.
This referendum might be a good gauge of the public's feelings about Morrison's leadership.
Morrison and I met for our first interview in a small conference room at West Charlotte High School. The room is near the main office, where a framed newspaper article is about poverty, racism, and segregation. The big, bold type cries out for attention. Neither of us mentioned the article, but it was hard not to notice.
Racial tension—spoken or not—is an inherent part of Charlotte-Mecklenburg Schools. Four decades ago, the U.S. Supreme Court forced CMS to bus many students out of their neighborhoods in an effort to integrate schools, and the debate over the decision continued until it was reversed in the 1990s. Today, racial strains remain.
"We can't do this work ignoring race as an issue," Morrison says. It's no coincidence we met here, a place where most of the students are not white and where, just a few years ago, half did not earn diplomas. "Race is not a popular subject to talk about. It's one that people often try to avoid. But it looks us in the face in our classrooms every single day."
Morrison plans to attempt what he has termed "a courageous conversation" about race and poverty in Charlotte-Mecklenburg, something that will be a less precise but far more emotional gauge of public support than the bond referendum.
Addressing the achievement gap between primarily white, affluent students and poor black and Hispanic students ought to be a community mission, not just the school system's, Morrison says.
Just having the conversation will help make the district more "culturally competent," says Nick Wharton, a diversity consultant who works with school districts and colleges across the country. "That's a part of the problem. In Charlotte, we don't really engage each other like we should."
Wharton lives in Charlotte and co-chaired one of Morrison's 22 task forces, focused on African-American males. The group recommended that CMS create a special school to help black boys and teens who, as a whole, struggle to perform well on standardized tests.
"We're about to lose a generation of students," Wharton says. He believes many minority students, especially African-American males, do not succeed because they feel uninspired. The community has set low expectations, he says. The task force also wants CMS to analyze discipline and suspension statistics to see if black males are disproportionately singled out.
But more than anything, Wharton wants CMS to come up with a diversity plan and stick to it—something that hasn't been possible with a merry-go-round of superintendents.
Grundy, the historian and education activist, has a son who attended a high-poverty elementary school. She says Morrison earned credibility with poor and minority parents because he demonstrated a clear grasp of the issues they face.
But she isn't completely sold on Morrison's approach. Reports earlier this year that Morrison was interested in hiring Glenn Singleton, an author and educational consultant who has written about white privilege and institutional racism, created a bit of a controversy, particularly among suburban parents, even before Morrison made a decision.
"There is a tendency to conduct racial conversations in a way that whites are at fault," Grundy says. "It really needs to be a two-way conversation. You could just see people bristling at that."
Morrison typically uses the first hour of his workouts to read and return emails on his BlackBerry. This morning, the phone stays in its case, clipped to the elastic waistband of his gym shorts.
Knowing he would have a workout partner, Morrison came to the gym the day before, on Sunday, to get ahead on his emails.
After the bike, Morrison does a circuit on the weight machines. Chest press. Triceps. Inner thighs. He pushes more than 300 pounds on the leg press machine and barely breathes hard. I ask whether he exercises to work out his frustrations, especially ones caused by the legislature. "Nah," Morrison says. "I got fat once, in college, and I don't want to go back there.
"Plus, I'm really good at compartmentalizing."
His motions are swift and fluid. He doesn't count out loud. One pull of the machine flows into the next. There's just a small clank every couple of seconds when the metal weights touch at the end of a rep.
By the end of the workout, the peppermint gum is bland and hard. As I walk to the trash can to spit it out, Morrison flops back down on the weight bench, chomping the gum, clasping his hands behind his head for another round of crunches. He is relentless.
When Morrison left Nevada, one of the teachers in his district told a newspaper reporter that her colleagues were "working harder than they've ever worked before." Morrison's pace—the early-morning workouts, the intense conversations, the late-night emails—is a point of concern, even to his supporters.
For now, though, Morrison waits for me at the next station, a purple bench press machine. He's already wiped down the weight benches—mine too—just like he did after each exercise.
"OK, one more set."
Morrison powers through his last round on the bench press. And then he walks toward the locker room. On his way, he passes a purple and yellow sign. This part of the gym is called the Judgment Free Zone.
Then Morrison showers, changes, and heads off to his job overseeing the future of 142,000 children.
Adam Rhew, a graduate of South Mecklenburg High School, reported and wrote this story while working as a reporter at News 14 Carolina. He has since joined MeckEd, an independent education nonprofit. Reach him on Twitter: @AdamRhew.